---
Adobo sauce is quickly becoming a regular ingredient in my cooking. I've used it in pulled pork recipes, on pork tenderloin, in tacos, and, of course, with chicken. I like the smoky spice that it adds to a dish. If you have any other recipe suggestions please feel free to leave them in the comments below. I am always looking for ideas for using up the leftover adobo sauce once I open a can.
On to the recipe. The first step is to cook the chicken. This is also a great way to use up leftover chicken if you have some on hand. Otherwise sear the chicken in a skillet and then shred once cooled.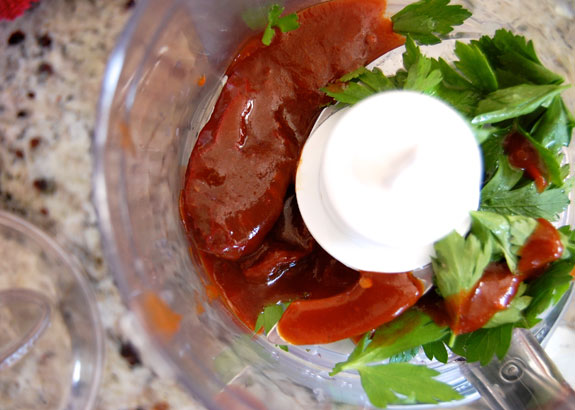 The adobo sauce and chipotle peppers are blended with cilantro and lime to make the sauce for the chicken wraps. Then everything is combined to cook together for just a few minutes. And to serve it's as simple as spooning the chicken into lettuce leaves. This makes a good lunch or dinner; it's very versatile. It's also a top choice for packable lunches to take to work. I like to make a large batch so that there are plenty of leftovers.
This is a simple recipe to put together, but one that has a punch. Even writing about the recipe makes me want to be sassy. Add some variety to the same old lettuce wrap with some chipotle chicken.
---
2 tbsp extra virgin olive oil
1 lb. boneless skinless chicken breast
3 chipotle peppers
Juice of 1 lime
4 tbsp adobo sauce
1/3 cup cilantro, chopped
1/2 red bell pepper, diced
2 scallions, thinly sliced
1 head lettuce, rinsed
Salt and freshly ground pepper
Heat the olive oil in a large pan over medium heat. Sprinkle the chicken with salt and pepper on both sides and place in the pan. Cook for 5-6 minutes per side until the chicken is cooked through. Set aside and rest for 5 minutes, then shred.
In a food processor or blender, combine the chipotle peppers, adobo, cilantro, and lime juice. Blend until smooth.
Add the bell pepper, adobo mixture, and chicken to the sauté pan on low heat. Stir well to combine and cook for 3-4 minutes. Add the scallions to the pan. Spoon the mixture into lettuce wraps and serve.