The Best Chicken Piccata Recipe Ever (A Family Favorite)
0
Who knew that by simply dredging chicken breasts in flour and serving them with a tangy sauce that you would end up with one of the best Italian chicken dishes of all time? Chicken piccata is always a crowd favorite with its golden-browned chicken breasts and a delicious sauce combining lemon juice, butter, capers. If you're feeling extra fancy, add a splash of wine. Unfortunately, the way piccata is traditionally prepared is decidedly not paleo-friendly at all. To work around this, I've added a few twists to this classic recipe to make it fit in with a paleo diet.
Paleo-Approved Breading and Sauce
It's amazing to me that refined wheat flours are still so widely used. You would think that with all of the information available today, more people would realize just how unhealthy refined flour is and use healthier alternatives instead. Wheat flour has been known to cause inflammation and contribute to unwanted weight gain in humans, yet it's still an all too common ingredient in many, many recipes. (1)
Almond Flour and Arrowroot Flour
To work around this, I've opted to use a mixture of almond flour and arrowroot flour to dredge my chicken in for this piccata recipe. Unlike refined flour, arrowroot starch is incredibly easy to digest and it's 100% gluten-free. Almond flour is another nutritional powerhouse ingredient for cooking as well, loaded with vitamins, minerals, and it even contains a moderate amount of protein. By dredging your chicken in this breading mixture, you can rest assured knowing you're preparing a meal that's appropriate for your paleo diet.
Other Paleo Approved Breading Alternatives
Aside from almond flour and arrowroot flour, there are several other alternatives that you can use depending on the texture and flavor you're going for. I used almond flour and arrowroot flour for this recipe because it's what I have on hand and use it often, but you could certainly opt for other options. You have coconut flour, tapioca flour, sweet potato flour, oat flour, and many more. Don't be afraid to experiment with your cooking times as well.
Ghee, A Paleo Alternative to Butter
When it comes to the sauce, I was able to leave it as is for the most part. Much like traditional chicken piccata, the sauce is made with lemon juice, capers, and either homemade or store-bought paleo-friendly chicken stock. However, instead of using butter, I opted to include ghee in my sauce. Ghee is a fantastic ingredient to cook with, and compared with things like soybean oil, has actually been shown to have a protective effect against cancer. (2)
As you can see, this recipe only includes a couple of minor changes to the classic way in which chicken piccata is prepared. That's really all it takes though in order to change this meal to being 100% paleo-friendly while still being basically identical to how it's traditionally prepared.
Truthfully, this is one of my favorite dinners to prepare. I've always been a big fan of Italian cuisine, and chicken piccata is so simple and easy to make while being absolutely delicious that it was usually my go-to Italian meal. The almond flour and arrowroot flour breading help to lock the moisture in the chicken breasts while they cook, and the piccata sauce adds that classic Italian flavoring to the whole thing. This is one of my most highly recommended recipes without a doubt thanks to how straightforward it is to take a classic dish and easily make it 100% paleo-approved.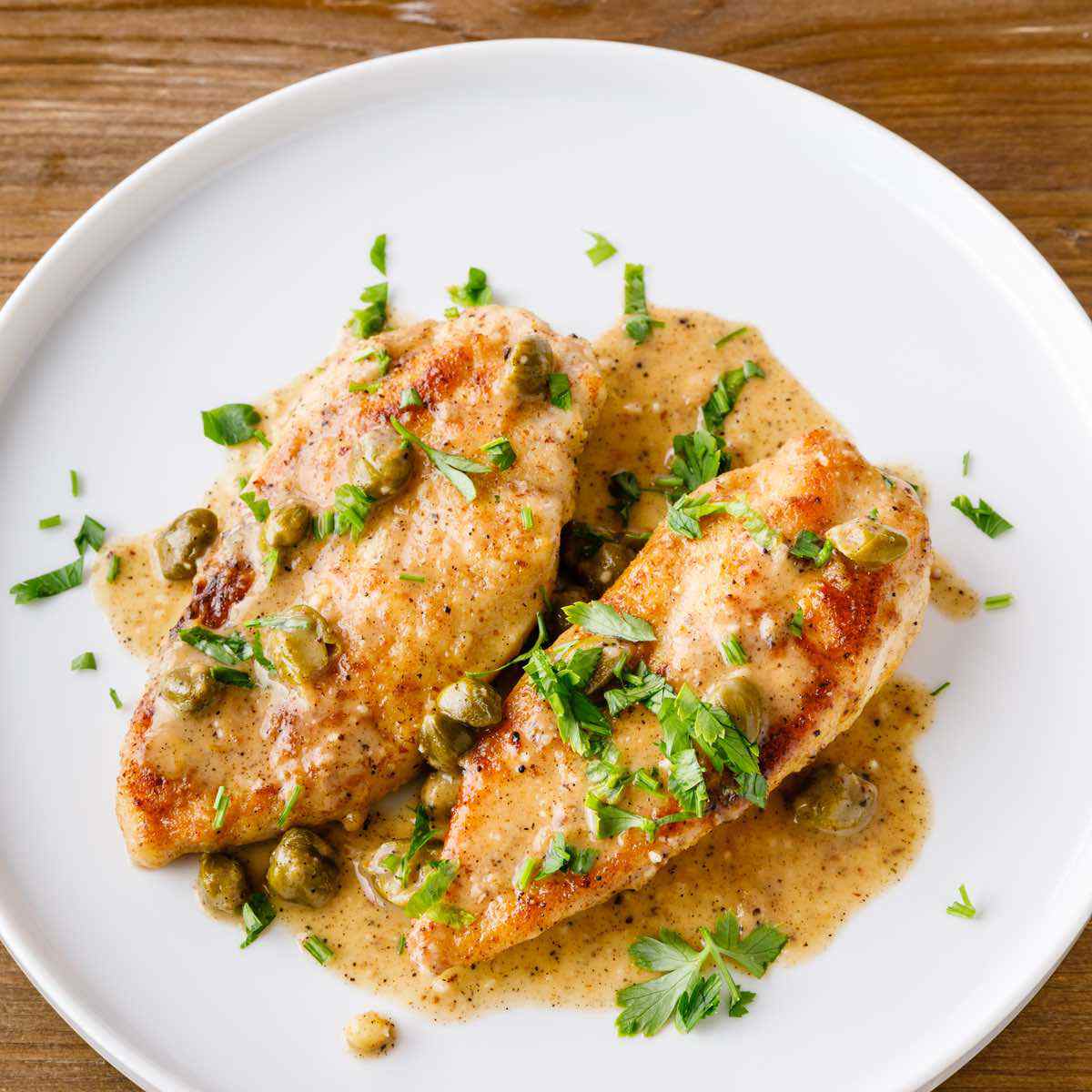 The Best Chicken Piccata Recipe Ever
2017-09-30 23:41:10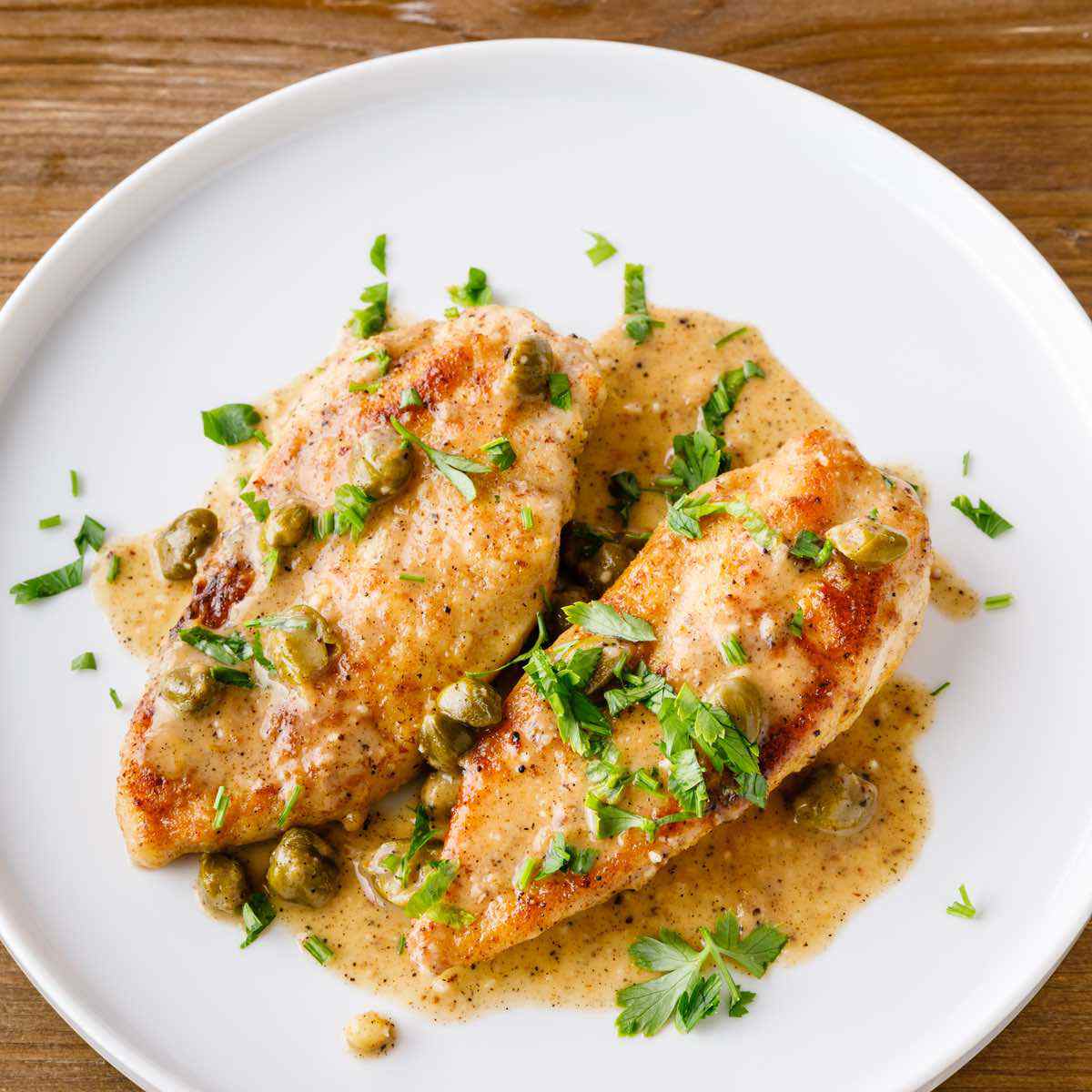 Serves 4
Ingredients
2 boneless, skinless chicken breast halves (each 8 to 9 oz.), cut in half horizontally and pounded 1/4 inch thick
salt and pepper to taste
½ cup almond flour
¼ cup arrowroot flour
4 tbsp ghee
2 tbsp olive oil
3 tbsp fresh lemon juice
1/2 cup homemade or store-bought paleo friendly chicken stock
3 tbsp drained capers
3 tbsp chopped fresh parsley
Instructions
Season the chicken with salt and pepper.
Combine the almond flour and arrowroot flour in a shallow plate.
Dredge the chicken in the almond flour and shake off excess.
In a large skillet melt 2 tablespoons of ghee with the olive oil, over medium to high heat.
Cook the chicken in batches, if necessary, until golden and cooked through, 3 to 4 min per side.
Transfer the chicken to a platter.
In the same skillet add the lemon juice, chicken stock and capers, scraping up any browned bits from the bottom of the pan with a wooden spoon.
Cook over medium heat until the liquid is slightly reduced, about 5 minutes.
Season to taste with salt and black pepper.
Add the remaining ghee and whisk for about a minute.
Return the chicken and any juices to the skillet and simmer for about 1 minute.
Sprinkle with parsley and serve.
Paleo Grubs https://paleogrubs.com/
P.S. –
This definitely isn't the only international style of chicken dish that I'm a fan of. I love sampling meals from all over the globe, especially when they are prepared in a paleo-friendly style. Here are a few other great chicken recipes from around the world for you guys to try out:
Want more Paleo recipes? Take a look at the Paleo Grubs Book. With 470+ easy-to-prepare Paleo recipes in 17 comprehensive categories it is the only Paleo book you will ever need.
+ Make sure to sign up for our free newsletter to get our latest healthy recipes delivered weekly (it's free).