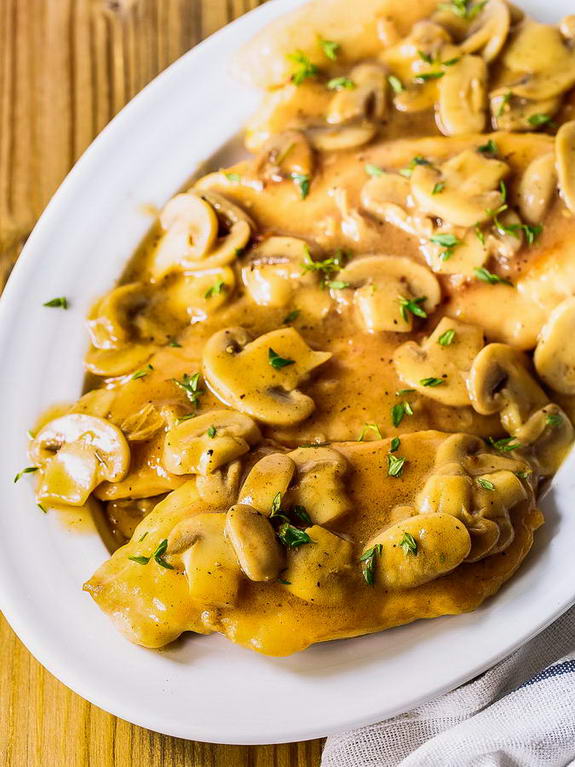 Chicken Marsala even sounds fancy. Who – or what – is marsala? Actually, the "marsala" in Chicken Marsala refers to marsala wine, which is produced in the city of Marsala in Sicily. Traditional Chicken Marsala recipes are made with marsala wine, which is a red wine that is generally fortified with alcohol, resulting in a beverage similar to sherry or port. So, technically speaking, I guess this recipe should be called "Chicken Organic Apple Juice." But that doesn't sound very yummy and, in all fairness, you really get the same final product whether you use apple juice or marsala wine.
So why organic apple juice instead of marsala wine? On one hand, there is substantial archaeological that Paleolithic humans did ferment – purposefully or otherwise – berries and fruits and probably did get quite a buzz on now and then. And, frankly, if you're going to have any alcohol (I'm realistic about these things), organic wine is probably your best bet. But the real goal of a Paleo diet is to eliminate processed foods and toxins, and alcohol is both of these things. Even though cooking will burn off most of the alcohol, what's left is still not really strictly Paleo-friendly.
Organic apple juice, without any sugar added, will bring the same tartness and subtle sweetness to your dish that marsala wine will. You'll lose nothing in the flavor department with this substitution, and you will gain the benefits of sticking more strictly to your Paleo diet.
The other big difference between this Paleo Chicken Marsala and traditional recipes is that I use arrowroot flour instead of wheat flour. Just like wheat flour, arrowroot flour will help nicely brown your chicken and will thicken your sauce. You'll get the same colors, flavors, and textures from arrowroot, a starchy root vegetable used for centuries in Central and South American cooking, as you would from wheat flour, again, without compromising your Paleo ideals.
Now of course I didn't really go into all this detail with my cousin. And frankly, he didn't care if the recipe I gave him was Paleo or not – he was more concerned with impressing his date. So this is another great recipe that you can share with Paleo and non-Paleo friends alike, and you'll please everyone.
The day before his date, I took him to the grocery store and helped him shop. I also provided him with a few of the staples that most of us Paleo folks keep on hand. I gave him a small batch of ghee (clarified butter) and a couple cups of frozen homemade chicken broth. If you've read very many of my posts, you know my feelings about using homemade broths instead of store bought! Then we practiced. I drilled into his head: don't forget the thyme! It really takes the flavor profile of the dish to the next level.
Sunday afternoon I texted him: "how did the dinner go?" He responded, "she was super impressed. Going out again soon. Thanks!" If this works out between the two of them, I will be taking all the credit. And I will also start cooking Chicken Marsala for all my dates, too!
(Make this next: The Most Addictive Cashew Chicken Ever)
---
-
1 ½ pound chicken breasts, skinless and boneless
2 cups sliced mushrooms
4 tbsp arrowroot flour
3 tbsp olive oil
2 tbsp ghee
1/3 cup organic apple juice, no sugar added
1/3 cup chicken stock or water
1 ½ tsp fresh thyme leaves
salt, black pepper to taste
Halve the chicken breasts and lightly pound.
Season with salt and black pepper and dredge in 3 tablespoon of arrowroot flour.
Heat 2 tablespoon of olive oil in a large skillet over medium heat.
Cook the chicken in batches, 3-4 minutes per side.
Place the chicken on a plate and set aside.
In the same skillet heat the remaining olive oil over medium heat.
Add the mushrooms and cook for 10 minutes or until golden brown.
Transfer to the plate with the chicken, and set aside.
In the same skillet add the ghee and heat over medium heat.
Stir in 1 tablespoon of arrowroot flour and cook for 2 minutes.
Add the apple juice and stock and cook, stirring and scraping bottom of pan until sauce is slightly thickened, 2 to 3 minutes.
Return the chicken and mushrooms to the skillet and cook for about 2-3 minutes or until heated through.
Season to taste with salt and black pepper, sprinkle with fresh thyme and serve.
| | |
| --- | --- |
| Calories | 349 kcal |
| Potassium | 279.5 mg |
| Vitamin A | 64.2 µg |
| Vitamin C | 0.7 mg |
| Folic Acid (B9) | 5.7 µg |
| Sodium | 551.3 mg |