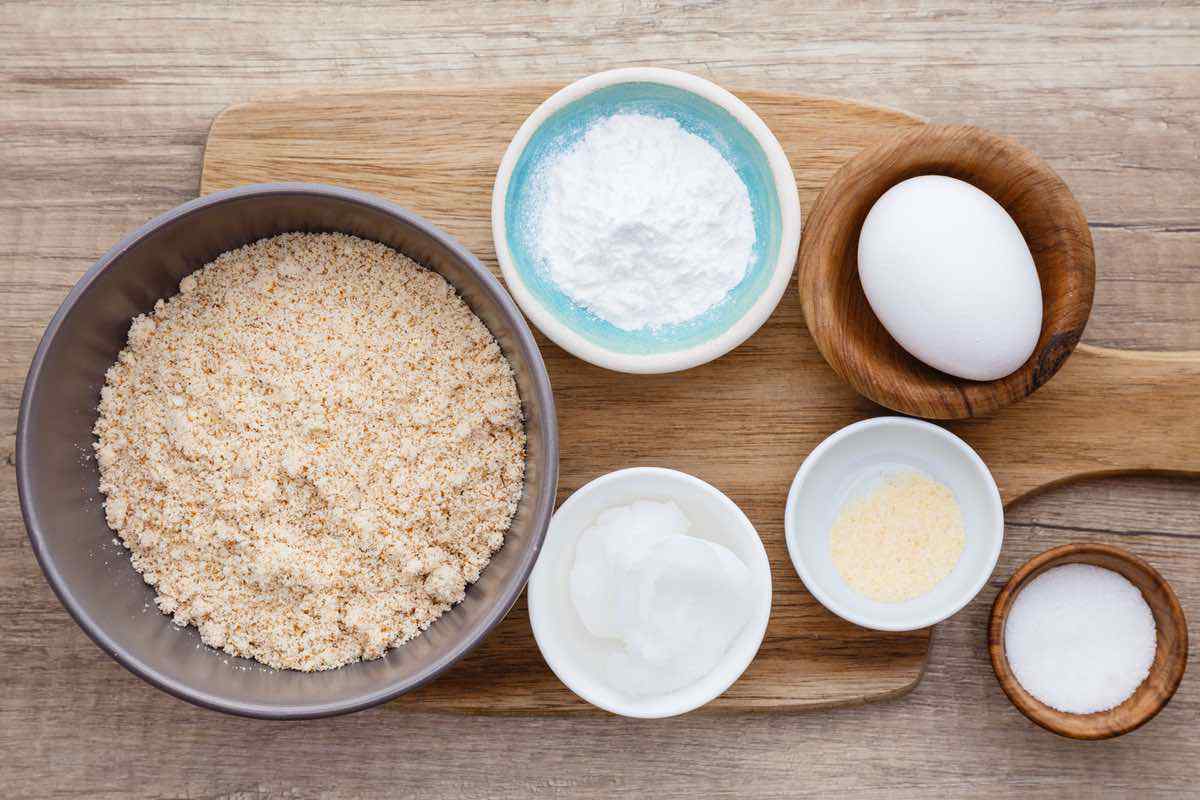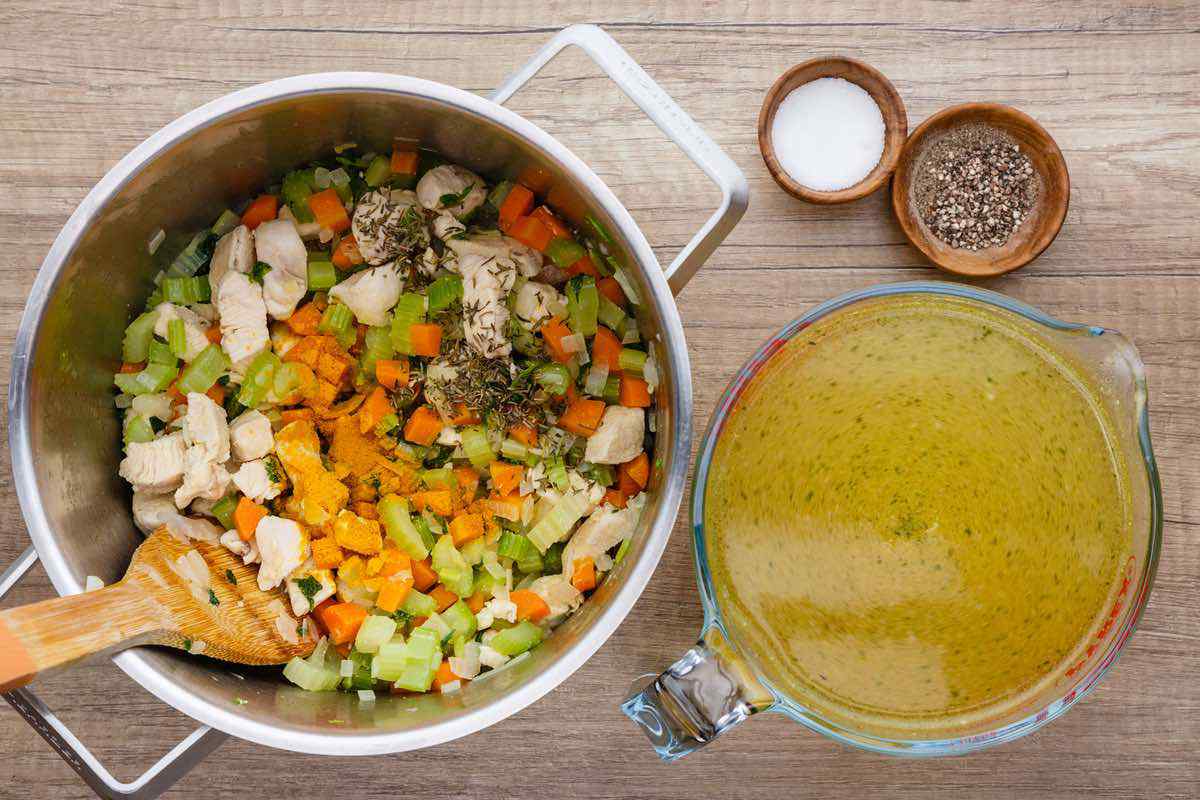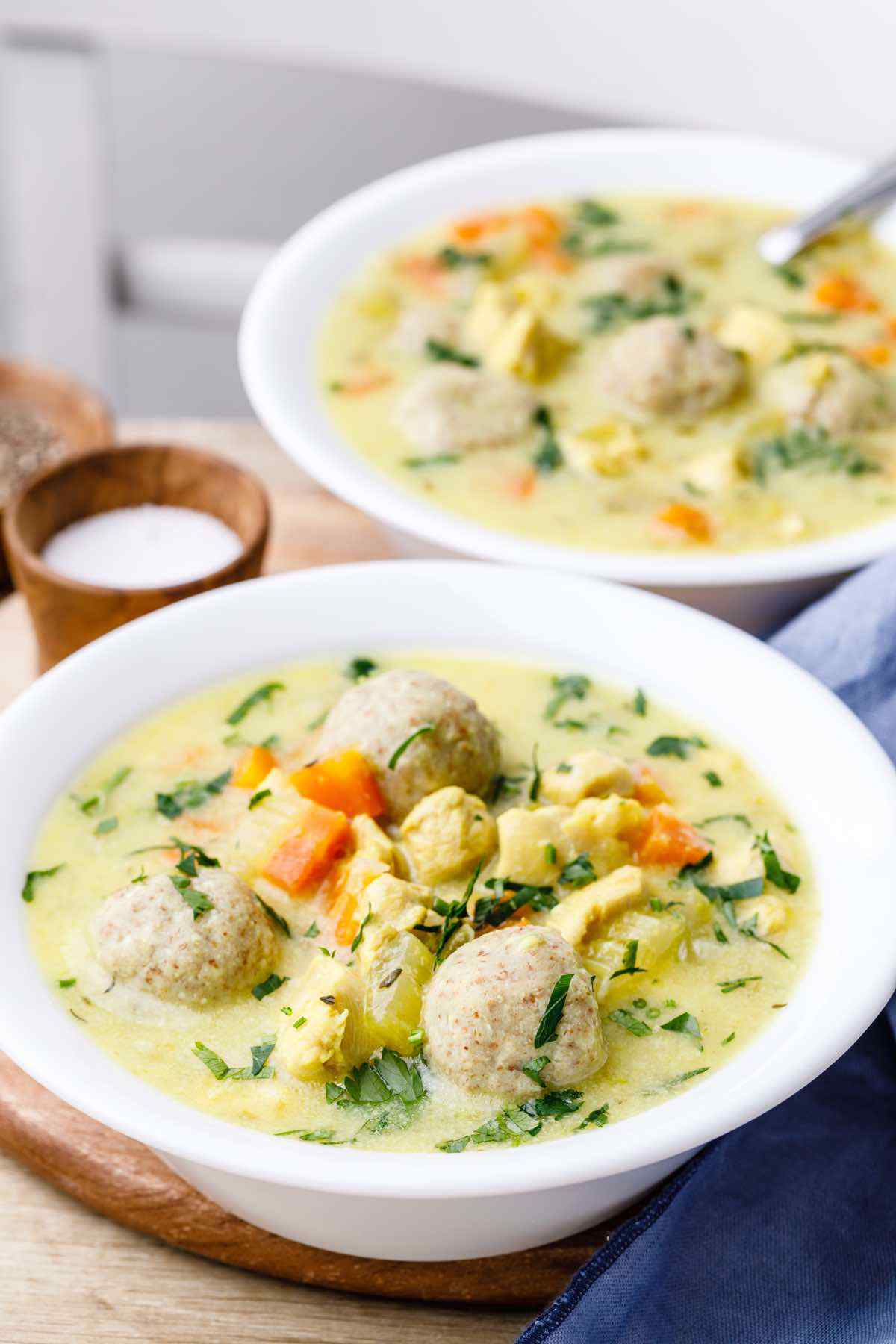 More Paleo Chicken Soup Recipes:
Homemade Crockpot Cream of Chicken Soup (Paleo-Friendly)
Instant Pot Chicken and Cauliflower Rice Soup (Low Carb)
The Best Paleo Buffalo Chicken Soup Ever (Spicy and Satisfying)
Incredible Instant Pot Paleo Chicken Vegetable Soup (Try this!)
Easy 5-Ingredient Crockpot Paleo Chicken Soup
---
For the soup:

2 tbsp olive oil
1 medium onion, chopped
2 celery stalks, diced
2 medium carrots, peeled and diced
1 garlic clove, minced
1 ½ pounds boneless, skinless chicken breasts, cut into ½ inch cubes
½ tsp dried thyme
¼ tsp turmeric powder (optional)
6 cups homemade chicken broth
½ cup unsweetened almond milk
2 tbsp arrowroot flour
2 tbsp chopped fresh parsley
salt, black pepper to taste

For the dumplings:

1 ¼ cup almond flour
2 tbsp arrowroot flour
½ tsp garlic powder
2 tbsp coconut oil, at room temperature
1 egg, beaten
salt to taste
To make the dumplings, in a bowl place the almond flour, arrowroot flour, garlic powder and pinch of salt and mix to combine.
Use your fingertips to rub the coconut oil into the almond flour mixture until you have a mixture that resembles coarse breadcrumbs.
Add the egg and knead until everything is well combined.
Form the dough into 1-inch round balls.
Refrigerate the dumpling until ready to cook.
In a large pot heat the olive oil over medium heat.
Add the onion, carrots and celery and cook for 5 minutes.
Add the chicken and cook until no longer pink.
Add the garlic and cook for 30 seconds.
Add the dried thyme, turmeric powder and chicken broth.
Stir to combine.
Simmer the soup until the chicken is cooked through, about 30 minutes.
In a small bowl place the almond milk and arrowroot flour and whisk to combine.
Stir the mixture into the soup.
Drop the dumplings into the soup and cook, stirring gently, until tender, 10–15 minutes.
Season to taste with salt and black pepper.
Stir in the chopped parsley and serve.