---
Winter means more gatherings, social events, and potlucks. Potlucks, to me, mean a lot of casseroles. In my impression, casseroles are normally loaded with cheese, other dairy, or cream of [insert your preference here] soup. I'm not sure if this applies to everyone, or is just because I grew up in Wisconsin. Eating that kind of heavy casserole is often hard on the stomach and leaves you wanting a nap afterwards. I wanted to make a healthy, lighter alternative to cheesy casserole without losing the warm, homey feel that you get when eating it.
This casserole takes a little bit of prep, but cooks quickly once all of the components are combined. The chicken needs to be cooked and shredded first. Also, the butternut squash needs to be boiled until softened. The squash is then mashed in a large bowl and mixed together with the coconut cream and seasonings. You can adjust the amount of coconut cream to your personal taste when it's cooking; the more that is added, the creamier the dish will be. Lastly, you stir in the shredded chicken and peas. All of the ingredients are then cooked together on the stove until the peas are done and the dish has become creamy. Casserole, with no oven required.
This stove-top chicken casserole will lend you a comforting feel without the usual heaviness of a casserole laden with pasta and cheese. It is a healthy, homey alternative that makes a great dinner or dish to share.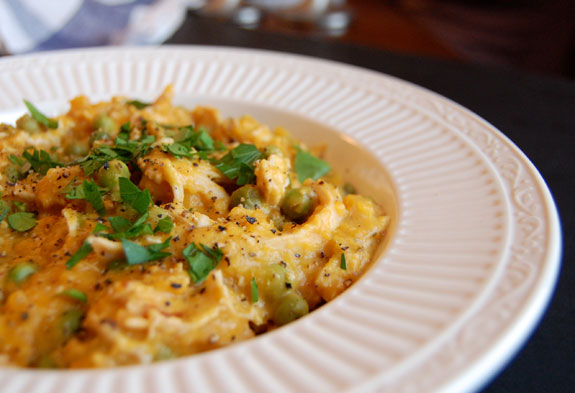 ---
Ingredients

2 cups shredded cooked chicken
1 1/2 cups cooked butternut squash (about 1 small squash)
1/2 cup coconut cream, skimmed from the top of a can of coconut milk
1/4 cup coconut oil, melted
1 heaping cup green peas, thawed
1 tbsp apple cider vinegar
1/2 tsp salt
1/2 tsp oregano
1/2 tsp thyme
1 tbsp fresh parsley, for garnish
In a large bowl, mash the butternut squash. Stir in the coconut cream, oil, vinegar, salt, oregano, and thyme. Once everything is combined, add in the shredded chicken and peas.
Place the mixture into a large saucepan and cook over medium heat for 5-8 minutes, until the peas are cooked and squash is creamy. Top with fresh parsley and serve warm.