Dessert
40 Paleo Chia Seed Puddings to Try
Chia pudding is trendy and popular these days, because it makes a great make-ahead breakfast, dessert, or snack that's high in protein and super nutritious, but also tasty. My favorite thing about chia pudding is that you can customize the flavors with different fruit and extract combinations. Try some of these delicious and super easy paleo-friendly chia pudding recipes! They can also be a great way to get your family to eat chia seeds, which is always a bonus.
---
1. Chocolate Chia Pudding
This beautifully layered double-flavor, chia pudding is my favorite way to eat chia pudding. It is super simple, wholesome and works as a healthy dessert or snack.
---

Photo: The Balanced Berry
2. Mango Chia Pudding Parfaits
I'm a huge fan of these layered parfait chia puddings because I think they add a lot that chia pudding is often missing in the way of aesthetics. This version has bright and cheerful flavors like ginger, vanilla, mango, lime, and toasted coconut, raspberries, and fresh mint on top.
---
3. Toasted Coconut Chia Pudding
Speaking of toasted coconut, this tropical chia pudding has just that! You'll need shredded coconut (you'll toast it yourself, so raw is fine), coconut milk, maple syrup, vanilla extract, chia seeds, and optional caramelized bananas made with coconut oil and coconut sugar.
---
4. Mango Lime Chia Pudding
Despite the fancy flavor, this is one of the simplest chia pudding recipes I've ever seen. You'll need full fat coconut milk, chia seeds, mangoes, and limes. Because it doesn't even require a sweetener, it's suitable for a Whole30 or even just when you're trying to get sweeteners down.
---
5. Easy Energizing Matcha Chia Pudding
This is a great make-ahead breakfast for the end of a week when you've been running around a bit too much and need something to cure the aches and exhaustion (along with actual rest, of course). Sweeten with maple syrup and flavor with vanilla. Yum!
---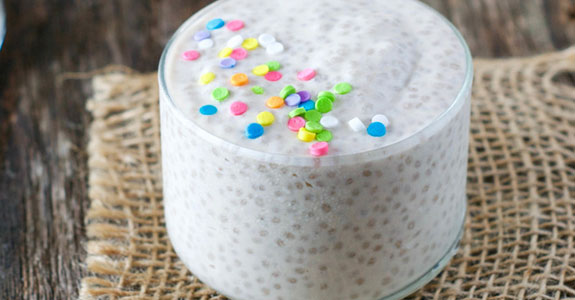 Photo: Paleo Crumbs
6. Vanilla Birthday Cake Chia Pudding
This simple and sweet vanilla chia pudding is lovely when sprinkled with organic sprinkles. The maple syrup and maca add a complex, almost caramel-like flavor that, along with the coconut milk creaminess, really makes it tastes like vanilla birthday cake.
---
7. Persimmon Chia Pudding
Persimmon is an underappreciated fruit, but there's no reason why you can't show it a little kindness by using it in this chia pudding made with vanilla almond milk, vanilla extract, cinnamon, nutmeg, honey, and maple syrup. No coconut to speak of!
---
8. Chocolate Chia Seed Pudding
One way to get the creaminess of a coconut milk-based chia pudding without the strong coconut flavor is to combine the coconut milk with almond milk. This recipe does just that, along with chocolate plant protein, maple syrup, fresh berries, and cacao nibs.
---
9. Cranberry Nut Chia Pudding
This recipe reminds me of old fashioned granola or something homey like that. It's made with almond extract, chopped pecans, dried cranberries, and actual paleo granola if you want. Just replace the raw cane sugar with coconut sugar and figure out the best ratio for the texture you want.
---

Photo: Better With Cake
10. Chocolate Orange Chia Pudding
I love the combination of chocolate and orange: rich, fudgy chocolate along with bright, zest orange. You'll actually blend this chia pudding up in the blender after it's been refrigerated, which helps to smooth out the texture—perfect if the texture of chia pudding isn't your thing.
---
11. Very Berry Chia Pudding
Just look at the gorgeous purple color of this one! This is an especially kid-friendly flavor (along with chocolate, of course) made with any non-dairy milk you like, chia seeds, strawberries, blueberries, raspberries, pure maple syrup, and vanilla extract.
---
12. Chocolate Chia Seed Pudding Recipe
Here's a simple coconut-nectar sweetened chocolate chia pudding recipe made with coconut milk and vanilla extract. If you don't have coconut nectar, use another low-GI sweetener like maple syrup. Top with coconut sugar-sweetened whipped coconut cream!
---
13. Easy Pumpkin Spice Chia Pudding
Everyone knows how popular pumpkin spice gets to be in the fall, so prepare yourself ahead of time by writing down this pumpkin spice chia pudding recipe made with coconut milk, fresh pumpkin, cinnamon, ginger, vanilla, and more. If you choose to add a sweetener, use maple syrup.
---

Photo: Eye Candy Popper
14. Winter Chia Pudding Breakfast Bowl
This breakfast bowl will keep you full until lunch, because it's decked out with almond or hazelnut milk, vanilla, and toppings like kiwi, banana, dried fruit, hemp seeds, maple syrup, raspberries, and almond butter. Plenty of protein and other nutrients!
---
15. Chocolate Coconut Chia Pudding
If you're something who wants to embrace the coconut flavor of your creamy chia pudding, try this recipe with raw cacao powder, medjool dates, chia seeds, and sea salt. It's blended smooth and topped with toasted hazelnuts, grated chocolate, ground coffee, and more.
---
16. Chocolate Superfood Rice Pudding
Obviously, since rice isn't paleo, this rice pudding is a lie. But it's a delicious, nutritious, absolutely decadent lie, and it's even made with a vegetable! Along with cinnamon, maple syrup, cacao, vanilla, chia, and maca superfoods. You'll just have to click to find out the rest!
---
17. Mixed Berry Chia Pudding
Here's another super simple, 5-ingredient chia pudding recipe—and that's if you count a pinch of salt as a whole ingredient. You'll need coconut milk, fresh or frozen mixed berries (your choice), chia seeds, cinnamon, and a pinch of salt to bring out the flavors.
---

Photo:Pure Ella
18. Healthy Pina Colada Chia Parfait
My favorite thing about this recipe is that the fresh pineapple has lots of electrolytes of a hot day, when you need a treat that's going to nourish you instead of giving you a sugar high. The coconut flakes and coconut milk contribute to the tropical flavors and make everything creamy and yummy. No added sweetener!
---
19. Peanut Butter Cup Protein Chia Pudding
Obviously you aren't going to use real peanut butter cups for this recipe, but you'll use Sunbutter cups as the blogger suggests, or even almond butter cups. Yummy! Add chocolate protein powder (a paleo-friendly version) to make this chia pudding high-protein.
---
20. Raspberry Chia Pudding
Raspberries are one of my favorite fruits, and I just love their sweet and tart fruity flavor that's strong enough o take the lead in smoothies and recipe like this chia pudding. It's got maple syrup and coconut sugar. I would probably also add chocolate chips and vanilla extract.
---
21. Gingerbread Chia Pudding
If the pumpkin spice chia pudding was perfect for fall, this one is perfect for winter and the holidays. It as a delicious flavor from maple syrup, molasses, vanilla, ginger, cinnamon, cloves, and chia seeds in creamy and delicious coconut milk with plenty of healthy fats.
---

Photo: Reclaiming Yesterday
22. Chocolate Chia Avocado Pudding With Whipped Coconut Cream
If you've been paleo for more than a few days, you've probably heard of avocado pudding. This recipe combines the ingredients in chocolate avocado pudding with chia pudding to make a super rich and creamy pudding with lots of healthy fats and protein.
---
23. Chai-Spiced Chia Pudding Parfaits With Persimmon Puree
Try saying the title of this recipe five times fast! This yummy chia pudding is full of persimmon, cinnamon, garam masala spice, ginger, and black pepper. it's layered to create a beautiful and taste chia pudding parfait for breakfast, dessert, or a snack.
---
24. Cranberry Chia Pudding
Cranberry sauce is my absolute favorite part of Thanksgiving—always homemade—and I usually make extra and stash it in the freezer so I can enjoy it a few times throughout the year. This chia pudding with vanilla is the perfect treat to layer with cranberry sauce!
---
25. Brownie Bottom Mint Chia Pudding
Love chocolate and mint together? You'll love this chia pudding with a fudgy brownie bottom made from mashed avocado, cocoa powder, agave (or maple syrup), vanilla almond milk, and vanilla extract. The chia pudding on top has a yummy peppermint flavor!
---

Photo: Two Purple Figs
26. Instant Chia Pumpkin Pudding
Medjool dates are the perfect sweetener for these pumpkin pudding cups because they add sweetness without adding liquid, so you end up with a rich and thick pudding. Definitely add plenty of pumpkin spice and cinnamon, even though they're marked optional!
---
27. Kaffir Lime and Coconut Chia Pudding With Berries
With tropical kaffir lime leaves infusing the coconut milk with an awesome flavor, this delicious chia pudding is unlike any that you've tried before. You'll also need some fresh strawberries and blueberries to pile on the top. So delicious and healthy, too!
---
28. Cinnamon Apple Chia Pudding
This is a fancier chia pudding with more of a process to caramelize the apples, but it's so worth it for an amazing breakfast with vanilla beans, ghee, coconut milk, apple, cinnamon, raisins, shredded coconut flakes, and sea salt to bring out the flavors.
---
29. Classic Vanilla Chia Pudding
I can sometimes be a classic vanilla kind of girl, and this recipe is perfect for those of us who appreciate a good vanilla pudding. The combination of almond and coconut milks keep it from being too coconutty, while plenty of vanilla extract and maple syrup create the perfect flavor.
---

Photo: Down Shiftology
30. Blueberry Chia Pudding With Figs, Hazelnuts, and Maple Syrup
The bright blueberry flavor of this chia pudding is perfect with figs, hazelnuts, and maple syrup creating and elegant combination of tastes. Coconut milk makes it creamy while vanilla extract adds an extra depth to the flavor. So elegant and delicious.
---
31. Vanilla Chia Seed Pudding With Strawberry and Fig
This pudding has a delicate vanilla-almond flavor layered with a combination of strawberry and fig. The fig helps to give the strawberries and extra sweetness. You can use a touch of honey if you need to, but you might find that it's sweet enough on its own.
---
32. Chocolate Chia Pudding Pops With Bananas
Frozen chia pudding still counts as chia pudding, right? These amazing pudding pops are made with almond or coconut milk, chia seeds, maple syrup or honey, dark cocoa powder, sliced bananas, and mini chocolate chips or cacao nibs. They're a great way to get your kids to eat chia seeds!
---
33. Cashew Chia Cacao Nib Pudding
In this recipe, creamed cashews add a density and richness that's worth getting excited about. This pudding is sweetened with maple syrup and honey so neither flavor overpowers, along with sea salt, chia seeds, vanilla extract, cocoa powder, and cacao nibs.
---

Photo: The Chick Who Eats
34. Raw Cocoa Chia Breakfast
This chia pudding has a yummy chocolaty sauce on the top, which you can add protein to using almond or cashew butter to replace the peanut butter (which is optional, anyway). The banana is the sweetener, so you don't even need to add anything else.
---
35. Chocolate Lavender Chia Pudding
Lavender isn't just for gardens and aromatherapy! Dried culinary lavender lends a lovely flavor to this pudding, which is sweetened with delicious Medjool dates, vanilla extract, and a milk of your choice. Coconut milk would be extra creamy, and almond a more neutral flavor.
---
36. Mango Tropical Chia Breakfast Pudding
Make yourself an amazing tropical breakfast bowl with fresh or frozen mango flesh, unsweetened coconut milk, dried shredded coconut, chia seeds, vanilla extract, lime juice, and if you even need any sweetener, honey or maple syrup does the trick.
---
37. Vanilla Chia Pudding With Strawberry Puree
Strawberry vanilla is a classic and delicious combination that kids and adults alike can enjoy. I love the bright colors and flavors of this strawberry puree sweetened with maple syrup and spread over vanilla chia pudding made with yummy cashew milk.
---

Photo: Blissful Basil
38. Chocolate Cherry Chia Pudding Parfaits
Chocolate and cherry? Yes please. This one is made with any plant or nut milk of your choice, chia seeds, pure maple syrup, raw cacao powder, cacao nibs, and a topping of a sweet cherry chia jam homemade with fresh dark sweet cherries.
---
39. Pumpkin Apple Chia Pudding
Full of the tastes of fall, this apple and chia pudding is spiced with pumpkin pie spice, maple extract, vanilla extract, and homemade apple butter as well as canned pumpkin (though fresh would be awesome). Make it with coconut milk for a creamy treat.
---
40. Pineapple Protein Chia Seed Pudding
This chia pudding is rich in protein from the plant-based protein powder, vanilla lucuma flavor. Of course, you could use your favorite paleo-friendly protein powder. Don't forget the deliciously juicy and spunky pineapple topping! Almond milk adds even more protein.