---
I usually buy raw nuts in bulk as a cost-effective way of gathering ingredients to make my own granola and various other Paleo snacks. Once you buy a bag of raw almonds, for example, you can make numerous recipes from it. At the same time, you save money on expensive store-bought granola and boxed granola bars. The store-bought version of granola bars also usually comes with a long list of additives.
This recipe uses all-natural ingredients. When I'm making granola bars (or regular granola) I usually like to start by breaking up the raw nuts into smaller pieces in the food processor. To start this recipe, add the almonds, pistachios, pepitas, and even the coconut flakes to a food processor and process to break up. I suggest breaking them into even smaller pieces than the pictures show, so that the bars stay together a little better.
For the next step, I usually find it is most convenient to melt the coconut oil in a large glass bowl. Then the rest of the ingredients can be mixed right in the bowl. Whisk in the honey, almond butter, salt, and vanilla. Then add the nut mixture to the liquids. Stir well to coat everything, and add in the dried cherries. If you are not a fan of cherries, dried cranberries or apricots would also work well.
At this point you should have a pretty sticky mixture. Transfer everything to a parchment-lined baking pan and press into an even layer. Bake for about 25 minutes, or until the mixture looks golden brown. Take it out of the oven and let it cool completely before cutting into bars, at least an hour.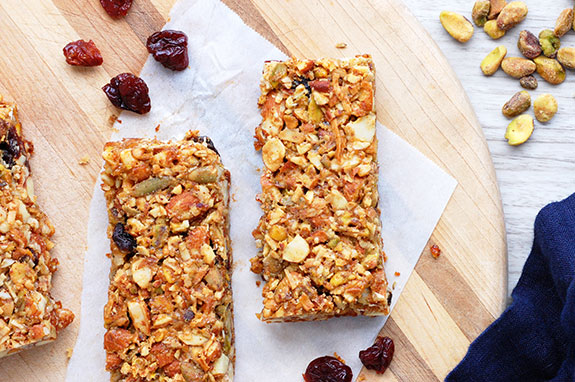 As it cools, the mixture should harden and therefore be easier to cut into bars without falling apart. Cut them into any shape or size to serve. One or two chunks usually fall off my bars, and I welcome suggestions for fixing it – but for now I just acknowledge that is the way homemade bars are supposed to be. Store in the refrigerator, or take along with you on your next hike or road trip.
---
2 cups almonds
1/2 cup pistachios, shells removed
1/2 cup unsweetened coconut flakes
1/3 cup pepitas
1/4 cup coconut oil, melted
1/4 cup honey
2 tbsp almond butter
1/2 tsp salt
1/2 tsp vanilla extract
1/2 cup dried cherries, chopped
Preheat the oven to 325 degrees F. Prepare an 8x8-inch baking pan with parchment paper. Place the almonds, pistachios, coconut flakes, and pepitas in a food processor and blend to break down into smaller pieces.
Whisk together the coconut oil, honey, almond butter, salt, and vanilla in a large bowl. Add in the almond mixture and dried cherries. Stir well to evenly coat.
Transfer the granola to the prepared baking pan and press into a flat, even layer. Bake for 25-30 minutes until golden brown. Let cool completely, 1-2 hours, before cutting into bars. Store in the refrigerator.