Low Carb Rice Replacement Mixes Perfectly With Salmon
Following a paleo diet is relatively easy for me, as it simply means I get to eat tons of the foods that I love to eat anyway. Fresh vegetables with lots of leafy greens, plenty of healthy fats from things like coconut oil, an abundance of nuts and seeds, and of course lots of tasty seafood. As much as I love chicken and beef, I definitely try to use seafood as my protein source most of the time since it's also so high in omega-3 fats.
Eating plenty of seafood keeps my heart healthy, lowers inflammation, and even helps to boost my immune system. (1) Salmon is one of my favorite types of fish, and I use it in all kinds of different paleo meals, such as fish cakes and poached egg salads. It also finds a perfect home in this sushi roll recipe as the taste of salmon blends perfectly with the mixture of honey and apple cider vinegar.
It wouldn't be good sushi without some white rice or sticky rice included either. Lucky for us, cauliflower rice fits in just as well to make perfectly good sushi rolls. It's somewhat of a superior option as well, considering cauliflower is low carb and full of phytochemicals and antioxidants. (2) Along with the red pepper and cucumber slices, it provides these sushi rolls with plenty of vitamins and minerals to match the protein and omega-3 fat content.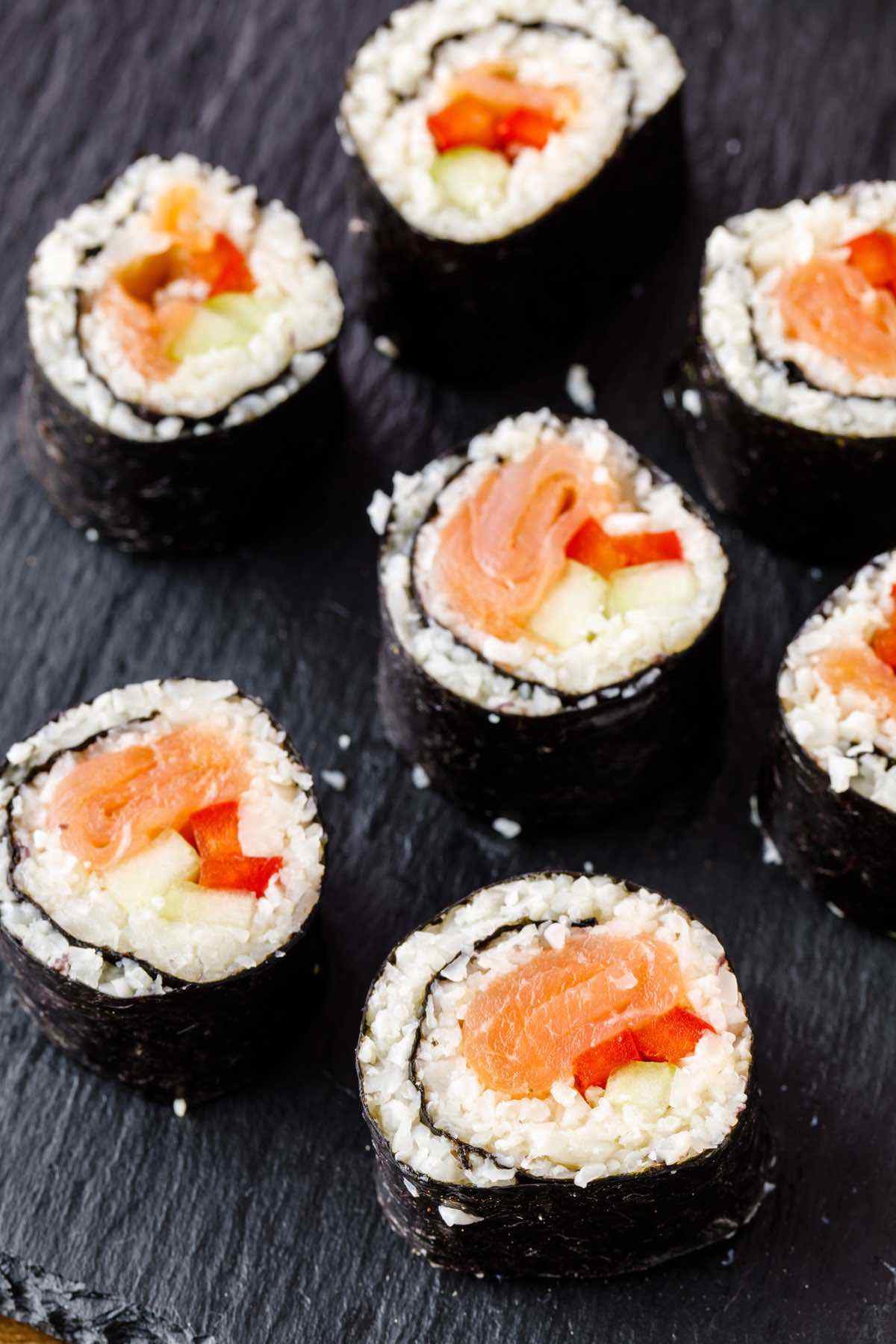 Using a food processor to blend cauliflower florets into a rice-like consistency is one of the greatest discoveries I've ever made while following a paleo diet. There are so many great meals that make excellent use of rice as a staple that it would be a shame to not be able to enjoy them just because someone has gone paleo. Not only does cauliflower rice actually taste great, but it's full of essential nutrients and can be perfectly slotted in with any dish that features rice.
P.S. – Cauliflower rice opens up so many possibilities for paleo dieters because of its unique texture. For instance, this paleo pork fried cauliflower rice is almost like the real thing, except it has way less carbs but just as much texture and flavor as real rice.
P.P.S. – Salmon! It's so rich and buttery, not to mention packed with omega-3 fats. I love pairing salmon with cauliflower rice especially if it's cooked using either one of these recipes:
---
4 cup cauliflower florets
2 tbsp apple cider vinegar
2 tsp honey
4 nori sheets
4 oz smoked salmon
½ red pepper, sliced into sticks
½ cucumber, peeled and sliced into sticks
salt to taste
coconut aminos, to serve
Place the cauliflower florets in a food processor and pulse until the mixture resembles rice.
Transfer the cauliflower "rice" to a microwave-safe bowl.
Cover with plastic wrap and cook on high for three minutes.
Remove from the microwave and uncover.
In a small bowl mix the honey and apple cider vinegar.
Pour the mixture into cauliflower and mix to combine. Season with salt to taste.
Place the nori sheets on a bamboo mat and spread ¼ of cauliflower rice onto the each sheet.
Place the salmon and veggies onto it and roll up into a long roll.
Seal the end by brushing the top edge of the nori sheet with water before you finish rolling.
Using a sharp knife, cut the sushi into pieces.
Serve with coconut aminos.