Gluten-Free Toast for Pastas, Sandwiches, Dipping
Not only is gluten being linked to an increasingly large number of health complications beyond Celiac's disease, but it's also been shown to increase weight gain and cause inflammation as well. (1)(2) It's a good thing then that when you're following a paleo diet, grain products like wheat are totally avoided. It's not so good however, if you were a big fan of toast and sandwiches like I was.
And that's exactly where cauliflower comes into play. By taking cauliflower florets and running them through a food processor until they have a rice-like consistency, it's amazing what you can do when it comes to paleo-friendly meal replacements. All of a sudden, paleo versions of pepperoni pizza bites and pork fried rice, and this cauliflower toast become regular menu options.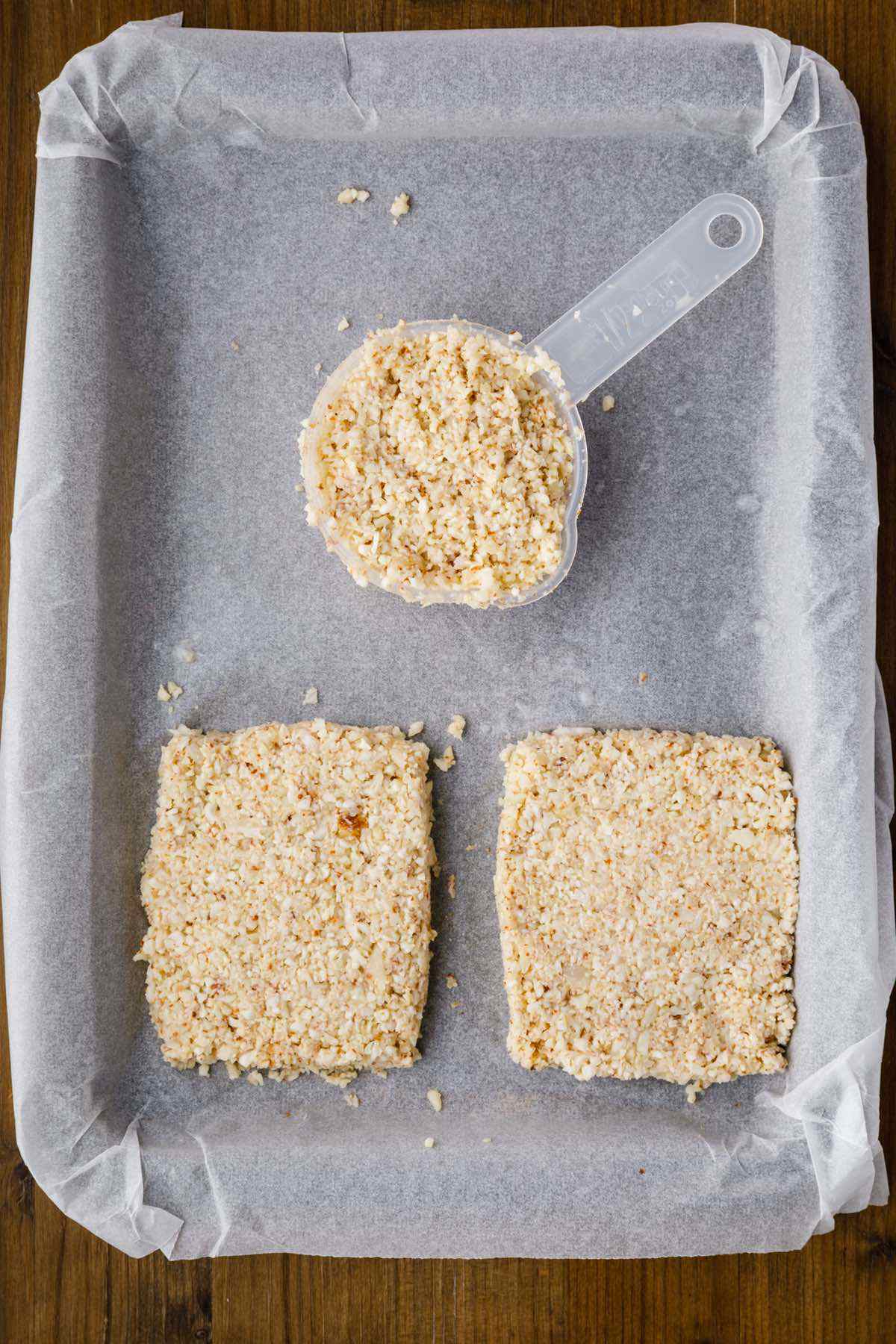 By taking processed cauliflower florets and simply adding olive oil, an egg, and almond flour you have everything you need to make a great tasting toast replacement. After baking them all together, you're all set to make your favorite breakfast sandwich options. I find them best topped with mashed avocado, tomato slices, and bacon myself.
When it comes to your health, you should never take any risks. Even individuals who are not overly sensitive to gluten experience immense benefits when giving it up and making an effort to follow a paleo lifestyle. Thanks to recipes like this cauliflower toast, you can still enjoy all of your favorite breakfast sandwiches completely gluten-free.
P.S. – If you're looking for other ways that you can replace bread while on a paleo diet so you can enjoy even more sandwich varieties, then check out a few of these awesome recipes below:
---
1 pound cauliflower florets
1 olive oil
1 egg
1 cup almond flour
salt to taste
Preheat oven to 350ºF. Line a baking sheet with parchment paper and set aside.
Place the cauliflower florets in a food processor and pulse until the mixture resembles rice.
Heat 1 tablespoon of olive oil in a large pan over medium heat.
Add the cauliflower "rice" and cook, stirring constantly, 4 – 5 minutes.
In a bowl add the cauliflower "rice" and egg and mix to combine.
Add the almond flour and season to taste with salt.
Mix to combine.
Place the cauliflower mixture onto the baking sheet in six even portions. Form into squares, about ½ inch thick.
Bake in preheated oven for 15 minutes.
Remove from the oven and flip.
Bake for additional 12 – 15 minutes.
Serve with mashed avocado, sliced tomatoes, boiled eggs, cooked chicken or other toppings to your liking.