There's something about alfredo sauce that just makes you want to have another bite. That creaminess and buttery flavor definitely has something to do with it. At first I thought I was out of luck when it came to ordering my favorite pasta dish at restaurants.
No more alfredo sauce??? That's just not acceptable. Time to find a way to include it in my weekly lineup of meals.
In the world of cream sauces, alfredo stands at the top because it's super creamy and just kind of feels like it's fattening you up as you're eating it. For that sort of mouthfeel we're going to need to bring in the big guns when it comes to creamy texture: cauliflower and cashews.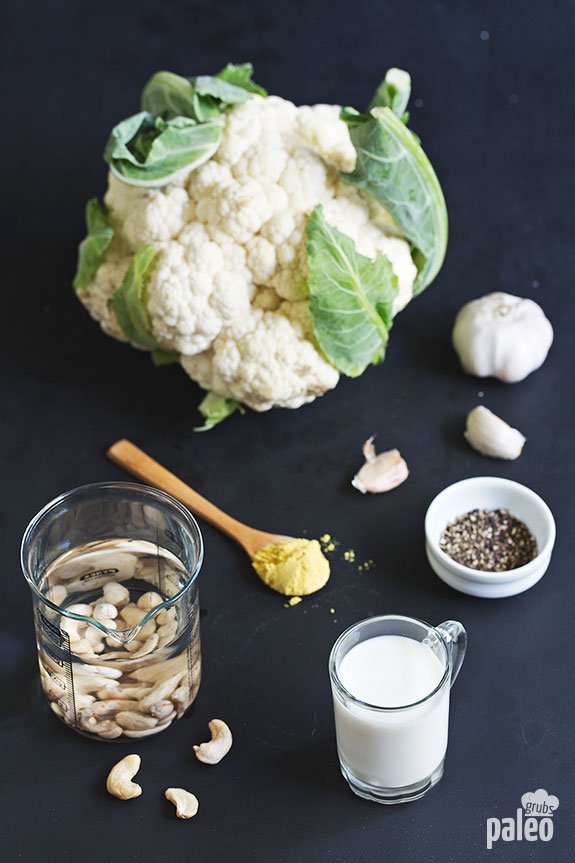 Cauliflower is one of those remarkable vegetables that is more versatile than I could have ever imagined. For years I thought it was broccoli's bland cousin, but after discovering the fun of Paleo there's no shortage of fun things to do with cauliflower in the kitchen.
One of my favorites is making creamy sauces with it. When it's cooked up and pureed the texture is perfect for all sorts of uses. This is a dish where cauliflower needs a little support in order to get the perfect result when you're finished.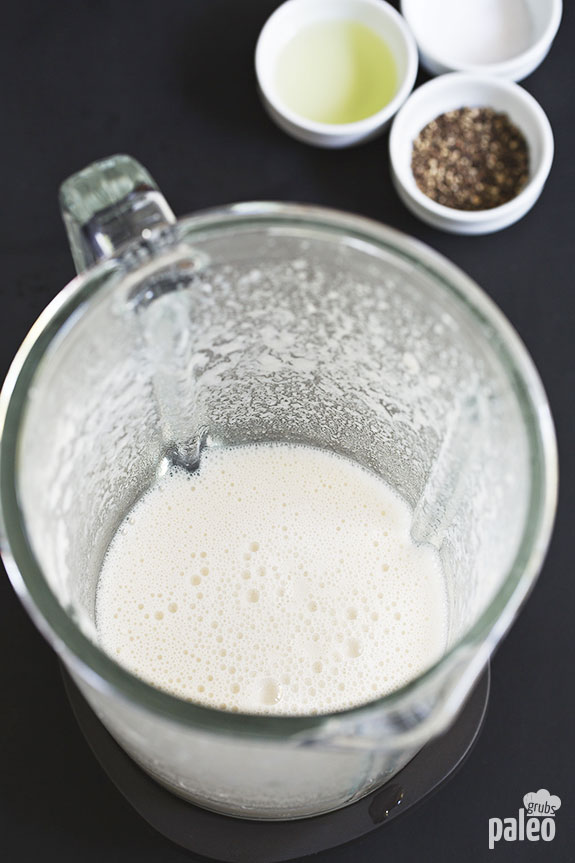 Whenever you want something cheesy and buttery cashews are the way to go. Vegans have been using cashews for decades to reproduce cheesy dishes without using cheese. When you combine the creaminess of the cauliflower and the smooth thickness of soaked and blended cashews, you're going to get a knock-out creamy alfredo sauce.
To really drive home that cheesy flavor we want, let's go with nutritional yeast. This is a remarkable ingredient that I like to keep as an ace up my sleeve. It makes things taste cheesy with absolutely no dairy in it, and what's even better it provides you with amino acids that your body really needs each day.
Putting this over zucchini pasta is the next step in keeping this meal Paleo friendly while delivering an authentic experience. Zucchini noodles not only save you tons of carbs and help you avoid grains and gluten, they're giving you a serving of vegetables along with some extra fiber.
The reason I love a meal like this is that it reminds me that there's nothing really off limits as long as you keep your creative mind sharp. A few swap outs, some new uses for items like cauliflower and cashews, and the next thing you know you've got a really tasty meal that comes close to replicating the real thing.
---
For the sauce

4 cups cauliflower florets
2 tbsp cashew nuts, soaked for minimum 1 hour
4 tbsp nutritional yeast
5 garlic cloves, minced
1 small onion, minced
1 tsp dried chives
½ cup almond milk
½ tbsp lemon juice
2 tsp olive oil
salt, pepper to taste

The rest of ingredients

4 large zucchini , cut into noodles
4 ounce bacon, chopped
4 tbsp chopped parsley
2 tbsp olive oil
crushed black pepper to taste ( optional)
Fill a large pot with water add salt and bring to boil. Add the cauliflower florets and cook for 6 minutes. With a slotted spoon remove the cauliflower florets from the pot and drain well.
Heat the olive oil over medium heat and add the chopped onion. Cook for 5 minutes, then add the garlic and cook for 1 minute. Remove from the heat. In a high speed blender place the cooked cauliflower, onion and garlic, almond milk, nutritional yeast, cashew nuts, dried chives and lemon juice. Blend until smooth. Season to taste and set aside.
Heat the remaining olive oil in a large skillet over medium heat. Add the bacon and cook 2-3 minutes or until crisp. Remove from the skillet and set aside. In the same skillet add the zucchini noodles and cook for 1-2 minutes. Add the sauce in the skillet and mix well to coat. Heat until heated enough to your liking. Add the bacon and chopped parsley and mix to combine. Season to taste and sprinkle with crushed black pepper. Serve immediately.