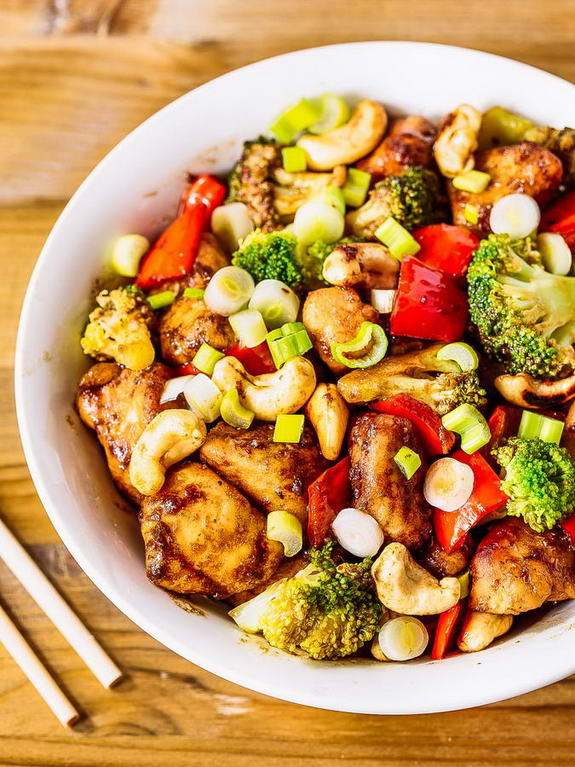 When I started eating Paleo, I swore off Chinese take-out. The rice was just too much temptation and I knew I couldn't be sure what was in all those sauces. And I knew without a doubt that General Tso's deep fried chicken in a sweet and spicy sauce was about as far from Paleo-friendly as I could get. But that didn't diminish my love for all those Chinese take-out flavors: ginger, garlic, chili, sesame…mmmmm…
So not long after starting my Paleo journey, I realized I could still get all those great flavors without compromising my Paleo standards. And that's what I love about Paleo eating. You can make a few small substitutions in nearly any recipe to get the same flavors and textures, but in a Paleo-friendly package.
The first substitution in this recipe is using arrowroot flour instead of wheat flour or another processed thickener. The arrowroot flour is optional in this recipe anyway, but I like it because it gives a thin coating to the chicken and helps the sauce thicken a bit. Without it, your sauce will just be a little thinner. But you won't lose anything in the flavor department at all. Arrowroot flour comes from a starchy root used in Central and South American cooking for hundreds of years. As a bonus, it's gluten free, for all of you folks who shy away from gluten.
The other major substitution you'll probably notice in this recipe is that it calls for coconut aminos, instead of soy sauce. Although there's some discussion over whether or not soybeans are ok on a Paleo diet, that's not even the beginning of why we use coconut aminos instead. Almost all modern soy sauces sold in American grocery stores are made with some wheat, instead of only with soy. And of course we all know that wheat is not Paleo-friendly. Most soy sauces also have some added sugar. And plenty of them are not slowly fermented, like traditional soy sauce would be, but instead are given the characteristic soy sauce taste and color through a process that involves soaking the soybeans in hydrochloric acid and adding coloring and flavoring. It is much faster and therefore cheaper to make soy sauce this way, but it means that the result is far from Paleo.
If you can find a soy sauce that is made the traditional, slow fermenting way and that has no added wheat (soy sauce without wheat is usually labeled as tamari), sugar, colorings, or flavorings, and you're ok with a touch of soy in your diet, I'm not here to stop you. But, if you really want to be a Paleo purist, I do recommend coconut aminos instead. Coconut aminos are made from the sap of coconut trees. It's wheat and gluten free and yet still tastes surprisingly similar to soy sauce.
A bottle of coconut aminos can be a little pricey, so I've toyed around with creating substitutes from other ingredients, but I have to be honest: all of my trials ended with me going out to buy a bottle of coconut aminos. If I want that soy sauce flavor – and let's face it, if you're trying to make Chinese food, it's essential – and you want to be strictly Paleo, coconut aminos has to be on your shopping list.
So be prepared for the next time you get hit with a Chinese take-out craving. Keep some of the less common ingredients on hand, put down that food ordering app, and get into the kitchen. And here's a last little tip: can't live without the rice? Try cauliflower rice instead! Especially with all the amazing flavors in this dish, you won't notice the difference and you'll be all the more pleased with your Paleo progress.
(Make this next: Paleo Shrimp Fried "Rice")
---
1 ¼ pound chicken breasts, boneless and skinless, cut into 1'' cubes
2 tbsp arrowroot flour (optional)
1/2 tsp salt
1/2 tsp pepper
2 tbsp olive oil
1 tbsp sesame oil
2 ½ cups broccoli florets
2 medium red bell peppers, cut into bite size pieces
1 red chili, deseeded and minced
3 garlic cloves, minced or pressed
1 cup cashews, dry roasted and unsalted
3 tablespoons Coconut aminos
1 ½ tbsp honey
1 tbsp apple cider vinegar
1 inch piece of fresh ginger, grated
4 spring onion, chopped
In a small bowl mix the coconut aminos, honey and vinegar. Set aside.
Place the chicken, salt, black pepper and arrowroot flour (if using) in another bowl and mix to coat. Set aside.
In a wok heat the oils over medium high heat.
Add the chicken pieces and cook, stirring occasionally, for 4-5 minutes.
Add broccoli, red peppers, garlic, chili and ginger.
Cook, stirring occasionally, for 4-5 minutes or until chicken is done and vegetables are crisp-tender.
Add cashews and mix to combine.
Stir in coconut aminos mixture and lower the heat to medium low.
Cook for another minute or two, then remove from heat, divide between serving plates, sprinkle with spring onions and serve.