Dessert
11 Crave-Worthy Gluten-Free Carrot Cake Recipes
What's not to like about carrot cake? It's got your vegetable serving built right into a dessert. The only problem is that conventional carrot cake is loaded with sugar, vegetable oil, flour, and margarine. These aren't acceptable while eating the Paleo way, but it's OK because there are plenty of ways to make Paleo friendly carrot cake and bring this dessert back to the approved foods list. You'll find that many of them have found suitable alternatives and have been able to replicate the taste of carrot cake without introducing any unauthorized ingredients.
---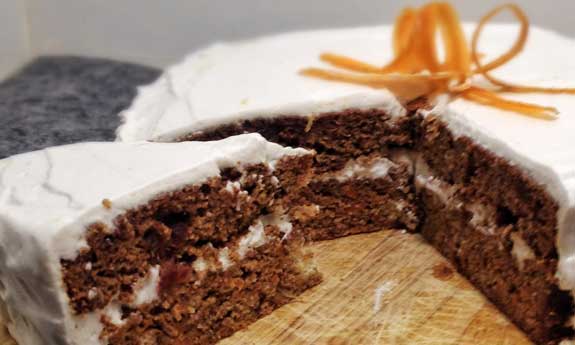 Photo: Mummy Made It
1. Carrot Cake with Lemon Cream Icing
There's only so many ways that you can doctor up a carrot cake, and here they've tinkered with the icing, giving it a lemon flavor that you don't typically see. The cake itself is very much reminiscent of a traditional carrot cake, with a big stripe of frosting in the middle, separating a top and bottom layer of cake. They've used coconut cream for the frosting, so you don't have to worry about any dairy if you're not able to process dairy. In fact the entire recipe is filled with awesome Paleo friendly items to keep you on track.
---
2. Carrot Cake with Dairy-Free Cream Cheese Frosting
Taking the dairy out of the frosting is a big step toward making carrot cake more Paleo friendly. You may see some Paleo carrot cakes with cream cheese used in the cream cheese frosting, which isn't exactly 100% Paleo, but with this one they've figured out how to make cream cheese frosting with no cream cheese. If you want to change any of the below recipes that call for cream cheese, just reference this one for the instructions on how to make a dairy-free cream cheese frosting. With so many different layers you'll forget that you're even on a diet.
3. Paleo Carrot Cake
When you see Paleo in a recipe title you can tell that the recipe creator has gone out of their way to make sure that they haven't violated any of the basic principles of the Paleo diet. In this recipe they've chosen to use only the ingredients necessary to bring about the final result, and they've gotten rid of anything that doesn't serve a purpose. The best part about this recipe is how pretty the cake looks once you're done, and this is surely a cake you could show off at any gathering whether it's Paleo eaters or not.
4. Some-Shade-of-Paleo Carrot Cake
Paleo is not the strictest of diet plans, because no one knows for sure just what was being eaten 10,000 years ago. This recipe pays tribute to that by clearly stating that it falls under the title of Paleo, but maybe is pushing things a bit on an ingredient or two. So much of Paleo involves deciding how strictly you're going to follow it. Some go all the way and completely nix things they know weren't being eaten back then, while others are more lenient and consume certain food items in limited quantities on occasion.
---

Photo: Nourishing Nantucket
5. Individual Spiced Carrot Cakes
It's nice to be able to give everyone their own cake and not have to worry about cutting it up and wondering if it's the right portion size. These carrot cakes are already split up just right, and they come out tasting awesome thanks to the unique blend of spices they have. These little cakes look so great you can proudly display them at any function and the crowd is sure to be impressed. Luckily once they bite into them they'll be impressed again, as these pack a lot of flavor without being a contributor to your waistline.
---
6. Grain Free Carrot Cake
This carrot cake really brings things back to basics and uses the minimal amount of ingredients to produce an awesome finished product. They've chosen coconut flour and almond flour both to replace the all-purpose flour typically found in carrot cake. This is a popular choice in Paleo baking, as it very closely mimics the flavor and texture of traditional flour. Instead of using big globs or layers of icing, they have a simple icing drizzle for the top, just enough to give it the sweetness it needs as a dessert item.
7. Flourless Carrot Cake
Flour is one ingredient that you won't find in Paleo baking, at least not the all-purpose flour that is so ubiquitous in conventional baking. They're using a thick layer of frosting, which has both cream cheese and yogurt in it, so this is going to need to be altered if you're going the Paleo route of no dairy. While some Paleo followers stay very strict and don't consume any dairy, others find that they're able to process it in limited amounts as long as they stick to organic.
8. Grain-Free Carrot Cake with Coconut Cream Icing
Getting the grains out of carrot cake is step number one, since grains of all types are not allowed on Paleo. This is because Paleolithic man was not in the habit of eating them, that came later as the human race learned to farm and grow crops and separate the grains and use them as food. Once you've gotten rid of the grains you just need to worry about the sugar, which in this instance they're using raw honey so you're not getting any refined sugar. This means that your body will automatically tell you when you've had enough and you might be surprised at how little it takes to satisfy your sweet tooth.
---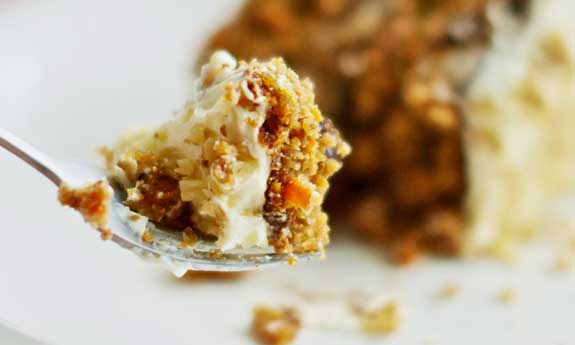 Photo: She Cooks, He Cleans
9. Carrot Cake with Maple Cream Cheese Frosting
Adding maple syrup to the frosting is a great way to separate this carrot cake from all other contenders. Maple syrup is a great source of sweet on the Paleo diet, and is about as natural a product as you could ask for, coming directly from maple trees. The attention to detail regarding the ingredients is a habit to pick up on, as Paleo is all about taking the junk out of what you're eating and only accepting raw and pure ingredients that are naturally sourced. Organic is not a fad while on Paleo, it represents a lot of impurities being removed from your food.
---
10. Pumpkin Spiced Carrot Cake
Adding pumpkin spice to your carrot cake is a great way to make it more appropriate for a holiday gathering or any other event for the fall, even if it's just an after dinner dessert. To make this really cute they've shaped this cake to look like a pumpkin, making it even more suitable for a Halloween party or other fall function. You simply can't go wrong because pumpkin and carrots taste great together, and are the same color, and provide additional nutrition to the cake.
11. Food Lovers Carrot Cake
This carrot cake is designed to replicate traditional carrot cake as much as possible so that you get all of the tastes that you'd expect with none of the drawbacks. It's filled with Paleo friendly ingredients like raw carrots, coconut flour, medjool dates, maple syrup, walnuts, eggs, and sea salt. You'll notice on Paleo that sea salt is OK, but not the sort of salt you'll see being used all over. You don't want iodized, refined salt, you want it as close to natural as possible, either from the sea or from the mountains as with Himalayan salt.