Dessert
32 Yummy Paleo Cakes (Gluten-Free)
On Paleo you can have your cake and eat it too, which is not something that usually comes with a diet program. These cakes don't include any all-purpose flour made from wheat or other grains, so right from the start they're losing some key ingredients that would set you back. They've also nixed any refined sugar and only use natural sources of sweetness. Lastly they've replaced any dairy with better alternatives, so you'll be getting the delicious flavor of cake that you're craving, without all of the bad ingredients that give cake its nasty factory.
---

Photo: Living Healthy with Chocolate
1. Paleo Chocolate Cake
Let's start with a basic chocolate cake that you can bake up whenever you get that chocolate craving, and only cake will do. This cake comes out looking just as pretty as can be, and you'll have trouble believing that you can enjoy this without hating yourself afterward. There's even a middle layer on it made of chocolate ganache, so you won't feel like this cake is following any sort of special dietary guidelines, but it is. There's no ordinary flour in this, but a mixture of almond flour and coconut flour, and the chocolate comes from dark chocolate and cocoa powder instead of milk chocolate.
---
2. Strawberry Cream Sponge Cake
Strawberries bring antioxidants to the table, but most conventional strawberry cakes will overshadow that with all of the lousy ingredients they include, particularly all of the added sugar. This sponge cake is made with items that will move you forward, not hold you back, and the natural flavor and goodness of the strawberries is able to shine through. It uses coconut cream, so you don't have to worry about any dairy issues, and the natural sweetness of honey helps bring out the flavor the the strawberries. This is one cake you can make anytime for a fruity treat.
3. Carrot Cake with Lemon Cream Icing
Here's a carrot cake that will make you wonder why you didn't think of making carrot cake this way before. It does away with the granulated sugar, vegetable oil, pastry flour, powdered sugar, cream cheese, and margarine that comes with traditional carrot cake, and sticks to items that are better for you like applesauce, dates, almond flour and coconut flour. Of course they're using carrots, so you're getting the benefits from those as well. The lemon cream icing doesn't use any dairy, opting for coconut cream instead for the right consistency and flavor. You'll find that in Paleo baking it's all about subbing in healthier alternatives to reach the same goal.
4. Chocolate and Vanilla Cake Pops
You can get in on the cake pop craze even though you're on Paleo. This recipe shows you how to make cake pops two different ways, in chocolate and vanilla, so depending on the mood you're in you can follow your taste buds or just make them both. They come out looking like the ones you see for sale at registers all over, but you can actually enjoy these and still be on a diet with Paleo. They're made with things like maple syrup, coconut oil, and almond flour for the flour, so there won't be any problems regarding what's in them.
5. Chestnut-Flour Apricot Cacao Cake
This Paleo cake recipe shows off just how versatile cake can be, and introduces a few ingredients that you probably haven't had before starting Paleo. They're using chestnut flour instead of all-purpose flour, so you're getting rid of the grains, and they've included apricots to a chocolate cake which is something you might not have thought to do before. There are even pine nuts added to the top as a sort of garnish, so there will be a bit of a crunch to it. These are optional if you'd rather just have it be smooth and chocolatey.
---

Photo: Grok Grub
6. Chocolate Hawthorn Cake
If you're looking for a chocolate cake that provides nutrition rather than makes you feel gross when you're finished, this is the one. It includes plenty of good things like strawberries, dates, and applesauce, while avoiding all-purpose flour and dairy. They are even using Hawthorn berry flour to replace any grain-based flour, keeping this well within Paleo guidelines. Get creative with your Paleo baking and stock up on flours like almond flour, coconut flour, and even ones like hawthorn berry flour so you always have flour on hand that won't be hard to digest.
---
7. Gingerbread Cake
You might have trouble believing that you can make something like this gingerbread cake while on the Paleo diet, but it's recipes like this that show you the types of things that aren't off limits. Gingerbread has a robust taste to it, and in this case they're using ginger powder to provide the right flavor. There are plenty of other spices included to get just the right mix and the right taste, and the cream cheese frosting can be modified using a Paleo cream cheese which will yield good results without the need for dairy. If you're OK with a little dairy every now and then you can follow the recipe as stated.
8. Banana Split Ice Cream Cake
Serve up these banana split ice cream cake bits and they're sure to be a hit, either with a crowd or just for yourself. There's no dairy in these, as it doesn't use real ice cream, and even for the whipped cream you can opt for coconut cream. The banana flavor comes from real bananas, and they've used almond flour for the crust. This makes the perfect dish for sharing, entertaining, or just when you want something sweet that also looks good. Never underestimate the power of how your food looks. You'll want to enjoy how your food looks so it tastes even better.
9. Chocolate Molten Lava Cake
You may have seen molten chocolate cakes served up in restaurant chains before, and now there's a Paleo approved way of making one that lets you have the novelty without the expanded waistline. This molten lava cake is ready to explode with a chocolate ooze after you open it, but the good thing is that it uses the right kind of chocolate to keep it Paleo. They're using Enjoy Life chocolate chips, which cut out all of the junk usually found in milk chocolate, leaving you with just the perfect flavor. Grass fed butter shows that they have their eye on using pure ingredients that are part of the Paleo food list.
10. Chocolate Orange Cake
The orange flavor really comes through on this chocolate orange cake recipe, and perhaps that's because there aren't too many ingredients used in this, so you can taste each one. In fact there are just six ingredients used, and orange rind is one of them. The others are almond flour, raw sugar, eggs, butter, and dark chocolate. Paleo is about keeping things simple, because that's how they would have done it back in the day. You'll know you're eating the right way because this is a clean cake that leaves you feeling satisfied and content after eating it.
---

Photo: Cooking Weekends
11. Upside-down Peach Cake
Switching gears from chocolate, let's look at this peach upside-down cake that comes out looking picturesque and will have your taste buds going mad with joy. The peaches come in an orange liqueur to really bring out and enhance their flavor, and the cake itself uses a mix of almond flour and coconut flour instead of ordinary flour. You can switch out the milk with coconut milk to keep this strictly Paleo, and because it's an upside down cake you'll get the yummy fruit on the top after you flip it around.
---
12. Blueberry Coffee Cake
Here's a coffee cake you can have any time of the day, and it is filled with antioxidant-rich blueberries so you're actually getting some nutrition from it. The base of this cake is made from almond flour and coconut flour, two flours that are part of the approved Paleo list of baking items. You should get rid of that big bag of white flour you may have from before starting Paleo. Nothing good comes from it, and it can be easily replaced with Paleo flours like almond and coconut. There's even a crumb topping that uses a bit more almond flour and shredded coconut for added flavor.
13. Deep Chocolate Cake
This chocolate cake is going deep, taking your taste buds further than they've ever gone before. It does this by using cacao powder, cacao butter, and chocolate chips, so you're being bombarded by chocolate, but you won't mind. There's a buttercream frosting that only uses butter and a few select ingredients, with no other dairy items used. As long as you go with grass-fed organic butter it's a Paleo food. Avoid all of the processed spreads like margarine and anything else that isn't pure butter because those use unauthorized oils and other additives.
14. Grain Free Maple Cinnamon Bundt Cake
This cinnamon bundt cake will have you thinking you're in cinnamon heaven, it's just that good. The maple flavor comes from maple syrup, one of the sweet things you can have while on Paleo. Think about it, maple syrup comes from maple trees, and the hunter gatherer lifestyle of Paleolithic man would involve coming into contact with these trees at some point. They had tools so it's perfectly reasonable to think they might have come across maple sap at one point and discovered it tastes good. It's "of the Earth" ingredients like this that are a big part of the philosophy behind eating the Paleo way.
15. Twinkie Cake
With the whole Twinkie drama of going out of business and being discontinued to coming back to store shelves, it's a wonder anyone can keep track of them anymore. But as a Paleo eater you wouldn't touch them anyway, but you still want to taste the flavors that they have. In this case you can bake up this Twinkie cake and get all of the yum with none of the nasty ingredients. This uses things like cashew butter, coconut flour, and gluten-free baking powder, things you won't find inside the chemically laden Twinkie. But don't worry you'll still feel like you're eating one.
---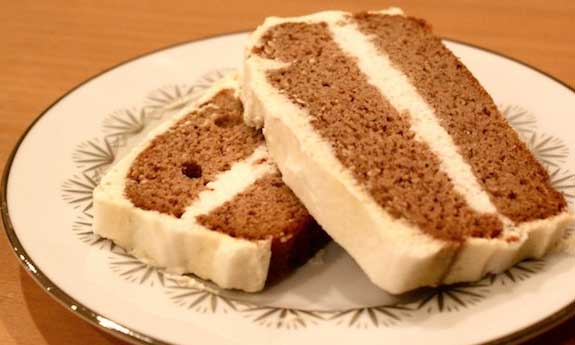 Photo: Real Food Forager
16. Cocoa Butter Layer Cake
Layer cakes just look great, so if you have a function or a gathering that you need to bring a cake to, but don't want to ruin your diet, bring this one. It uses cocoa butter, which they say is pure fat, but that's totally OK on the Paleo diet because it's not the sort of diet where you worry yourself with counting fat grams, or the number of carbs or calories. That's not the way they ate in caveman times, those were simpler times when they ate when they were hungry, and stopped eating when they were full. So stop all of that mental back and forth when it comes to what you're eating and just stick to simple foods like cocoa butter.
---
17. Some-Shade-of-Paleo Carrot Cake
This is one of the more complex carrots cakes you'll ever make, but she's done a fantastic job of keeping this within the boundaries of the Paleo eating guidelines. She hasn't kept it simple, but if you want a robust carrot cake with more flavor than you can stand, this is the one to choose. It's bursting with nutritious foods, like raisins, coconut butter, ginger, carrots, walnuts, and apricots, and that's just getting started. As you can see this carrot cake has a lot going on, so there's sure to be something in it that you enjoy, and you may even like all of the ingredients it contains.
18. Watermelon Cake
Here's one of the most creative cakes you'll ever make, and is sure to turn heads and start conversations when you serve it up to your guests. It uses a watermelon as the base of your cake, and has you cut it beforehand so that it comes apart easily and doesn't mess up its pretty outer covering. There is coconut whip cream all around the outside of it, which makes it look like an ordinary cake and not a watermelon cake. When you serve up a piece they'll be shocked to see that it's not really a cake at all by the standard definition of the word, but way more healthy than any cake they've had, and tasty too.
19. Citrus Celebration Cake
This cake is like having a citrus party in your mouth and everyone's invited. Orange juice gets the call as the citrus taste provider, and is helped out by items like bee pollen, eggs, and honey, with an extra special garnishment of edible flower petals. This makes is a really great cake to take to a party, as it's sure to impress, not only with the way it looks but with the way it tastes. It's up to you to decide if you want to divulge that it's also Paleo friendly.
20. Sweet Potato Cake with White Chocolate Frosting
Making a cake from sweet potatoes is a genius idea, and they've pulled it off nicely here because they've paired it with a white chocolate frosting. They've taken care to make sure that it remains Paleo friendly, and they've assembled a nice mix of seasonings and spices to make sure that you won't be missing out on anything. The chocolate frosting is made with cocoa butter, honey, and coconut butter, so it will be full of rich flavor, and you'll be surprised that you only want a small slice to feel totally satisfied from it. Of course, you could have more, but the thing about eating wholesome foods like this is that a little is usually enough, and you don't need to pig out on it.
---

Photo: Civilized Caveman Cooking Creations
21. Chocolate Blueberry Cake with Mango Cinnamon Frosting
They're combining lots of yummy flavors on this one, and it comes out awesome. There's chocolate from cocoa powder, as well as nutrient-rich blueberries, and they've outdone themselves with a mango cinnamon frosting that brings even more superfoods to the party. The funny thing is that even though it's probably guaranteed that you've never had all of these flavors at the same time, they all work well together, and you may find yourself making this on the regular. This is perfectly OK, since you won't get fat from eating it, and it will help you stay on with your diet plans.
---
22. Flourless Poppy Seed Cake
If you like the taste of poppy seeds, but don't like how they get stuck in your teeth, this cake is for you. The poppy seeds it uses get ground up, so you won't know they're there, but you'll taste them. They are actually serving as the flour, so there's no actual flour used in this recipe, and you're left with the goodness of the poppyseeds, as well as some key ingredients like honey, eggs, butter, and walnuts. They've dusted it with cocoa powder, which they say is optional, but we'd recommend going with it to give it some extra flavor and another dynamic.
23. Coconut Starfruit Upside-Down Cake
This upside-down cake uses coconut in two different ways, once in the form of coconut flour, and again in the form of coconut flakes. This is a great fruity cake for those times when you want cake, but you don't want chocolate, but you still want something sweet and satisfying. Because it's an upside down cake all of the fruit and goodies go on the bottom so that when you flip it around they'll be at the top and make for a nice presentation. In addition to looking good, it's also good for you, with fruits that are known for their vitamins and nutrients.
24. Orange and Almond Cake
This cake contains two whole oranges in it, so you'll get your Vitamin C needs met for the day. The other ingredients don't slog down the goodness of the oranges, and include coconut syrup, almond meal, and eggs. The almond flavor comes from the almond meal, no other almonds are used in this. This means it will have a hint of almond, and not be overwhelmingly like almonds. This is a great cake to use as a base for other toppings, like a Paleo friendly frosting, or with a Paleo ice cream to have cake and ice cream.
25. Jam Sponge Roll
If you're a fan of the sponge roll, no need to be deterred because you're on the Paleo diet. Here's how to make it without ruining your progress, and still feel like you're getting the real deal. It's interesting to think that you can make these sort of foods good for you without drastically changing the taste. It just goes to show that our modern world has a lot of good things in it, but our modified food ingredients aren't one of them. Bring things back to the Stone Age and make a jam sponge roll our ancestors would be proud of.
---

Photo: Primally Inspired
26. Perfect Chocolate Cake
Always strive for perfection, even if you may never get it. That's the theory behind this chocolate cake, and they seem to think they've perfected it. It has two main layers, and is loaded with chocolate, as well as a chocolate frosting layer. Maple syrup gives it its sweetness, and they've replaced ordinary flour with almond flour. It's just enough to keep your taste buds interested and not totally overloaded by the chocolate content. The perfection may lie in its simplicity, since there aren't many ingredients and the steps to make it are easy to follow.
---
27. Eggnog Breakfast Cake
Eggnog may be reserved for the holidays, but there's no reason you can't enjoy it all year long. This breakfast cake is a nice way to start your morning in any season, as long as you're a fan of egg nog. The eggnog they're using is dairy free, so you're skipping out on dairy which will likely not get processed properly by your body. There's also a maple glaze made from maple syrup, more eggnog, and grass-fed butter. You know you've got a winner when they've got high quality ingredients throughout the recipe.
28. Pumpkin Crepe Cake
This cake is made by stacking layers of pumpkin crepes on top of each other, and covering the whole thing with frosting, as well as sticking frosting in between each layer. You'd be hard-pressed to find a yummier cake, and the way it's made means it's going to come out awesome every time. They are using cream cheese in the frosting, and as long as you go with an organic version you should be all set. This means you'll have to venture away from the conventional cream cheese and go with a brand that is lesser known and provides organic dairy products from cows that haven't been pumped full of antibiotics.
29. Flourless German Chocolate Cake
Taking out the flour is the first step to making a German chocolate cake that you can feel good about eating. It's a big step, and they've decided not to use any flour at all. No almond flour, no coconut flour, or any other seed or nut based flour, which is pretty impressive since it still turns out with a cake-like texture. They do use copious amounts of chocolate in it, which you won't hear any complaints on that one. They've also broken it down by cake and frosting sections so it's easy to follow and assemble. Since there's two types of frostings it's important to keep everything organized so it turns out right.
30. Apricot Crumble Cake
Crumble cakes are so yummy, and this apricot version brings its A game. The recipe creator served this up with coconut cream, a great way to add some extra flavor and moisten it up if it needs it. Apricots never tasted so good, and you'll want to bake this up anytime you're having company over and want a nice crumble cake to eat while chatting. You can also just make it for yourself to enjoy, and have a piece each day to keep you from binging on junk.
---

Photo: Cavegirl Cuisine
31. Birthday Cake!
Leave it to the Cave Girl to come up with a caveman style birthday cake to celebrate with. Birthdays are the number one reason people make cake, so this is a nice recipe to keep handy for those times when you want to make a birthday cake, but you don't want to resort to using Betty Crocker or Duncan Hines cake mix, with who knows what for ingredients. This cake is sure to satisfy the pickiest of crowds, even if they're not on the Paleo diet. It's chocolate on the inside with a pinkish purplish outside frosting made with natural food coloring.
---
32. Lemon Meringue Cake
Usually when you hear about lemon meringue it's in reference to lemon meringue pie. In this case they figured out how to make it into a cake, so you can enjoy the flavor but only in cake form. This is good because normal lemon meringue pie is full of dairy and will come on a crust that is loaded with grains. This cake uses nothing like that, but still looks like a lemon meringue pie at first glance thanks to its awesome top. The inside reveals that it's more cake than pie, but it still retains its yummy lemon flavor.