I LOVE this roasted butternut squash soup. It gives me the same comfort food feels as my Instant Pot Chicken and Cauliflower Rice Soup, Chicken and Dumpling Soup and Crockpot Sweet Potato Soup.
The ingredients are quite simple: a squash, an apple, an onion, and carrots. A little bit of tartness from the green apple balances the sweetness of the squash, with some heat added by chili powder. Multiple levels of flavor develop wonderfully together from the spices added throughout the process.
First things first. How do I take a store-bought squash and transform it into something I can cook? To prepare a butternut squash, first cut a thin slice off the bottom of the squash so that it can stand flat on the counter and is easier to handle. Next, peel off the outer layer off the squash. Then, using a sharp large knife, cut the squash in half lengthwise, and scoop out the seeds. You can either discard of the seeds or rinse them and roast in the oven. Lastly, dice the peeled and seeded squash into cubes. Of course, you could also buy pre-cubed squash from the grocery store to make life a little easier.
For this recipe you don't need to worry about making the cubes uniform, because they will be blended eventually. The same goes for the shapes of the sliced apple, onion and carrots. Everything is roasted in the oven after being tossed with some spices, and then combined in a large pot with some chicken stock to simmer. The more chicken broth that you add, the soupier it will be.
As you may be able to tell from the photos, I usually prefer heartier, thicker soups. Those kinds of soups usually call for adding cream or dairy, so I really love this healthier option, which only adds broth.
You can probably guess what I use to make it all come together. The immersion blender strikes again. After all of the ingredients are done roasting, you simmer them together in a large pot with the chicken broth and some added spices. Then puree with an immersion blender until it reaches your desired consistency.
The end result is a creamy, delicious and ridiculously healthy soup. It is a perfect fit for the fall and bursting with flavor.
---
1 large butternut squash (about 5 lbs)
1 green apple, sliced and cored
1 small yellow onion, chopped
2 carrots, chopped
3 tbsp olive oil
2 tsp cinnamon
1 1/2 tsp salt
1/2 tsp cumin
1 tsp chili powder
2 tbsp ghee
3 cups chicken broth
Preheat oven to 400 degrees F. In a large bowl, combine the butternut squash, olive oil, 1 tsp cinnamon, 1/2 tsp salt, and 1/2 tsp cumin. Mix together, coating the squash well. Spread out on a rimmed baking sheet.
Next, in the same bowl that the butternut squash was in, toss the apple slices, onion, and carrots to coat with the remnants. Place on a second rimmed baking sheet and add both baking sheets to the oven. Roast for 35-40 minutes until soft, stirring once.
Heat up ghee over medium heat in a large pot on the stove. Add the roasted ingredients and then the chicken broth. Add 1 teaspoon each of salt, cinnamon and chili powder. Bring to a boil, then reduce heat to low and simmer, covered, for 20 minutes.
Using an immersion blender, combine the ingredients until smooth, or transfer to a blender to puree. Serve warm.
More Good Roasted Butternut Squash Soup Recipes
Curried Butternut Squash Soup
This delicious, silky roasted butternut squash soup recipe can be enjoyed all year around. Coconut milk lends creaminess to the soup and curry powder adds depth of flavor. If the soup is too thick after blending, simply add in more broth to smooth it out.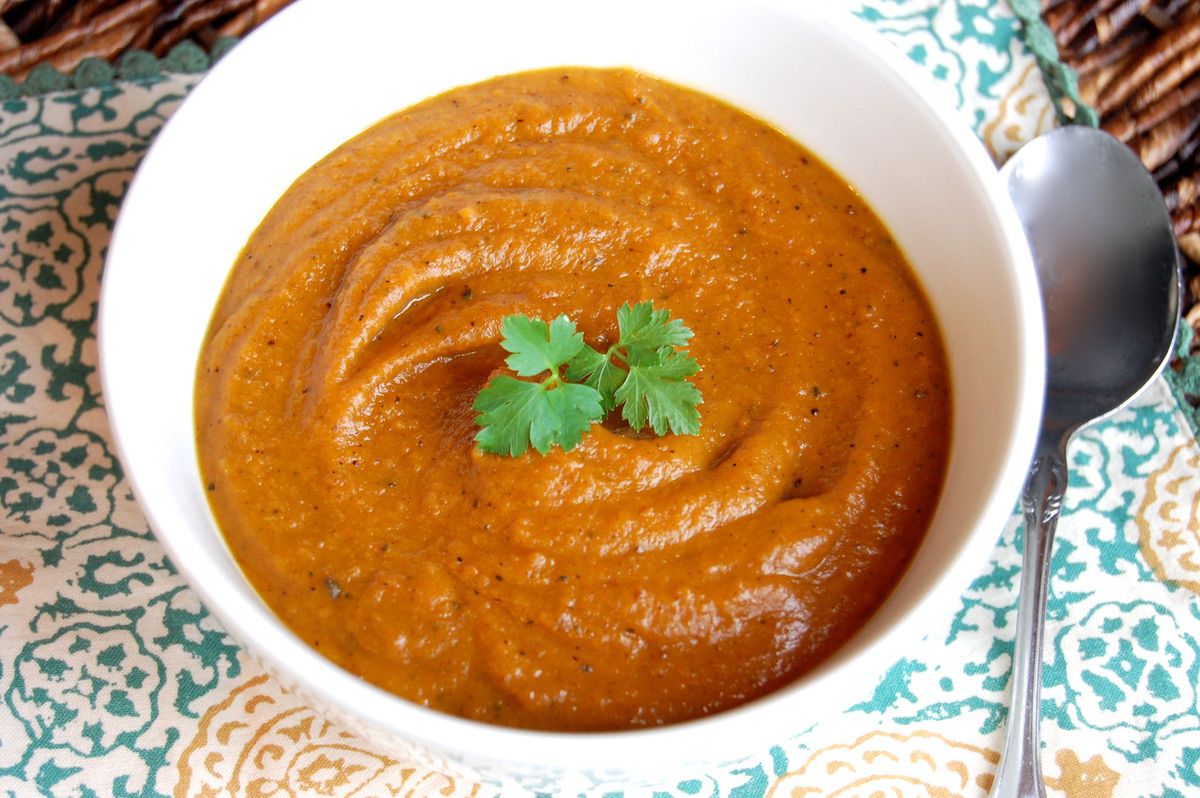 Ingredients
1 medium butternut squash, halved, seeded, and cubed
Extra virgin olive oil, for drizzling
Salt and freshly ground pepper
1 tbsp coconut oil
1/2 medium yellow onion
4 medium carrots, diced
2 stalks celery, diced
3 cloves garlic, minced
1 tsp curry powder
1/2 cup coconut milk
2 cups chicken broth
Fresh parsley, to garnish
Instructions
1. Preheat oven to 400 degrees F. Spread out the squash on a rimmed baking sheet and drizzle with olive oil. Sprinkle with salt and pepper and gently toss to coat. Bake for 40-45 minutes until soft, stirring once.
2. Melt the coconut oil in a large pot over medium heat. Add the onion, carrot, and celery and sauté for 5-6 minutes. Add in the garlic and curry powder and cook for an additional minute. Add the baked squash, coconut milk, and chicken broth the pot. Bring to a boil, then reduce the heat to low and simmer for 8-10 minutes.
3. Using an immersion blender, combine the ingredients until smooth, or transfer to a blender to puree. Serve warm garnished with fresh parsley.