---
The art of transformation is used daily in cooking. This is especially true for diets, when people will transform their food into healthy replicas of dishes that they were accustomed to in their previous lifestyle. We at Paleo Grubs have had fun with making rice, spaghetti, nachos, and even cake, all suited to fit the dietary requirements of Paleo. These recipes are usually marked with quotation marks to indicate that the recipe is an alteration of the traditional concept. The next dish that I would like to introduce into this category is this delicious recipe for butternut squash 'risotto'.
While the risotto cooks, make sure to check every so often to see if the pan needs more broth and to stir the squash. If the squash seems to be sticking to the bottom of the pan, simply add a bit more broth while it continues to cook.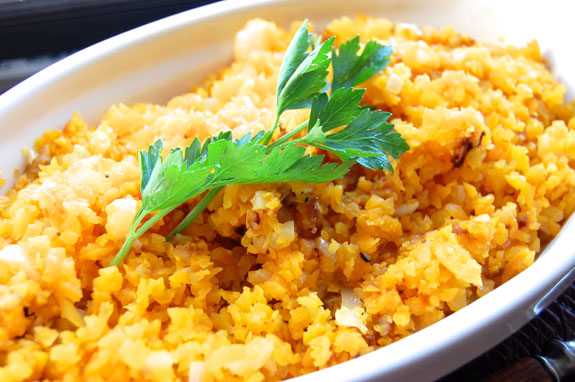 The first time I made this butternut squash risotto I ate it completely on its own. But similar to traditional risotto, there are many different vegetables that you can feel free to add. I also think that it would be good served alongside a heavier protein such as grilled chicken or even steak. In addition, adding rosemary, sage, or other fresh herbs to the dish contrasts nicely to the bold sweetness of the squash. As the recipe is listed here, it could probably feed at least four people as an entrée.
---
2 tbsp extra virgin olive oil
1 tbsp ghee
2 large onions, diced
2 tsp salt
2 butternut squash, peeled, seeded, and cubed
1/4 cup white wine vinegar
1 tbsp fresh parsley, chopped
1-2 cups chicken broth
Heat the olive oil and ghee in a large pot over medium-low heat. Add the onions and salt. Cook for 15-20 until slightly caramelized, stirring occasionally.
Meanwhile, working in batches, place the squash in a food processor and pulse until it reaches a rice-like consistency.
Add the squash to the pan once the onions are caramelized and sauté for 3-4 minutes. Then add the vinegar, parsley, and broth. Cover and cook over medium heat for 30-35 minutes, stirring occasionally, until the squash is completely tender. Add more broth if necessary and adjust the salt to taste. Serve immediately.