This buffalo chicken dip is one of those "I can't believe this is healthy!" dishes that people want you to make over and over again until you get so tired of making it that you decide to pass on the recipe to someone else. This is actually my second try at a buffalo chicken recipe, and it's even more successful than my first. If you end up not liking how this one turns out, feel free to check out the earlier version too.
Authentic Flavors Made from Scratch
The dip itself is extremely simple to prepare and it only requires about five minutes of time. All that you have to do is place all of the ingredients together in a bowl and stir them until they're well incorporated. You'll need one pound of shredded chicken breast along with some paleo-approved mayonnaise and of course, your favorite hot sauce. In addition to that, you're going to add a savory mixture of herbs and spices including dried parsley, chives, dill weed, garlic powder, onion powder, salt, and black pepper.
Take note that not all brands of hot sauce are considered paleo-approved. Have a look at the label for anything that's not natural or anything that's been overly processed. Tabasco and Frank's RedHot are paleo favorites.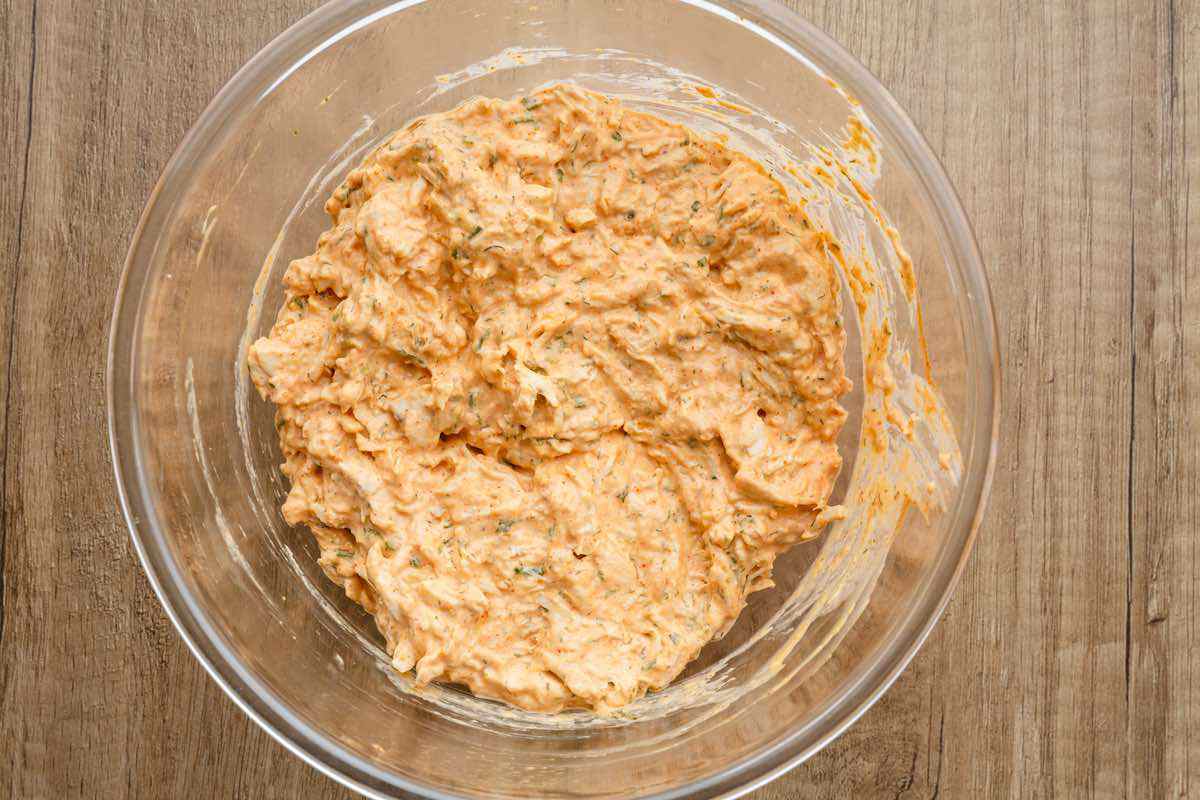 How Hot is Too Hot?
All of the above ingredients combine beautifully to make a tasty sauce for your chicken. Be sure to taste it before mixing your protein to check how spicy it is. Once everything is mixed together, it will be more difficult to adjust the flavors. Herbs and spices like those included in this recipe contain many excellent health benefits thanks to their antioxidant properties. (1)(2) They make fantastic replacements for other less healthy ingredients commonly used in many different recipes as well. There's a reason why many different herbs and spices have been used by a variety of cultures dating back thousands of years.
Frying adds unnecessary grease to your food, so for this recipe, we're going to bake your buffalo chicken instead. Another advantage of baking is that you can get a big batch done all at once, whereas frying would require you to work in batches. Once it's done, sprinkle some spring onion on top for a bit of crunch.
This buffalo chicken dip is absolutely incredible with our paleo ranch sauce. It's creamy, slightly tangy, and packed with flavor which will complement this recipe perfectly. Make a huge batch because this will go quick, I guarantee it.
P.S. – Looking for more creative paleo-friendly dip ideas? Not to worry, we've got you covered. Here are two other great dip recipes that you can try out — they're both bursting with flavor and completely healthy just like this one:
---
-
1 pound cooked chicken breast, shredded
1 cup mayonnaise
½ cup paleo approved hot sauce
1 ½ tsp dried parsley
1 tsp dried chives
1 tsp dried dill weed
1 tsp garlic powder
1 tsp onion powder
½ tsp salt
black pepper, to taste
1 spring onion, sliced
Preheat oven to 350ºF.
Place all the ingredients in a large bowl and stir until combine.
Transfer the mixture into a baking dish.
Bake undercover for 25-30 minutes.
Remove from the oven, sprinkle with spring onion and serve.