These Dark Chocolate Almond Butter Buckeye Balls are the grown up version of the Buckeye Balls we know from childhood (and kids still love them!). Being a grownup means being more conscious of what we're feeding ourselves and those we care about. Being a grown up means appreciating rich flavors, good quality ingredients, and delicious desserts that also happen to be good for us.
Being an adult means making these almond butter buckeye balls all the time and loving every bite of them.
What qualifies these grown-up Buckeye Balls to compete against the beloved originals? Let's start with the ultra-simple base of sweet, caramel-y Medjool dates and creamy dreamy nutty almond butter. Once blended together, this duo creates a rich, perfectly dense and sticky base for our buckeye balls. As if using two whole foods for as the basis for this recipe wasn't enough, the chocolate coating is made entirely from scratch. Yes, you can make chocolate from scratch and it is easy, quick, and perfectly rich.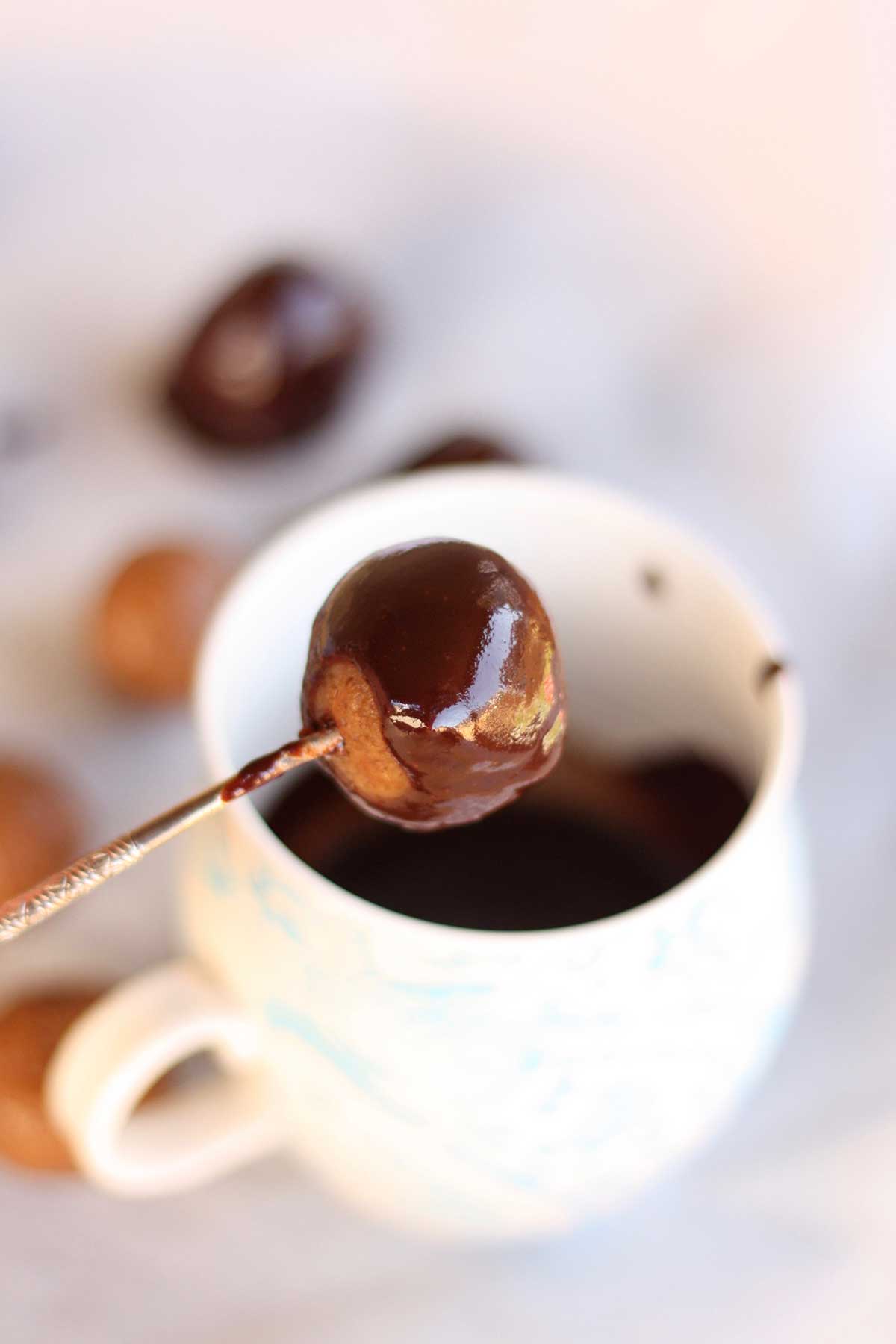 The best part about making your own chocolate coating is that you (yes, you) have control over the ingredients. Not the factory that processes other allergenic ingredients that might end up in your chocolate, or the company that always makes its chocolate with dairy and processed sugar. You may never go back to store-bought chocolate.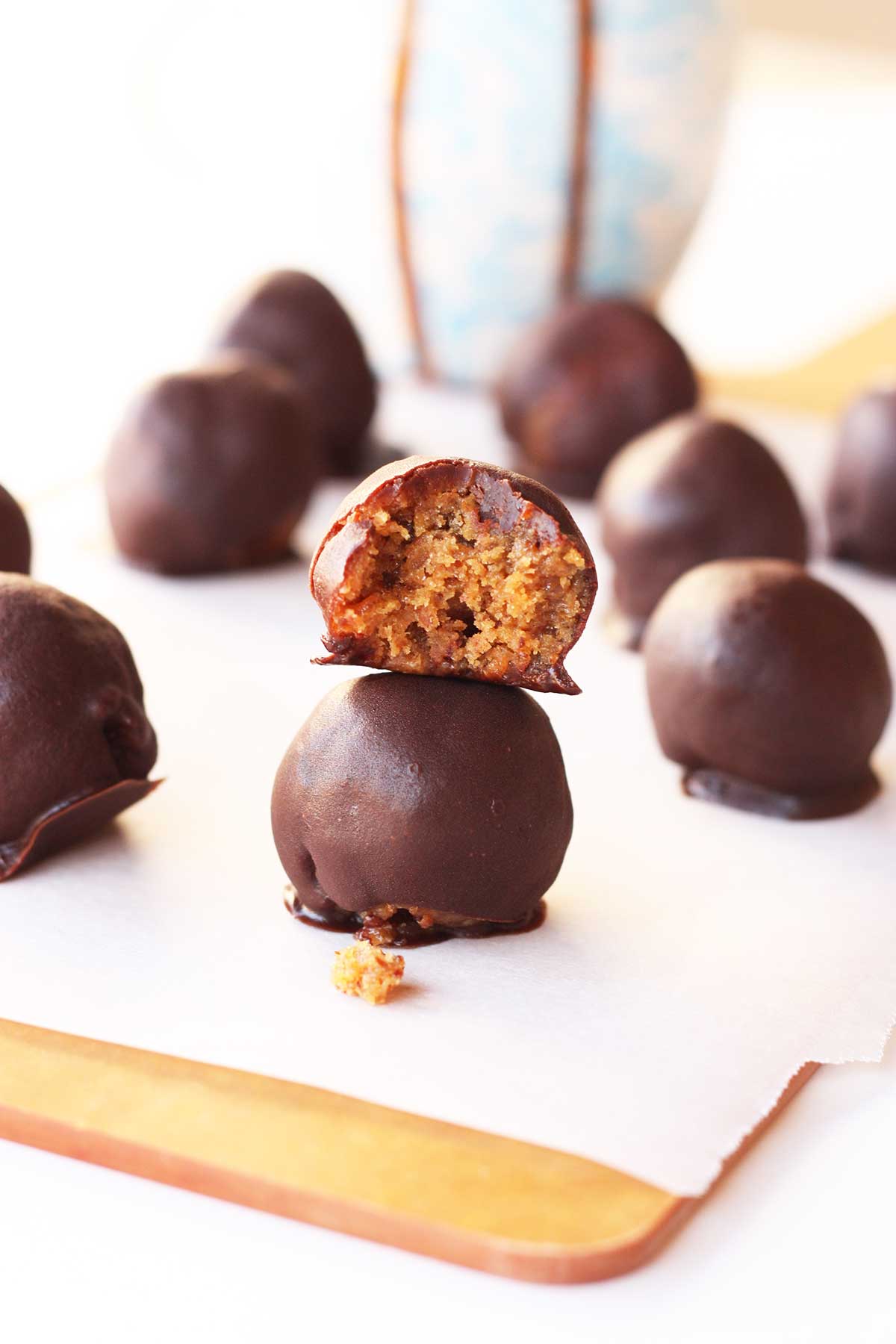 As if the simplicity, nutrition, and taste of these buckeye balls wasn't enough, they require just a little bit of time and absolutely no oven. Simply hit pulse a few times on your food processor, roll the cute little balls onto a tray, and dip 'em in some good old fashioned chocolate. Before you know it, you'll be rewarded with a house that smells like a chocolate factory and the perfect dessert.
(Make this next: Chocolate Chunk Cookie Dough Bites)
---
1 1/2 cups pitted medjool dates
1/2 cup all natural creamy almond butter
1/4 cup coconut oil
1/4 cup cocoa powder
2 tablespoons pure maple syrup
1/2 teaspoon vanilla extract
Puree dates and almond butter in a food processor until the mixture is smooth.
Place a piece of parchment paper onto a baking sheet. Form the mixture into 12 one-inch balls and place the balls onto the prepared baking sheet.
Place the tray with the balls on it in the freezer for 30 minutes.
In the meantime, make the chocolate. Melt the coconut oil in a small saucepan over low heat. Whisk in cocoa powder, maple syrup, and vanilla extract until everything is smooth and chocolatey.
Remove the balls from the freezer and, using a fork or toothpick, dip each ball into the chocolate and place it back into the tray. Once every ball is coated in chocolate, put them back into the freezer for another 30 minutes. Take them out just before serving. Store them in the freezer.
More Good Buckeye Recipes
1. Sunflower Butter Buckeyes
Sunflower seed butter is used to make these delicious buckeye balls that taste similar to the popular Reese's candy. Mixing everything by hand is fun to do and ensures that the ingredients are well combined. If desired, top the buckeyes with chopped nuts while the chocolate is still wet. Store in the refrigerator.
Ingredients
1/4 cup sunflower seed butter
1 1/2 tbsp honey
2 tbsp coconut oil, divided
1/2 cup almond flour
1 tbsp flaxseed meal
1 tsp vanilla extract
Pinch of salt
1/4 cup dark chocolate chips
1 tbsp coconut oil
Chopped almonds, for topping
Instructions
1. In a large bowl, mix together the sunflower seed butter, honey, 1 tablespoon melted coconut oil, almond flour, flaxseed meal, vanilla, and salt.
2. Using your hands, roll the dough into small balls and place on a Silpat or parchment paper. Refrigerate for half an hour.
3. In a double broiler, melt the chocolate and remaining tablespoon of coconut oil. Dip each buckeye into the chocolate and place it back on the Silpat. Top with chopped almonds if desired and refrigerate until the chocolate has set.
2. Pumpkin Buckeye Balls
These simple pumpkin buckeyes combine the spiced flavors of pumpkin pie with rich dark chocolate. This dessert requires no baking and it can be prepared ahead of time, which may help alleviate some stress around the holidays. Add a teaspoon of coconut oil to the chocolate to thin it out if desired, since sometimes it is easier for dipping.
Ingredients
1/2 cup almond butter
1/3 cup pumpkin puree
1/4 cup coconut oil, melted
3 tbsp honey
3 tbsp almond flour
1 tsp cinnamon
1/4 tsp nutmeg
Pinch of salt
4-5 oz. dark chocolate
Instructions
1. In a large bowl, mix together all of the ingredients except for the chocolate. Place in the refrigerator until firm enough to shape, about 20 minutes.
2. Use your hands to roll the chilled dough into small balls and place on a Silpat or parchment paper. Refrigerate for 30 minutes to set.
3. In a double broiler, melt the chocolate. Dip each buckeye ball into the chocolate with a fork and place back on the Silpat to cool. Refrigerate until the chocolate has set, then serve cold.