Sides
23 Most Delicious Ways to Eat Broccoli
Broccoli is one of my favorite vegetables, so I'm excited to be sharing these paleo broccoli recipes with you today. Try it roasted, raw, in a salad, or in a slaw, but most of all, make it delicious.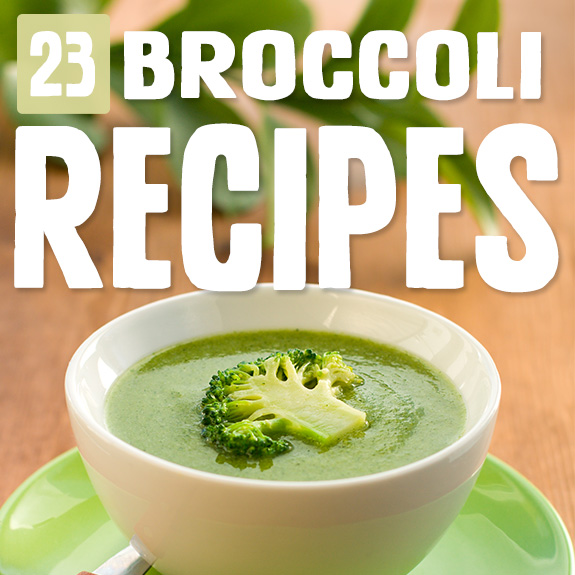 ---
1. Oven Roasted Broccoli
As simple as this dish is, it gets served just about every week in my house. It's easy to throw it into the oven (well, I mean place it gently) and set a timer while I work on a side dish, clean up the kitchen, or spend time with my family. You can dress it up with sauces, but it's delicious as it is.
---
2. Garlic Roasted Broccoli
As simple as this is to make you'd never know it by how it tastes. This is a surefire side dish to just about any main dish, and loads you up with the goodness of broccoli by making it taste amazing through the roasting process with garlic.
---
3. Broccoli Chicken Salad
I love this chicken salad because it's filling, and I don't have to cook anything! Make sure you use paleo-friendly mayonnaise. If you're not a fan of mayo (we're not in my house) you can use a quarter cup each of olive oil and balsamic or red wine vinegar.
---
4. Hole in One Salad
This yummy salad features broccoli florets tossed lightly in a pan, fresh peas, spinach, lettuce, avocado, and wild salmon. It's fresh and delicious, and is the perfect fuel for a workout or a recovery snack afterwards. Give it a try!
---
5. Strawberry Broccoli Salad
I love the fresh combination of sweet fruit and savory vegetables in the summer time, and this salad is no exception with its almonds, red onion, homemade mayonnaise, raw honey, and poppy seeds.
---

Photo: Great Food And Lifestyle
6. Turkey Broccoli Salad
This salad is light, fresh, and perfect for a summer picnic when you need something refreshing. Use already-cooked turkey meat (or chicken), purple cabbage, broccoli, cherry tomatoes, grapes, and raw cashews with a homemade creamy honey-vinegar dressing.
---
7. Magic Broccoli and Carrot Salad
What makes this salad magic? It keeps for days in the fridge, and still comes out looking and tasting as if you just made it. It's made with broccoli, carrots, shredded red cabbage, green onions, apple, olive, and hazelnuts with a creamy ginger vinaigrette.
---
8. Roasted Broccoli Salad With Lemons and Almonds
This delicious salad has beautiful and bright colors to go along with its lovely citrus flavor. Dried cranberries or raisins add a sweet-tart, chewy texture, while the lemony-honey dressing with Dijon mustard, garlic, and balsamic vinegar provides a winning finish.
---
9. Broccoli Cauliflower Rice
Plain cauliflower rice has never appealed to me. I've never found it very flavorful, and the texture just isn't up to par for my taste buds. This one, however? This is a recipe I could get behind. The broccoli takes things up a notch, and the garlic salt and butter make it a winner.
---

Photo: Every Last Bite
10. Broccoli Fritters
I have a soft spot for fritters. They're hot, crispy, toasty, and soft in the middle. What's not to love? These fritters are made healthy with chopped, steamed broccoli, almond four, eggs, nutritional yeast, garlic, and Dijon mustard. Super flavorful and an easy side dish.
---
11. Broccoli Stem Noodles
I admit that I'm often at a loss for what to do with broccoli stems. Sure, I could just cut them up and cook them with the rest of the broccoli, but I'm not a huge fan of the texture. These noodles are the solution, because just like all drinks taste better through a straw, all veggies taste better in a spiral!
---
12. Easy Paleo Broccoli Slaw
I love this broccoli slaw, and I'm pretty sure I'm going to put it in my regular salad rotation. The sweet Vidalia onions, the turmeric and onion powder…the paprika, the almonds…so much to love in this salad! And everything's good for you, too.
---
13. Green Goddess Detox Salad
Everything in this salad is green, from the avocado to the broccoli to the cucumber to the grapes and pistachios. And you know what else? It's all nourishing to your body and perfect for a detox salad to get the gunk flushed out and the goodness welcomed in.
---

Photo: Jay's Baking Me Crazy
14. Paleo Chicken and Broccoli
This dish is a paleo version of the Chinese takeout favorite, chicken and broccoli. Made with zucchini noodles, coconut aminos, red pepper flakes, garlic powder, and delicious vegetables and meats, it's sure to satisfy your craving.
---
15. Clean Green Soup
This soup is perfect for spring or summer, and will leave you feeling nourished and refreshed. What else would you expect from a soup with peas, broccoli, green beans, spinach, and garlic as its main ingredients? Oh, and it's extra tasty, too.
---
16. Cheesy Broccoli Cauliflower Rice
Cheese? Sort of. This broccoli and cauliflower rice is coated in a divinely delicious dairy-free "cheese" sauce made from hemp hearts, roasted red peppers, nutritional yeast, arrowroot powder, and a touch of apple cider vinegar and sea salt. Even if you're normally skeptical of dairy-free cheese, you really should try this one.
---
17. Creamy Broccoli Stem Soup With Toppings
Here's another remedy for those often-baffling broccoli stems. Be baffled no more! Try them in this creamy soup with coconut milk, lemon juice, onion, chili flakes, and toppings of your choice. I'd go with coconut shavings, sprouts, and pomegranate seeds.
---
18. Broccoli Egg Bake
With the goodness of both broccoli and eggs combining in one dish you're sure to fall in love. And getting a serving of vegetables with your breakfast becomes a lot easier when it's baked right into the meal.
---
19. Baby Broccoli With Lemony Mustard Sauce
This delicious and tender baby broccoli is topped with fresh ingredients like slivered almonds, cherry tomatoes, and garlic so you're getting the good stuff with your lunch today. The yummy lemony mustard sauce gets it all going down easy.
---
20. Easy and Healthy Roasted Broccoli
Here's another take on simple roasted broccoli, and this one's seasoned with ground pepper and cayenne pepper—the cayenne is optional, but you can always start with a pinch and work your way up if you're not sure how much heat you can handle. Cayenne is powerful!
---
21. 20 Minute Paleo Burrito Bowls With Broccoli Slaw
There's no denying that burritos are amazing. But they're not usually paleo, because tortillas are so difficult to achieve, and generally not made of the most nourishing alternatives. Also, all that rice and beans! This one uses a broccoli slaw base that's delicious and satisfyingly crunchy.
---

Photo: Perchance To Cook
22. Sneaky Broccoli Bolognese
I love this dish because it's a single, full meal (I'm not a fan of making a bunch of sides), and it's full of protein and vegetables in a sneaky but oh so delicious way. The broccoli gets minced until it's all crumbly, and then it gets mixed up with the meat sauce so you can't even tell it's there.
---
23. Two Ingredient Sausage and Broccoli
This broccoli and sausage dish has an unbelievable amount of flavor, considering it has only two ingredients, and not even any sea salt. The trick is the ground hot Italian sausage, which leaves behind a flavorful cooking fat for your broccoli to soak up.