There's no shortage of meatiness in this casserole, with both ground turkey and bacon adding their savory appeal. They are joined by an assortment of vegetables that includes broccoli and cauliflower. You'll get equal parts cauliflower and broccoli, which provides a different taste and texture and really boosts the nutritional value of the meal.
Broccoli and cauliflower are two cruciferous vegetables that provide a lot of healthy benefits, including anti-cancer properties which is one reason why Paleo is such a great diet to follow. You'll automatically be eating the sort of superfoods that continuously make health news.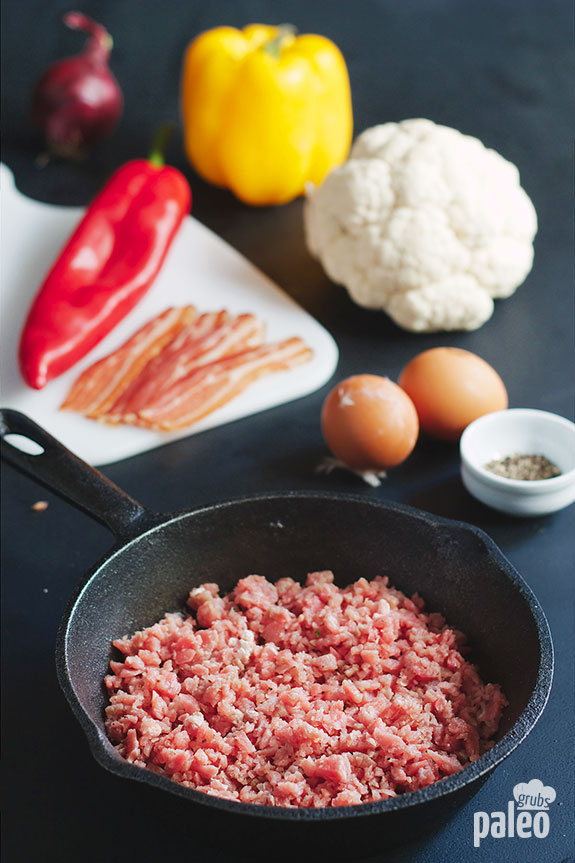 Getting enough protein for breakfast is key to making you feel great all the way through lunch. The turkey and bacon provide that hear, and also provide some great flavor that will keep you satisfied.
One thing I noticed from making larger sized breakfast casseroles is that the leftovers never tasted quite as good as when it was hot out of the oven. Something about baking eggs just makes it so they don't reheat well. With this individual sized portion you get to enjoy just the right amount for a breakfast without having to worry about any leftovers.
The recipe serves two, but if you want to make more at once you can as long as you have enough ramekin dishes available. It serves 8 just as easily as 2 if you quadruple the recipe.
What I like most about using this as a breakfast option is that most of the time is waiting for it to bake. While it's baking you're free to get other things done. Try out these morning rituals that will help kickstart your morning and leave you feeling ready to take on the world.
Consider this casserole whenever you have the time and want to sit and savor your breakfast once it's ready. This isn't the sort of breakfast that you want to wolf down on your way out the door. It has a certain quality to it that begs you to eat it slowly and enjoy each bite.
For me this has become a Saturday morning staple but you can find which day of the week works best for you. I like it because I typically have these ingredients on hand so I don't have to make a special trip to the store in order to put it together. A lot of these items are Paleo staples and after some time you'll find that you tend to have most everything in your fridge ready to go.
---
1 cups cauliflower florets
1 cup broccoli florets
1/2 red pepper , sliced
½ yellow pepper, sliced
½ red onion , chopped
250 g ground turkey
1 oz bacon , cut
1 tsp olive oil
1 garlic clove, minced
1/8 tsp chili flakes
5 eggs
salt, pepper to taste
Preheat oven to 350 F. Place cauliflower and broccoli florets along with red and yellow pepper and onion on baking sheet lined with baking paper and bake for 15 minutes, until soft.
While the veggies are cooking, heat the olive oil over medium heat in a skillet. Add the bacon and cook for 2 minutes. Add the ground turkey and brown it. Add the garlic, chili flakes and season to taste. Mix well with baked veggies.
In a small bowl beat the eggs with ¼ tsp salt and 1/8 tsp ground black pepper. Add meat mixture to a 4×8-inch casserole dish or two oven-safe gratin dishes. Add the eggs and mix well. Place in oven and bake for 30 minutes or until eggs are set in the middle. Let sit for about 5 minutes before serving.