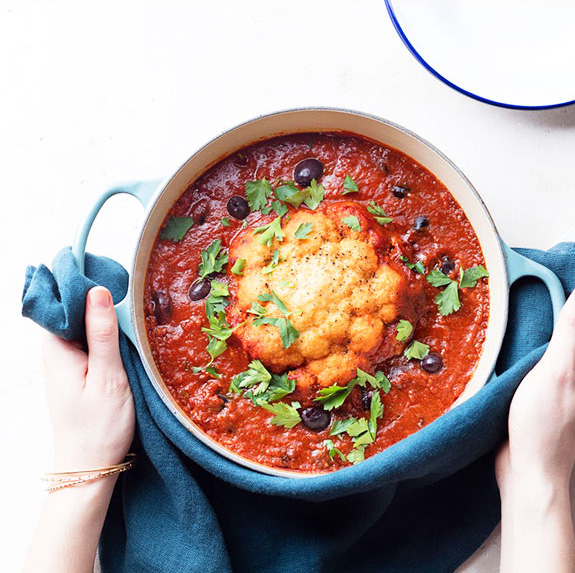 I created this recipe to bring out the best in this everyday veggie. Simmering a whole head of cauliflower in this authentic Italian tomato sauce couldn't be easier—it only takes about 5 minutes of prep time—and makes a flavorful, gluten-free and Paleo-friendly dinner.
Who doesn't love a one-pot meal? Tossing cauliflower into a rich, full-bodied tomato sauce with briny kalamata olives and salty anchovies couldn't be simpler. Adding a splash of red-wine vinegar and olive oil enhances the Italian flavors. Serve it up with a side of some sautéed greens or a simple salad, and you've got a complete, gourmet meal!
I love this recipe because it's so incredibly easy, but the the finished dish looks pretty impressive—especially when you serve it from a big, beautiful pot and sprinkle it with fresh parsley. It's pretty enough to serve for guests, but it's so fast to put together that it's also perfect for a weeknight meal.
An added bonus? This is one homecooked dinner that won't break the bank. You probably already have most of the ingredients in your pantry, and a head of cauliflower won't cost you more than a few dollars at the farmer's market.
And this tasty, inexpensive meal is incredibly nutritious. Cauliflower is a good source of vitamin C, and also contains lots of essential nutrients like iron, folate, and manganese. Protein and fiber? Yep, it's got those too.
Ready to try your new favorite veggie-centric meal? All you need is a few minutes to prep, some pantry essentials, and a hungry family. Here's to good eating!
Photo credit: Paul Delmont
---
1 head cauliflower, large outside leaves removed
1 25-ounce jar tomato sauce
1/4 cup chopped parsley stalks
1 teaspoon chili powder
1/2 teaspoon smoked paprika
1 tablespoon onion powder
Freshly ground pepper
4 anchovy filets, drained and chopped
1 handful pitted kalamata olives
1 tablespoon red wine vinegar
1 tablespoon olive oil
Chopped flat-leaf parsley, to garnish
Place whole head of cauliflower in a large pot. It should fit comfortably, with 1 to 2 inches of room left on all sides.
Pour in tomato sauce, then add parsley stalks, chili powder, smoked paprika, onion powder, and freshly ground pepper. Bring to sauce to a simmer over medium heat.
Stir in anchovies, olives, and red-wine vinegar, then bring to a low boil.
Gently push whole head of cauliflower down into the sauce. (Sauce should come halfway up the sides of the cauliflower). Drizzle with olive oil and cover.
Let cook over low heat for 45 minutes. To serve, garnish with chopped parsley.