Today I wanted to share one of my favorite recipes for when you're dealing with gut issues. This is in no way meant to replace any medical advice from your doctor, but this bone broth cauliflower turmeric stew always does the trick for me.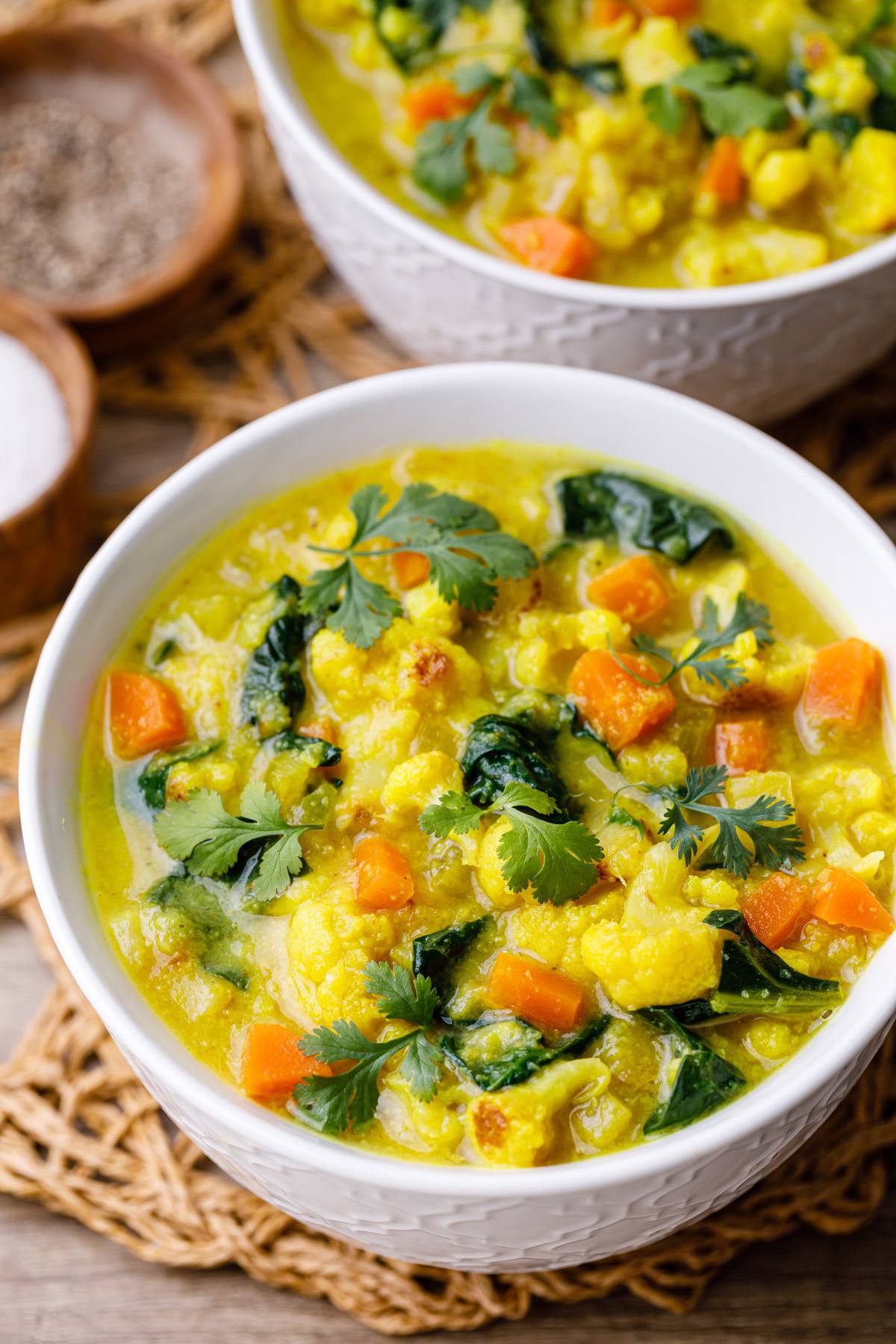 (You may also like: Turmeric Roasted Vegetables)
---
2 pounds cauliflower florets
3 tbsp olive oil, divided
1 medium onion, diced
2 garlic cloves, minced
2 carrots, diced
2 celery stalks, diced
3/4 teaspoon ground turmeric
4 cups chicken or beef bone broth
1 (14 oz) can full-fat coconut milk
1 inch fresh ginger, peeled and grated
1 ½ cup chopped spinach
½ lime, juiced
¼ cup chopped fresh cilantro plus extra for serving
Preheat oven to 400°F.
Add the cauliflower florets to a roasting pan.
Drizzle with 2 tablespoon of olive oil and toss to coat.
Season to taste with salt and black pepper.
Bake in preheated oven for 30 minutes.
Remove from the oven.
Heat the remaining olive oil in a large pot over medium heat.
Add the onion, garlic, ginger, carrot and celery and cook for 2-3 minutes.
Add the turmeric and stir to combine.
Add the roasted cauliflower and bone broth.
Cover with a lid and simmer for 15-20 minutes.
Stir in the coconut milk.
Using an immersion blender, blitz the stew a few times.
Stir in chopped spinach, lime juice and cilantro.
Cook for one more minute or until spinach is wilted.
Taste, add more salt and black pepper if needed and serve warm.
More Healing Turmeric Recipes You'll Love