Let's start with the sauce. Actually, this recipe is pretty close to what a traditional Bolognese sauce recipe would look like. It's got meat, onion, garlic, celery, carrots (yup, that's traditionally an ingredient in Bolognese!), olive oil, tomatoes, bay leaves… all very traditional stuff. If you're questioning the cinnamon, don't! I've seen some Bolognese recipes that call for nutmeg and others with cinnamon and I've decided I prefer cinnamon But either nutmeg or cinnamon will give your sauce extra depth and complexity and will compliment the sweetness that the carrots bring to the dish.
The beef in this recipe means that a serving comes with a healthy portion of protein, one of the fundamentals of any Paleo meal. But the addition of a variety of veggies and herbs and spices mean that this isn't plain old meat; it's extra healthy meat because it's dressed up with all the vitamins and minerals and good stuff that veggies bring with them.
One note about the beef: if you are used to making your Bolognese with part pork, go right ahead! When I mix proteins, I usually use one part pork to two parts beef. This sauce will be delicious either way.
Although I've referenced traditional Bolognese sauce recipes above, the truth is that there is a huge variety among recipes for this wonderful stuff and the versions we are used to outside of Italy are different than those that you would actually find in Italy. One big difference is that outside of Italy, you will most likely find Bolognese served with spaghetti, the long, round noodles. In Italy, this would be something of a disgrace. Bolognese in Italy is almost always served with tagliatelle, which is a long flat noodle, sort of like fettucine, but a little more narrow.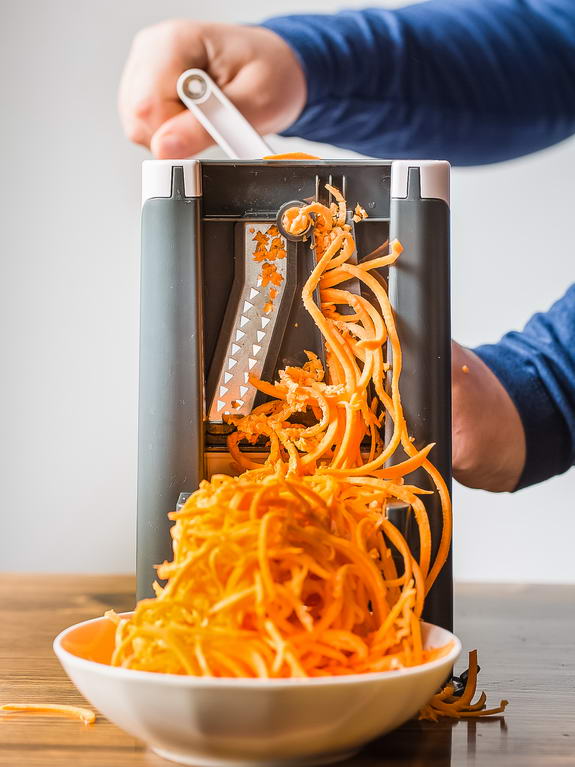 So what do you think an Italian would think of this recipe? We're skipping wheat-based pasta all together and going for sweet potato "pasta." Perhaps that's so far beyond the pale for an Italian that they wouldn't even mind. I know I don't mind.
When I ditched wheat-based pasta, I got rid of a lot of empty carbs – carbs with really no nutritional benefits. But instead of just eating my Bolognese sauce plain (which I will freely admit that I have done and it's great, by the way), I actually had healthy stuff like vitamin A and fiber to it by eating it with sweet potato noodles.
Can you cut sweet potato noodles by hand? Sure. You can. But if you're regularly eating Paleo meals and haven't yet invested in a vegetable spiralizer, you're missing out. A spiralizer will make delicate vegetable noodles that you could probably never get just by cutting the veggies yourself, even with a super sharp knife. It's good not just for making faux pasta, but for livening up soups and even salads with thin and curly veggies.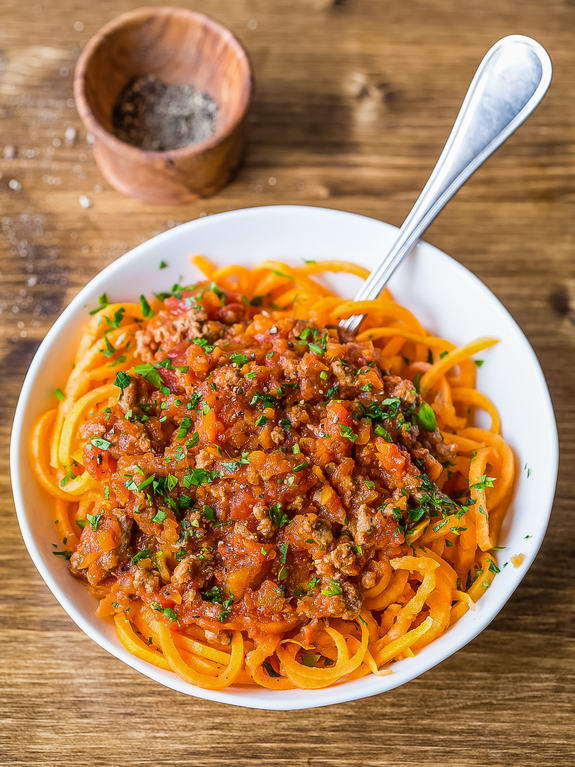 One last comment about the noodles: most people who are familiar with veggie noodles first think of zucchini noodles. Yes, you can use zucchini noodles with this Bolognese sauce. But, I opt for sweet potato because they are a bit firmer and stand up to the sauce better. The sweetness of the sweet potato really blends well with the sauce, whereas the flavor of a zucchini noodle would just be overwhelmed by this sauce.
This is a great meal to prep in the morning and throw in the slow cooker while you're at work. When you come home, the house will smell like you've been cooking wonderful food all day – and you have! Just without having to lift a finger. A few more minutes of prep and you and your family can sit down to enjoy your own mounds of (sweet potato) pasta with steaming, hearty Bolognese sauce.
(Make this next: Wok-Fried Zucchini Noodles with Spicy Bone Broth)
---
1 pound ground beef (90% lean)
1 medium onion, chopped
2 garlic cloves, minced
2 tbsp olive oil
2 carrots, peeled and cut into 1 inch pieces
2 celery stalks, cut into 1 inch pieces
3 ½ cups organic, no sugar added, tomato basil sauce
2 bay leaves
6 thyme springs
¼ tsp ground cinnamon
salt, black pepper to taste
1 tbsp chopped parsley
3 medium sweet potatoes, cut into noodles
In a large pan heat the olive oil over medium heat.
Add the onion and cook for 5 minutes.
Add the garlic and cook for 30 seconds.
Add the ground beef and cook until brown.
Remove from the heat and transfer into a slow cooker.
In a food processor place the carrots and celery and pulse a few times until chopped.
Transfer the carrot celery mixture to the slow cooker.
Add the tomato sauce, bay leaves and thyme springs.
Mix, cover with a lid and cook on low for 8 hours.
Remove the lid, discard the bay leaves and thyme springs and season to taste with salt and black pepper.
Add the cinnamon and parsley and mix to combine.
Bring a large pot of salted water to a boil.
Add the sweet potato noodles and cook 1 ½ -2 ½ minutes or until tender.
Drain the noodles and return to the pot.
Add the sauce and mix to combine.
Serve immediately.