Featured
21 Fresh and Authentic Bok Choy Recipes
Bok Choy is a great hearty green with stems that are delicious too, and it's awesome in stir-fries, sautés, and salads. Try some of these paleo bok choy recipes! I promise you'll find a new favorite.
---
1. Ginger Chicken With Bok Choy
I'm absolutely in love with ginger has a seasoning for meats, vegetables, and other savory dishes. It's spicy and warming, and it's perfect for this simple dinner with sesame oil, rice vinegar, fresh ginger, chicken thighs, bok choy, garlic, salt, and pepper.
---

Photo: Theres a Cook in my Kitchen
2. Pork Chili With Bok Choy
This Latin-Asian fusion chili dish is hearty and healthy with ground pork, onion, bell pepper, garlic, hot peppers, chipotle, tomatoes, chicken broth, bok choy, and lots of seasonings to get the perfect flavor. Top with cool and creamy avocado to round out the flavors.
---
3. Easy Cauliflower Fried Rice With Baby Bok Choy
Bok Choy is the perfect green to go with this delicious and flavorful fried rice that uses a cauliflower base with onion, chives, red bell pepper, eggs, garlic, carrot, peas, coconut aminos, and other flavors. The bok choy is garlicky and cooked in olive oil—yummy!
---
4. Paleo Grilled Beef Stir Fry With Asian Almond Dressing
This is a fresh and light dinner that's also hearty with delicious beef, peppers, and an almond butter dressing that's savory and slightly sweet. The steak is marinated in coconut aminos, honey, ginger, and rice wine vinegar, and the bok choy is mixed into the stir-fry with other greens and veggies.
---
5. Baby Bok Choy Shrimp and Cashew Stir Fry
With savory shrimp and creamy, slightly sweet cashews that soak up all the spicy, flavorful goodness, this is a dish you're going to want to keep in your back pocket and whip out when you need something really amazing. This dish cooks up quickly, too!
---

Photo: From the Athlete's Kitchen
6. Sesame Crusted Salmon With Baby Bok Choy
It's always fun to try new ways to crust meat when you're a paleo eater, because you need to be creative without using grains. This awesome salmon is crusted with sesame seeds and seasonings and served with bok choy. You can replace the soy sauce with coconut aminos.
---
7. Thai Coconut Curry
Thai food is awesome, and coconut curries make a really excellent weeknight meal that you can tweak to use whatever's in the fridge. This one is made with fish (you could use shrimp or chicken), ginger, scallions, bok choy, coconut milk, and red curry paste.
---
8. Detox Pear Bok Choy Soup
Light and refreshing with lots of healthy ingredients, like pear soup is unique and perfect for a detox full of light dishes. You'll need baby kale, bok choy, green onions, leek, pears, vegetable stock, garlic, and cumin. I bet this soup is kid-friendly with the pears, too!
---
9. Taiwanese Short Rib and Bok Choy Stew
This simple stew simmers in a stock pot for long enough to have your whole house smelling amazing when you sit down to dinner! You may even be able to adapt it for the slow cooker. You'll need beef short rib, baby bok choy, sprouts (any kind will do), and some other tasty ingredients.
---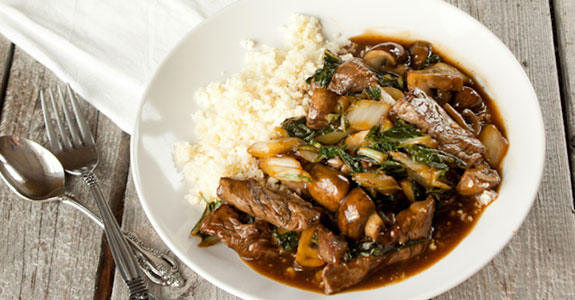 Photo: Simple Roots Wellness
10. Beef and Bok Choy Stir Fry
I love stir fry dishes because they're usually pretty easy, and you can get so many nutrients, textures, and flavors in the same dish. This one is delicious with sirloin or flank steak, bok choy, mushrooms, coconut oil, garlic, and an awesome marinade and sauce for the beef. Use coconut aminos in place of the soy sauce.
---
11. Bok Choy Nori Bites
Any other nori lovers out there (I'm raising my hand)? These little bites are delicious and healthy with roasted nori, baby bok choy, sesame oil, orange bell pepper, and curry cashew "cheese." If you don't want to use mung bean sprouts, use any kind of sprout you prefer.
---
12. Roasted Bok Choy With Garlic Tahini
Sauces are really the best—they make everything taste better. Not that this roasted bok choy needs any help tasting better—it's got sesame oil and coconut aminos. But it's even better sauced with garlic tahini using sesame oil and rice vinegar, with red pepper flakes and sriracha.
---
13. Sauteed Baby Bok Choy
While it's great with sauces and in stir-fries, bok choy (especially baby bok choy because it's small and tender) is great just sautéed with seasonings. This one is made with garlic, fresh ginger, red pepper flakes, coconut aminos (in place of the soy sauce), rice vinegar, and toasted sesame oil with sesame seeds.
---

Photo: Kitchen Tested
14. Plum Braised Baby Bok Choy
Speaking of simple bok choy dishes, this one is great. All you need is coconut oil, baby bok choy, fresh plums, garlic, vegetable stock, coconut aminos, and ground ginger. The plums are perfectly sweet but with a savory twist from the seasonings.
---
15. Simple Roasted Bok Choy With Walnuts
Flavored with garlic, black pepper, and lemon juice, sea salt, and coconut aminos or balsamic vinegar (choose one—both will create very different flavors but it'll be delicious either way!). This is a simple side dish that could go with almost anything.

---
16. Steamed Pumpkin and Baby Bok Choy With Ginger Sesame Sauce
This paleo and vegan dinner will get everyone excited, because it's super tasty and colorful. You'll need olive oil, toasted sesame oil, coconut aminos, fresh ginger, garlic, red pepper flakes, baby bok choy, kuri pumpkin (you could also use kabocha squash), and toasted sesame seeds.
---
17. Beef Zucchini Noodle Soup With Shiitake Mushrooms and Bok Choy
This yummy beef soup is made with strip steak and lots of garlic and crushed red pepper flakes. Simmering coconut aminos in the broth creates the most wonderful umami flavor without using miso or soy sauce, like this soup might traditionally use.
---

Photo: The Iron You
18. Chicken, Bok Choy, and Basil Stir Fry
For a hearty chicken stir-fry with flavors of garlic and coconut aminos, make this dish. You'll use bok choy stems and greens with fresh basil, limejuice, red chilis, ginger, and onion. This is a great Asian-inspired dish with a lovely, silky, arrowroot-thickened sauce.
---
19. Citrus Salsa With Salmon and Bok Choy
The bright and sunny flavors in this citrus salsa, using orange, avocado, red onion, cilantro, mint, lemon, and red pepper flakes, are perfect served with wild salmon fillets and red pepper-seasoned bok choy sprinkled with slivered almonds. This is a healthy meal the whole family will love.
---
20. Shrimp and Baby Bok Choy Stir Fry
With a lovely sauce using garlic, ginger, balsamic or wine vinegar, sesame oil, coconut aminos (instead of tamari), sambal oelek, and raw honey, this stir fry with peppers, peas, and bok choy is super tasty. It comes together super quick, making it a great last-minute lunch.
---
21. Grilled Chicken and Baby Bok Choy Salad
This salad has a dressing made from fresh ginger, coconut cream, sriracha, fish sauce, coconut aminos (in place of soy sauce), sesame oil, and fresh lime juice. It's super tasty and also uses grilled chicken, green onions, bok choy, and jicama, so you've got so many flavors and textures to look forward to!