---
Blueberries may be small but they have earned the title of superfood. Besides their high antioxidant count, the berries are anti-inflammatory, and high in potassium and vitamin C. They are beneficial to both your brain and heart health. Fresh or frozen berries can be used for this recipe, though if you use frozen berries there is no need for the ice cubes. I am becoming more and more grateful that I was able to pack fresh blueberries away in the freezer while they were at their peak this summer. Now I can just pull out a handful whenever I'd like to make a smoothie such as this.
Chia seeds are also added to the smoothie. They are a concentrated source of omega-3s and are bursting with calcium and fiber. Again, great things come in small packages. Walnuts share the same nutritional qualities as chia seeds, and are also added to the recipe. Maple syrup adds a bit of sweetness – you can adjust the sweetness of the smoothie to your personal taste – and cinnamon adds the spicy flavoring of fall. Almond milk is the liquid that I used, although coconut milk would work just as well. You can adjust the thickness of the smoothie by adding more or less milk depending on your personal taste.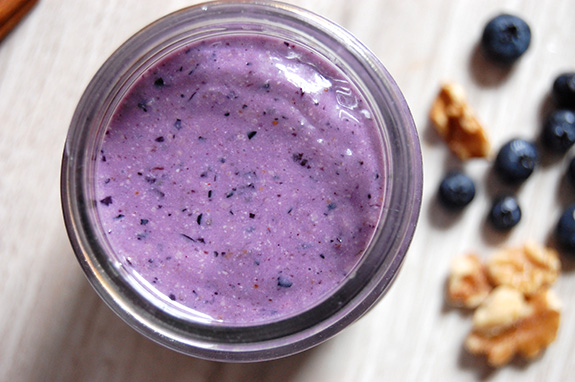 Take the natural approach to supporting your body's immune health with this delicious blueberry smoothie. The beautiful shade of purple is not the only reason to make it. Have one of these brain-boosting, immune-supporting smoothies for breakfast or an afternoon snack.
---
1 cup blueberries
2 tbsp walnuts
1 cup almond milk
1 tsp maple syrup
1 tsp cinnamon
2 tsp chia seeds
1/2 cup ice cubes
In a large cup (if using an immersion blender) or a blender, combine ingredients and blend until smooth. Add more almond milk if necessary to reach desired consistency. Serve immediately.