---
I really enjoy blueberry season at its peak. Whether you get to pick your own fresh blueberries right from the bushes, or purchase them by the boxful, the colorful little fruits are easy to incorporate into a lot of different recipes – especially desserts. But this recipe offers a very healthy option in beverage form. Blueberries alone are one of the best sources of antioxidants that you can find. In this recipe they are combined with vitamin-rich lemons and fresh basil.
Basil has taken over my simple garden, growing almost faster than I can consume it. It has completely overtaken the rosemary and dill. Has anyone else experienced a crazy growth spurt of basil? I'll have to make a large batch of pesto soon, or perhaps incorporate the fragrant herb into more drinks such as this one.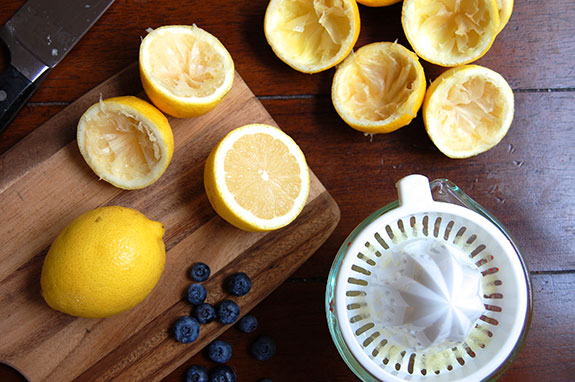 One note about making this recipe – you can make the standard version, or an adults-only version. It is very, very good with a bit of rum mixed in. You can make one large batch of the basic lemonade for both adults and kids, and then easily add a splash of your preferred alcohol to the adult drinks. I believe bourbon or vodka would also taste good with this recipe. It is a completely optional step, since alcohol is not usually recommended on the Paleo diet. So it depends on your personal preferences, really.
Whether it is blueberries freshly picked or basil from your own garden, take advantage of the fresh flavors of summer mixed with some hand-squeezed lemonade. Blueberry basil lemonade makes the perfect drink to sip on while enjoying an afternoon on the patio or a relaxing evening outdoors.
---
1 pint fresh blueberries, divided
6-7 fresh basil leaves
1/2 cup fresh-squeezed lemon juice
8-9 cups water, divided
3/4 cup honey
Place the basil and one cup of blueberries into a large pitcher. Gently muddle and set aside.
Combine the lemon juice, one cup of water, honey, and the remaining blueberries in a saucepan over medium-high heat. Bring to a low boil, stirring to dissolve the honey. Once the blueberries have released their juice and color, pour the mix through a fine mesh strainer into the prepared pitcher.
Pour the remaining water into the pitcher along with a handful of ice. Stir to combine. Serve cold, garnished with lemon slices if desired.