How to Make Cherry Tomato Bites
Before you can stuff your cherry tomatoes, you'll first need to do a little bit of prep work:
Make an opening in the tomatoes. Take each of the cherry tomatoes and cut a thin slice off the tops.
Hollow out the tomatoes. Use a small teaspoon and scoop out the center. Discard the pulp and invert the tomatoes.
Add guacamole filling. Spoon the guacamole mixture (see below for details on how to make it) into the tomatoes.
Serve. Serve immediately.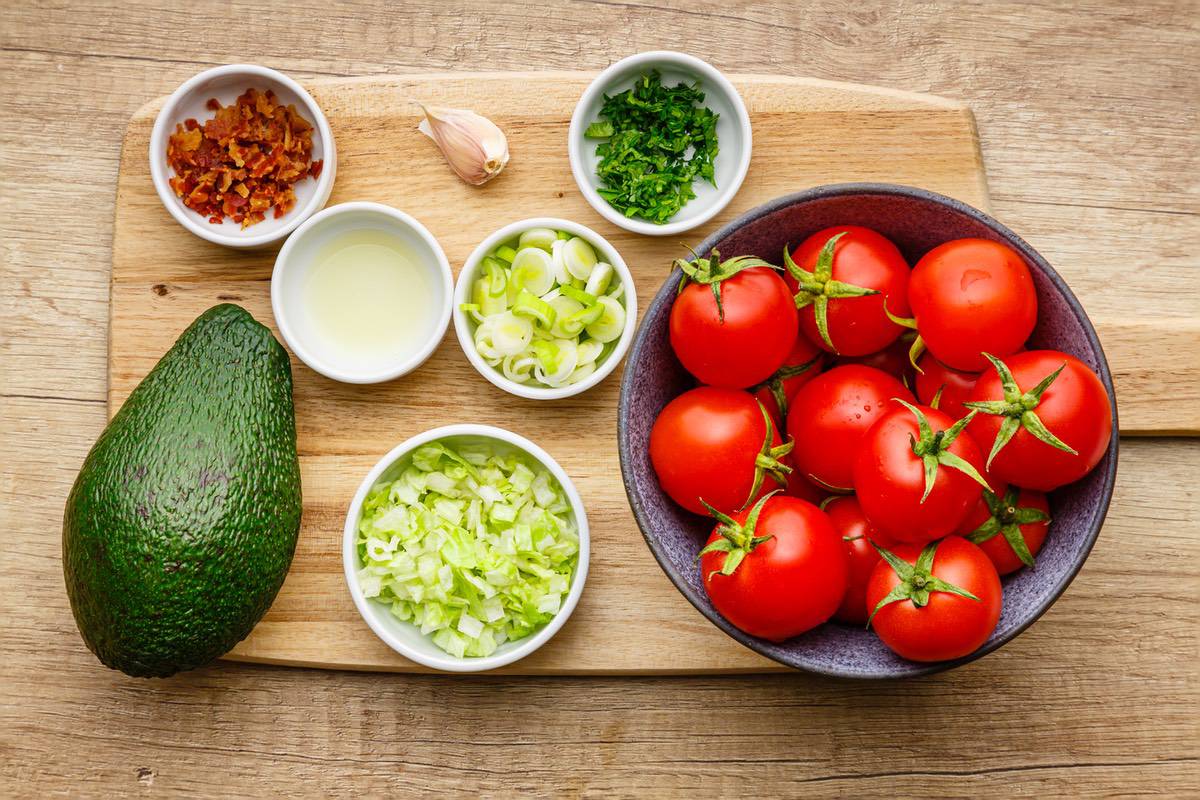 How to Make the Best Guacamole
Once you've hollowed out your cherry tomatoes, you can then turn your attention to the guacamole:
Prepare the avocado. Cut the avocado open lengthwise and remove the seed. Use a fork to scoop out the flesh and then mash it in a small bowl.
Cook the bacon. Cook 2 slices of bacon then chop them up into pieces. I prefer to have some bigger chunks.
Finish off the guacamole. Add the lime juice, chopped green onion, chopped romaine lettuce, chopped cilantro, and chopped bacon and stir to combine.
Season. Season with salt and black pepper to taste.
Can I Make These Tomato Bites Ahead?
These stuffed BLT tomato bites are a great candidate for a make ahead meal.
You don't have to change anything. Simply follow the recipe as you usually would. Once you're done spooning the guacamole mixture into the tomatoes, you can then transfer them into airtight containers.
Store the containers in the fridge. When stored like this, your tomato bites should stay good for up to 3-4 days.
Remember that tomatoes tend to go bad fairly quickly especially once they're opened, so it's best to have these as soon as you can after making them.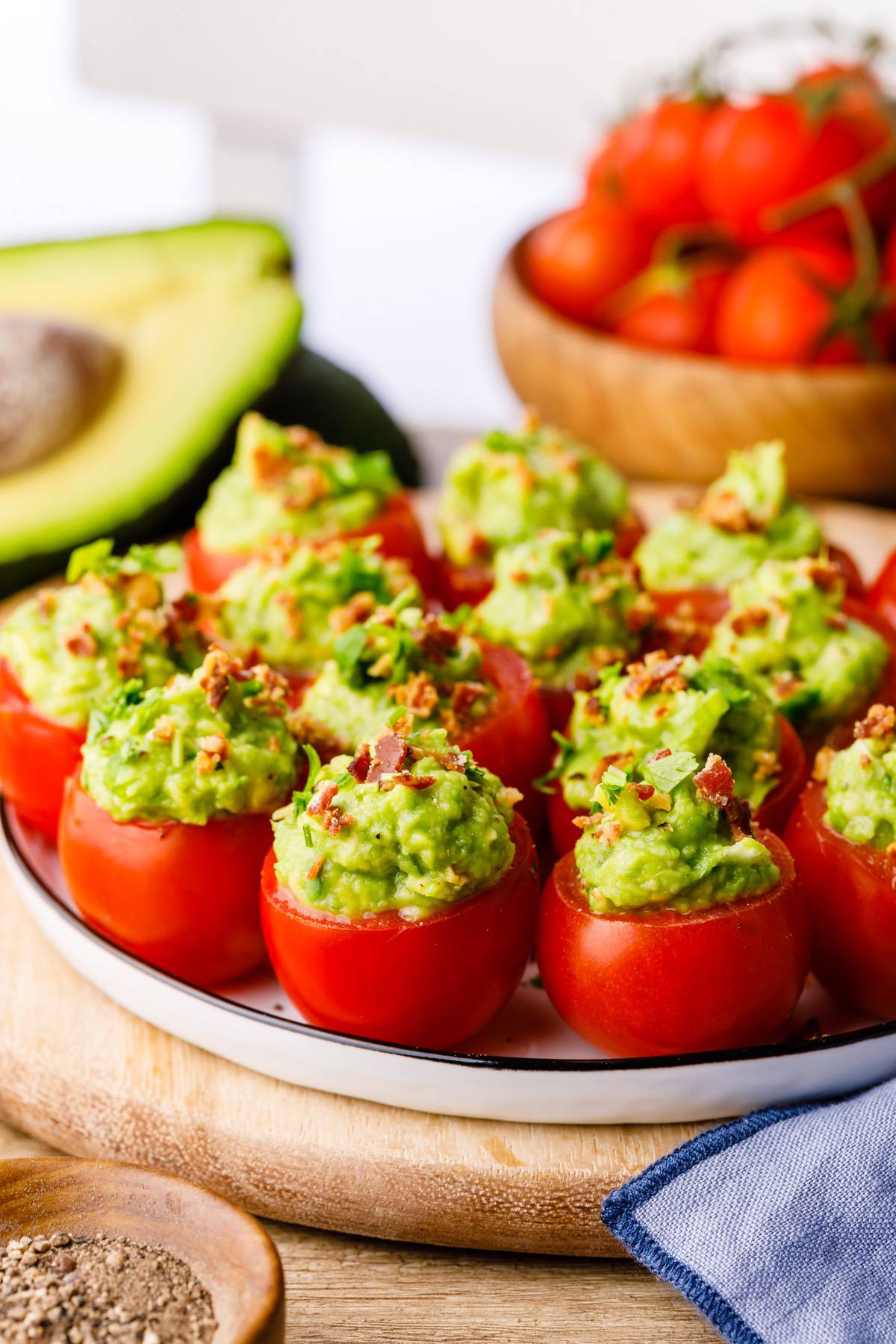 2 Health Benefits of Having a Wide Range of Nutrients in Your Diet
One of the best things about this paleo recipe is just how nutrient-dense it is. The combination of ingredients like tomatoes, avocado, healthy greens, and bacon has plenty of benefits, since they cover a wide range of nutrients.
Here are 2 health benefits of consuming a wide range of foods and nutrients:
Fortifies against disease. Including an abundance of healthy vegetables as part of your diet will offer up a wealth of essential vitamins, minerals, and antioxidants; all of which work in tandem to help keep you healthy and disease-free. (1)
Optimizes hormones. Many of those same essential micronutrients mentioned above are also responsible for optimizing hormone production. For example, the saturated fat and dietary cholesterol in bacon are both essential building blocks for the male hormone testosterone. (2)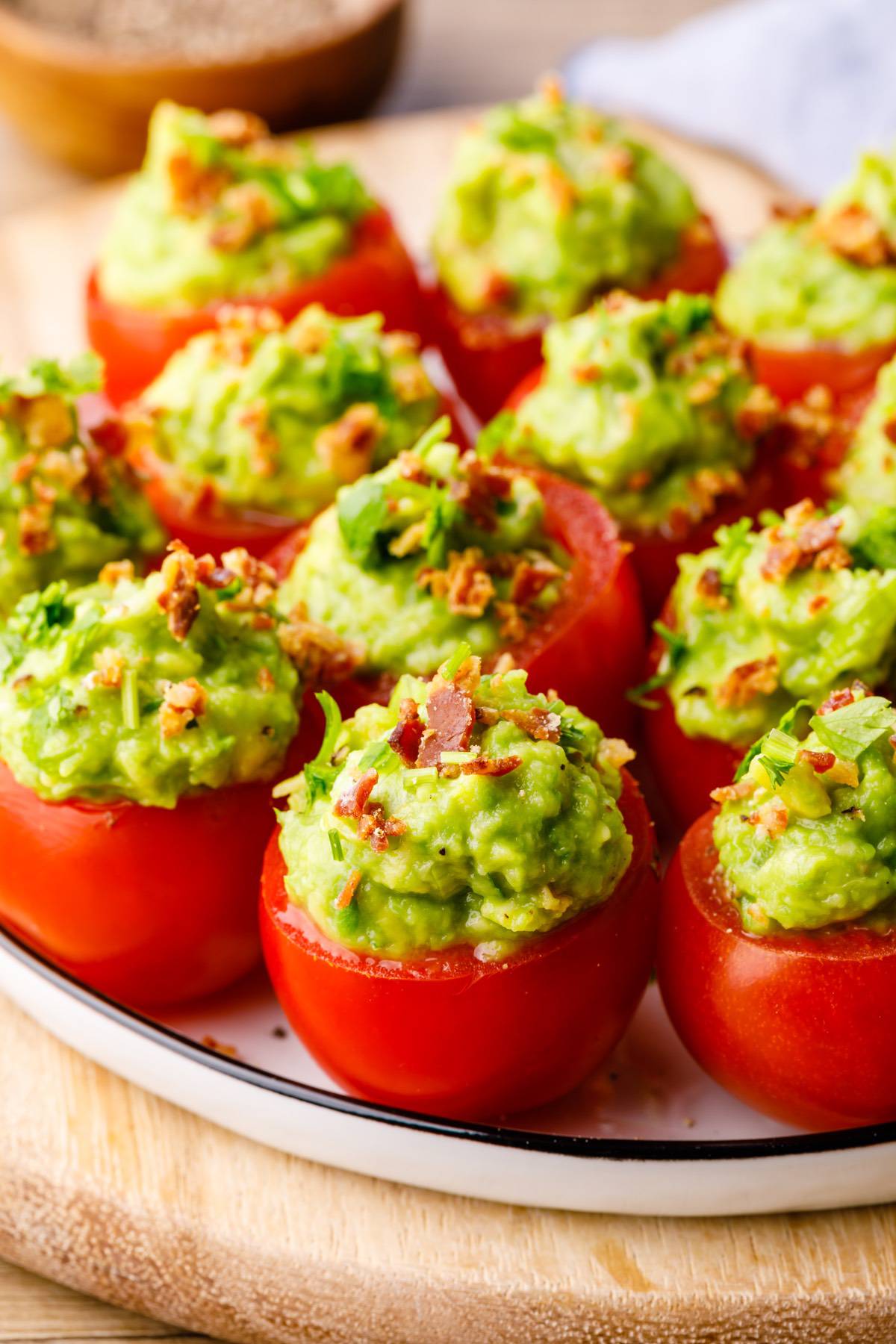 More Good BLT Recipes
---
16 large cherry tomatoes
1 large avocado
¼ cup chopped romaine lettuce, chopped
2 slices bacon, cooked and chopped
2 tbsp chopped green onion
1 tbsp chopped cilantro
1 garlic clove, minced
1 tbsp lime juice
salt and black pepper to taste
Cut a thin slice off the top of each tomato.
Scoop out and discard pulp.
Invert tomatoes onto paper towels to drain.
In a small bowl mash the avocado flesh with a fork.
Add the lime juice, onion, bacon, cilantro and stir to combine.
Season with salt and black pepper to taste.
Spoon the mixture into tomatoes.
Serve immediately or refrigerate until serving.