Dessert
21 Paleo Bliss Balls
I'm not sure where the name "bliss balls" came from, but Paleo recipe creators took it and ran with it, creating all sorts of round confections ranging from super healthy, energy-packed to fudgy dessert treats, all made with real food ingredients.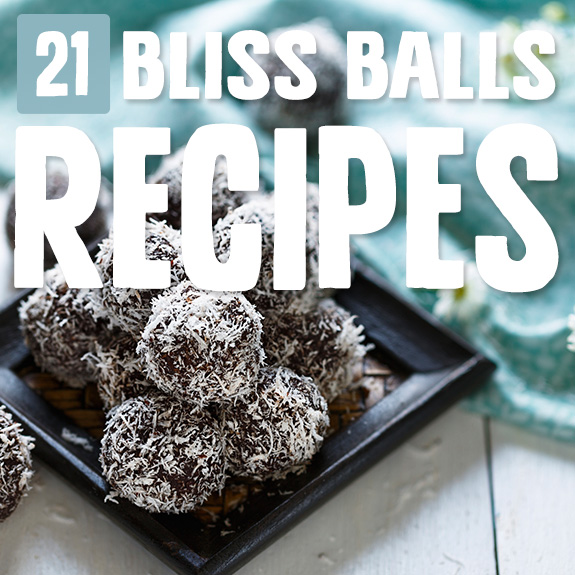 ---
1. Anzac Biscuit Bliss Balls
These bliss balls taste just like Anzac biscuit cookies, but they're free of oats, sugar, and anything else you wouldn't want in a paleo treat. You'll need desiccated coconut, cashews, cashew butter, and maple syrup. The cashew butter makes these so decadent.
---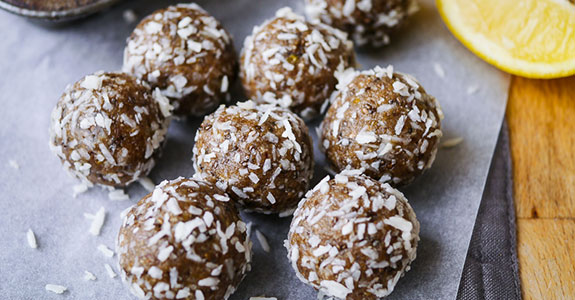 Photo: Nourish Everyday
2. Lemon, Cashew, and Coconut Bliss Balls
With medjool dates, raw cashews, and coconut, these bliss balls have a classic flavor and texture with added flavor and nutrition from chia seeds, protein powder (use your favorite in either neutral or vanilla flavor), lemon, sea salt, and vanilla extract. Roll in more coconut!
---
3. Lamington Bliss Balls
Sometimes bliss balls are more treat than energy-packed snack, and that's perfectly okay. This is one of my favorite bliss ball treat recipes, with macadamias, shredded coconut, coconut oil, maple syrup, and vanilla paste formed into balls and coated with a homemade chocolate coating.
---
4. Chocolate Coconut Bliss Balls
For a bliss ball that's almost more like an amazing truffle, try this one with shredded coconut, runny honey, coconut oil, vanilla extract, and good quality dark chocolate for melting and coating. These would make an excellent real-food gift for just about any occasion.
---
5. Matcha Pistachio Bliss Balls
Totally packed with nutty nutrients, these bright green bliss balls are great for before or after a workout, or for your 3 o'clock energy slump. The matcha powder will help boost your energy without a rush and crash, and the dates keep it nice and delightfully sweet.
---

Photo: Sprinkle of Green
6. Inner Glow Bliss Balls
This recipe is completely filled with superfood ingredients like bee pollen, ground flax seeds, maca power, turmeric, and more. No wonder they're called Inner Glow! Dates and Brazil nuts form the base, which is sweetened with a bit of rice syrup—it's optional, but you'd want to replace it with maple for paleo.
---
7. Coconut Cacao Bon Bons
With simple ingredients like desiccated coconut, ground almonds, dates, cacao powder, and maple syrup, these are bliss balls you can probably make today if you wanted to. Nothing fancy needed! Just good old real food flavor and nutrition.
---
8. 3 Ingredient Almond and Coconut Bliss Balls
It doesn't get any simpler than these three ingredient almond coconut bliss balls, but don't be fooled—fewer ingredients doesn't mean less flavor! These are sweet and fruity with a fudgy texture from a mixture of coconut butter and chopped dried apricots.
---
9. Matcha Coconut Bliss Balls
These treats are made with dates, raw almonds, coconut butter, coconut oil, matcha powder, and desiccated coconut. They're ready in only 10 minutes (bliss balls are fast!) and they'd be a fun colorful treat to make with kids—maybe they'll even eat them afterwards!
---

Photo: Paleo with Mrs.P
10. Coconutty Bliss Balls
I wanted to share this recipe because I think it epitomizes the simplicity of bliss balls. This version uses the most basic ingredients without anything funky or fancy to show that you don't have to be crafty to eat well. Sometimes what you need is just almonds, dates, and coconut.
---
11. Chocolate Cherry Bliss Balls
Of course, I'm also in love with this decadent recipe from the other end of the spectrum. These are essentially paleo-friendly, real food cake balls made with ingredients like coconut sugar, espresso, frozen raspberries, orange zest, cinnamon, vanilla, and more.
---
12. Homemade Blueberry Muffin Larabar Balls
One thing I love about bliss balls is that they do remind me of those yummy (and pricey) Larabars. Good thing they're easy to make! For this version, you'll need dried blueberries, cashews, almonds, vanilla, lemon juice, Medjool dates, and fine grain sea salt.
---
13. Cookie Dough Balls
One of my favorite bliss balls to make is cookie dough balls. There are lots of recipes available, but this one is rich and delicious with cashews, coconut oil, maple syrup or honey, vanilla, sea salt, and cacao nibs or dark chocolate chips (mini chips would work especially well).
---

Photo: Happy Gut
14. Date Balls Rolled in Coconut
These balls are blissfully simple, and all you need is dates (soak them in hot water for a bit before using), walnuts, and unsweetened shredded coconut. Because walnuts are a soft and oily nut, these balls take on a rich, fudgy decadence.
---
15. Chocolate Trail Mix Power Balls
Bliss balls can be powerfully full of energy, and this version is great for energy before a workout or power throughout a long and active day. You'll need a variety of seeds including pumpkin and sesame seeds, nuts like hazelnuts and almond butter, dates, cinnamon, and more.
---
16. Fudge Truffles
When your bliss calls get sweet and treaty enough, just call them fudge balls and we'll all want to dive right in. This recipe uses coconut flour, raw cacao, coconut sugar, almond butter, and coconut oil for a fabulous taste and texture you'll want to taste every day.
---
17. Coconut Almond Date Bliss Balls
This recipe uses similar ingredients to others, but the ratio of dates to dry ingredients is pretty high, making them super chewy and sweet. This is my idea of real food candy right here. Add maca powder for an extra energy boost, if you want!
---

Photo: Bowl of Delicious
18. Chocolate Coconut Energy Balls
These energy balls are made with pecans and dates—I absolutely love the flavor of pecans with dates! The dates are so caramel-like and the pecans are so soft and delicious. You'll also need cocoa powder, shredded coconut, a pinch of a sea salt.
---
19. Lemon Balls
With tons of citrus flavor and a smooth vanilla finish, these date-and-almond-based bliss balls are perfectly delicious and great for a burst of energy with lemon juice and zest, chia seeds, and pepitas. They're great for making in a large batch and stashing in the freezer.
---
20. Date Balls
Because these chocolate-date bliss balls are made with almond butter instead of ground nuts, they have an incredibly smooth texture that's similar to eating cookie dough. And who doesn't love eating cookie dough, especially when it's healthy with real-food ingredients?
---
21. Chocolate Mint Bliss Balls
These balls really are pure bliss, especially if you're a mint lover. The combination of mint and chocolate is smooth, sweet, and refreshing, with walnuts, pitted dates, cacao powder, unsweetened coconut, almond milk, and peppermint extract. Make sure you're using extract and a not essential oil!