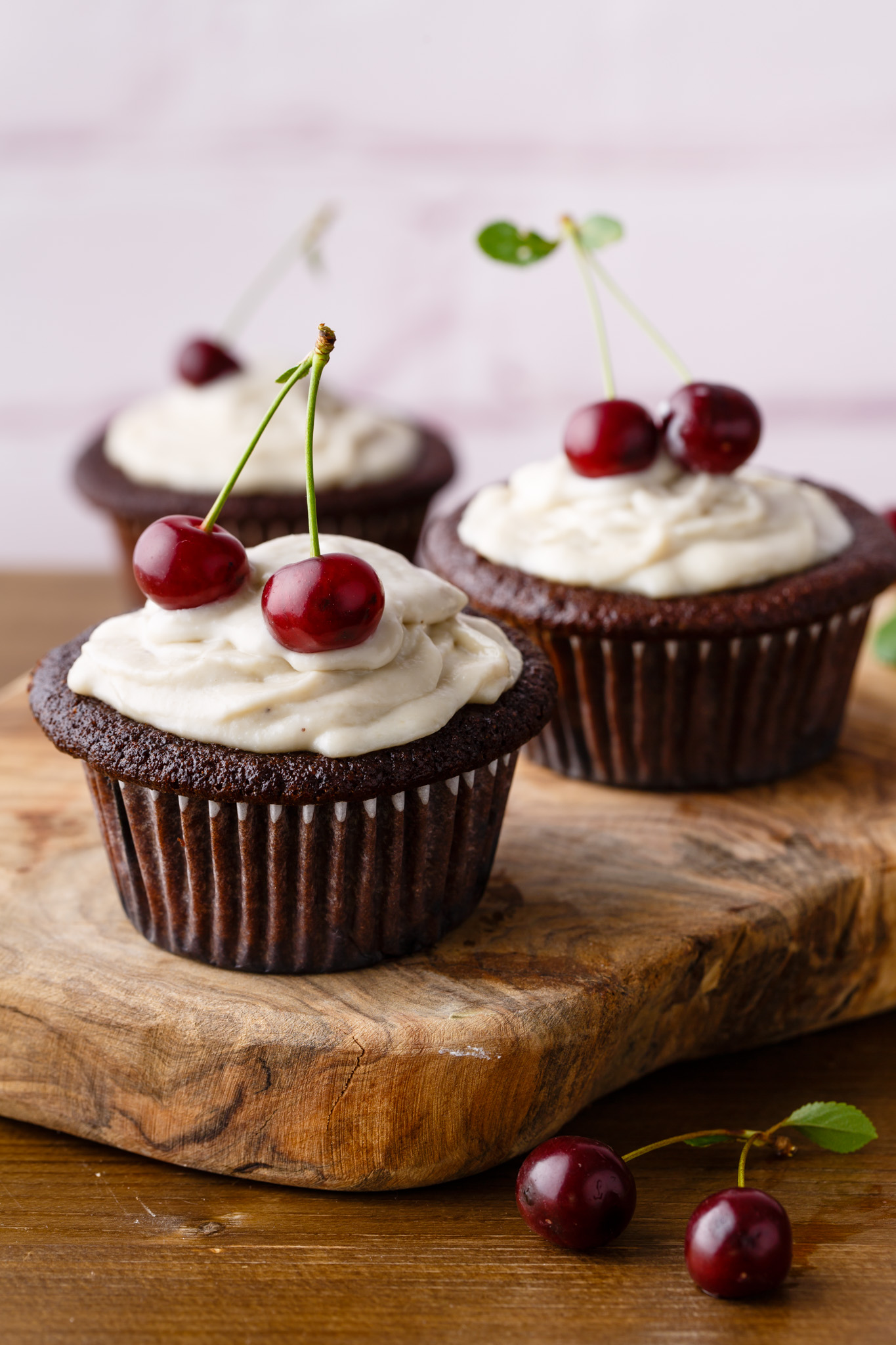 More Paleo Cupcake Recipes:
Pumpkin Paleo Cupcakes with Maple Syrup Frosting (Made with Coconut Flour)
Lemon Curd Coconut Cupcakes
Classic Vanilla Cupcakes
Paleo Coconut Cupcakes with Chocolate Frosting
20 Scrumptious Paleo Cupcakes (Grain-Free & Gluten-Free)
---
For the cupcakes:

4 eggs
½ cup honey
1 tsp pure vanilla extract
1/3 cup melted coconut oil
½ cup almond milk
1/3 cup coconut flour
½ cup almond flour
1/3 cup cacao powder
1 tsp baking soda
½ cup frozen sour cherries, pitted

For the filling:

1 cup frozen sour cherries, pitted
3 tbsp honey
1 tsp lemon juice

For the frosting:

1 can (14 oz) full fat coconut milk, chilled overnight
1 cup cashew nuts
1 tbsp coconut flour
1 tbsp honey
Preheat oven to 350ºF.
To make the muffins place the eggs, honey, coconut oil, almond milk and pure vanilla extract in a food processor and combine well.
Add the almond flour, coconut flour, cacao powder and baking soda and combine well.
Add the frozen cherries and pulse a few times until combined.
Line a 12-cup muffin pan with paper cups. Spoon the batter into the paper liners.
Bake in preheated oven for 15-20 minutes or until a toothpick inserted in the center comes out clean.
Remove from the oven and allow to cool completely.
To make the filling, place the cherries, honey and lemon juice in a small saucepan and cook over medium heat, stirring occasionally, until the cherries are soft and juices are reduced, 5-10 minutes.
Remove from the heat and cool completely.
To make the frosting, open the chilled can of full fat coconut milk and scoop the solid coconut cream.
Place the coconut cream, cashew nuts, coconut flour and honey in a blender and blend until smooth.
Refrigerate for minimum 4 hours.
To assemble the cupcakes, cut a small piece out of the center of each cupcake.
Spoon the cherry filing into the hole and top with the piece of cupcake you removed to seal.
Pipe the frosting over the cupcakes.
Store in an airtight container in refrigerator, allow to rest at room temperature about 20 minutes before serving.