How to Make Big Mac Casserole
Here's exactly how to make your own authentic tasting Big Mac casserole dish, completely paleo-friendly:
Preheat the oven. Preheat your oven to 350℉. While the oven is heating up, heat some olive oil in a large skillet.
Cook the onion and beef. Add the diced onion and saute for 3-5 minutes. Add the lean ground beef and cook until the beef browns.
Remove from the heat. Remove the beef and onion mixture from the heat.
Add a bit of sauce and extras. Add ½ of your homemade Big Mac sauce (see below for details on how to make the sauce), chopped dill pickles, and sesame seeds to the beef mixture and mix to combine.
Combine the ingredients. Add the beef mixture, cauliflower florets, chopped green pepper, and chopped tomato to a large baking dish and mix to combine.
Season with salt and pepper. A little bit of salt and pepper really goes a long way in making everything come together.
Bake. Bake the casserole in the preheated oven for approximately 40-50 minutes.
Cool. Remove the casserole from the oven and allow it to cool completely.
Add the toppings. Top with shredded romaine lettuce, diced white onion, diced dill pickles, sesame seeds, and diced tomatoes.
Drizzle. Drizzle the casserole with the remaining ½ of the homemade Big Mac sauce.
Serve. Serve immediately.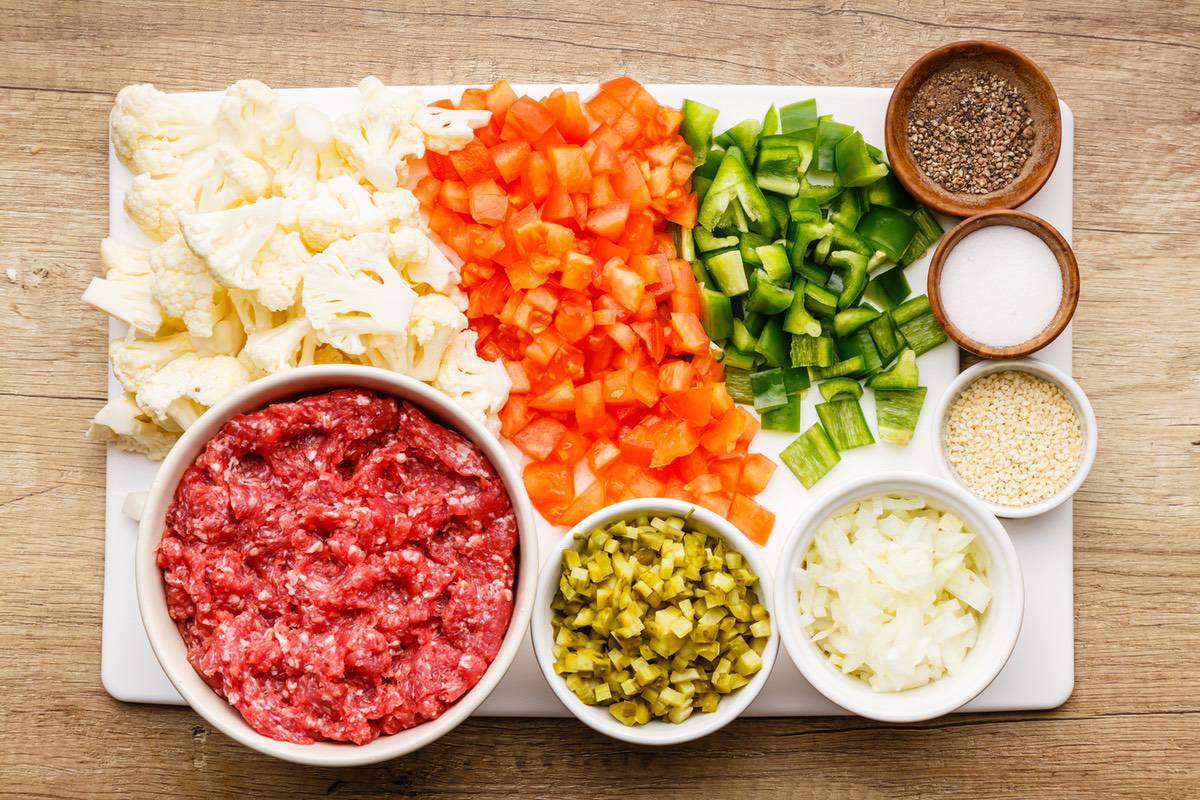 How to Make the Signature Big Mac Sauce
It wouldn't be a Big Mac meal without that famous signature sauce. Here's how to make your own homemade paleo-friendly version:
Combine the ingredients. Add the paleo approved mayonnaise, finely chopped dill pickles, ketchup, finely chopped onion, coconut aminos, garlic powder, paprika, salt, and black pepper to a bowl and mix to combine.
Set aside. Set the sauce aside until you're ready to add it to the casserole.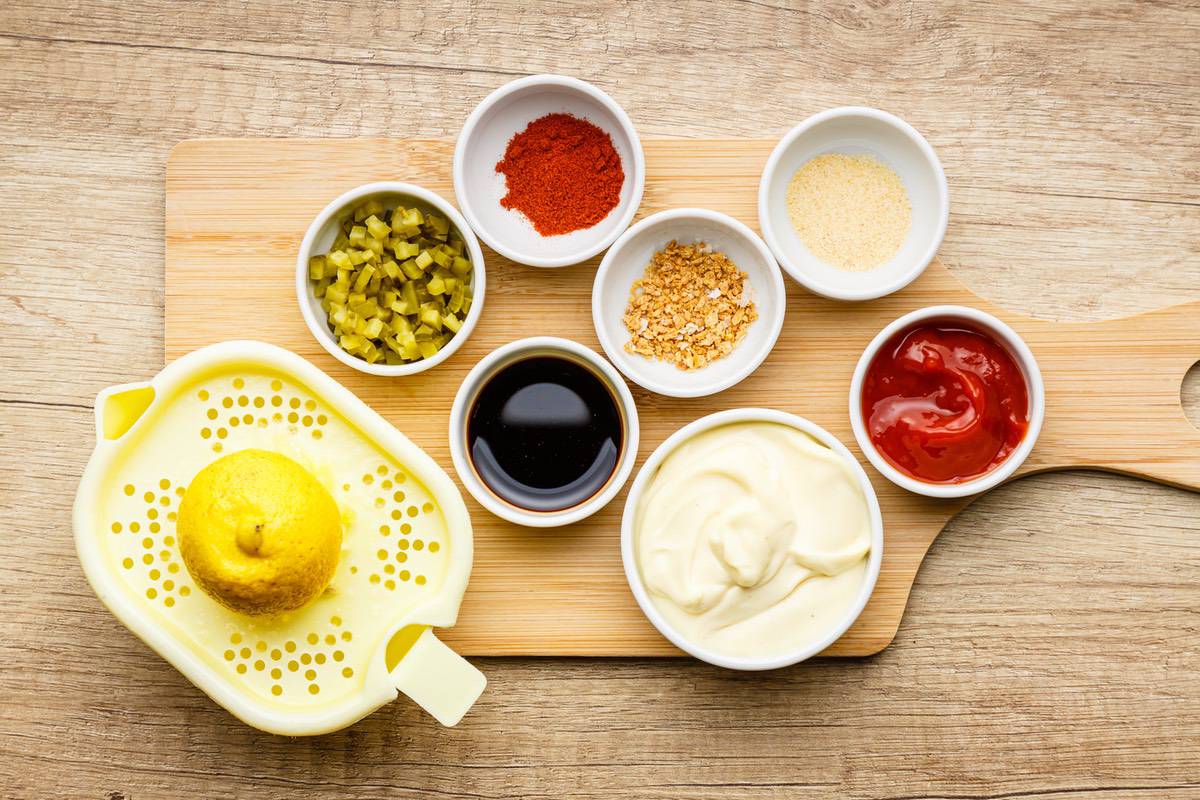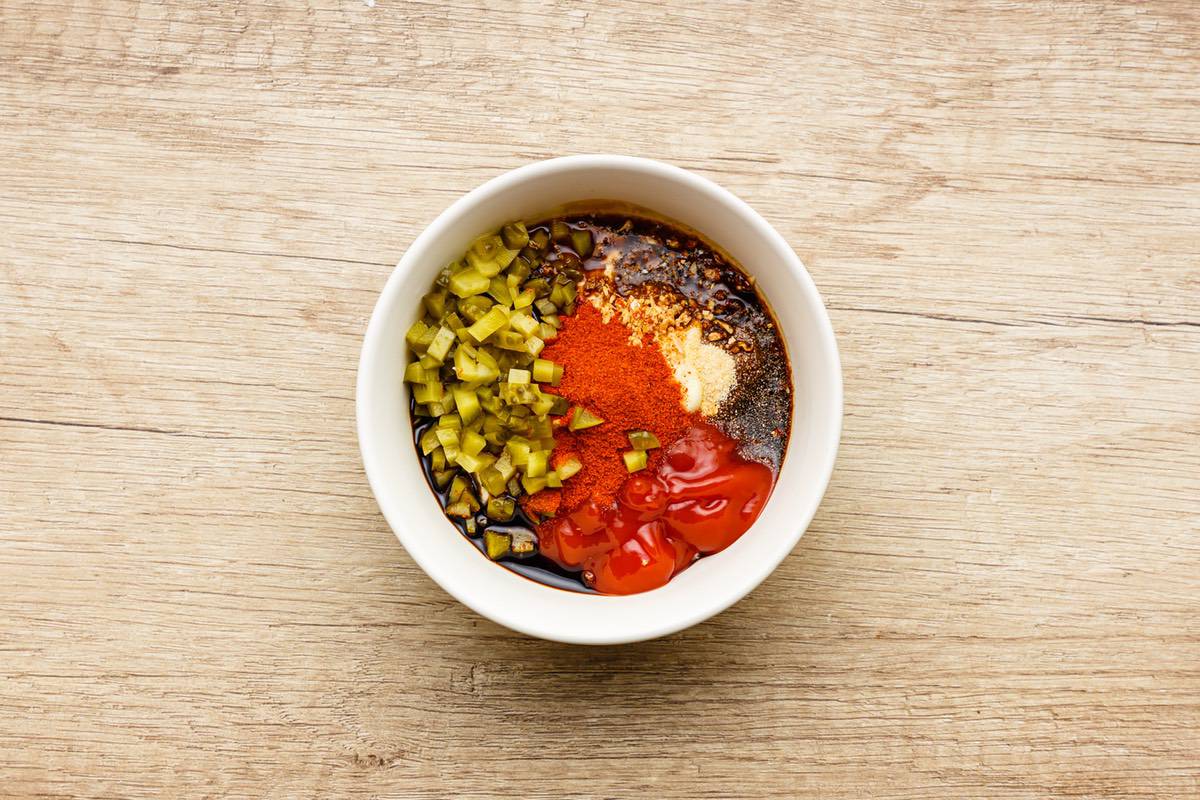 3 Benefits of Making This Healthy Big Mac Casserole
This casserole offers up the great taste that you know and love from Big Macs with one key difference: this dish is actually good for you! As a matter of fact, here are a few reasons why:
Reduced risk of heart disease. Since you're not cooking your beef in vats of trans fat loaded cooking oil, you'll be able to avoid the significant negative health effects associated with trans fatty acids, such as an increased risk of cardiovascular disease. (1)
Made with fresh ingredients. Making your own homemade casserole dishes with real, fresh whole food ingredients will always be preferable to ordering fast food burgers.
Loaded with beneficial nutrients. Carrying on from the point above, this Big Mac casserole is absolutely jam-packed full of essential vitamins, minerals, and disease-fighting antioxidants thanks to the variety of healthy paleo-friendly ingredients used in this recipe.
The Best Way to Freeze Leftovers
Fortunately, this Big Mac casserole dish freezes exceptionally well.
Before freezing any leftovers, you'll want to allow the casserole to cool completely before dividing individual portions into freezer-safe airtight containers. You'll be able to keep your leftovers frozen for up to 2-3 months.
2 Tips on Reheating Casseroles
Here are 2 of our top tips for reheating this Big Mac casserole, or any other paleo-friendly casserole dish that you make:
Thaw out frozen casserole in the fridge. Don't thaw out frozen casserole dishes at room temperature; it's better to let them thaw out in the fridge before reheating.
Use the oven. Reheat leftover thawed out casserole in the oven at lower temperatures (325℉-350℉) for approximately 20-30 minutes.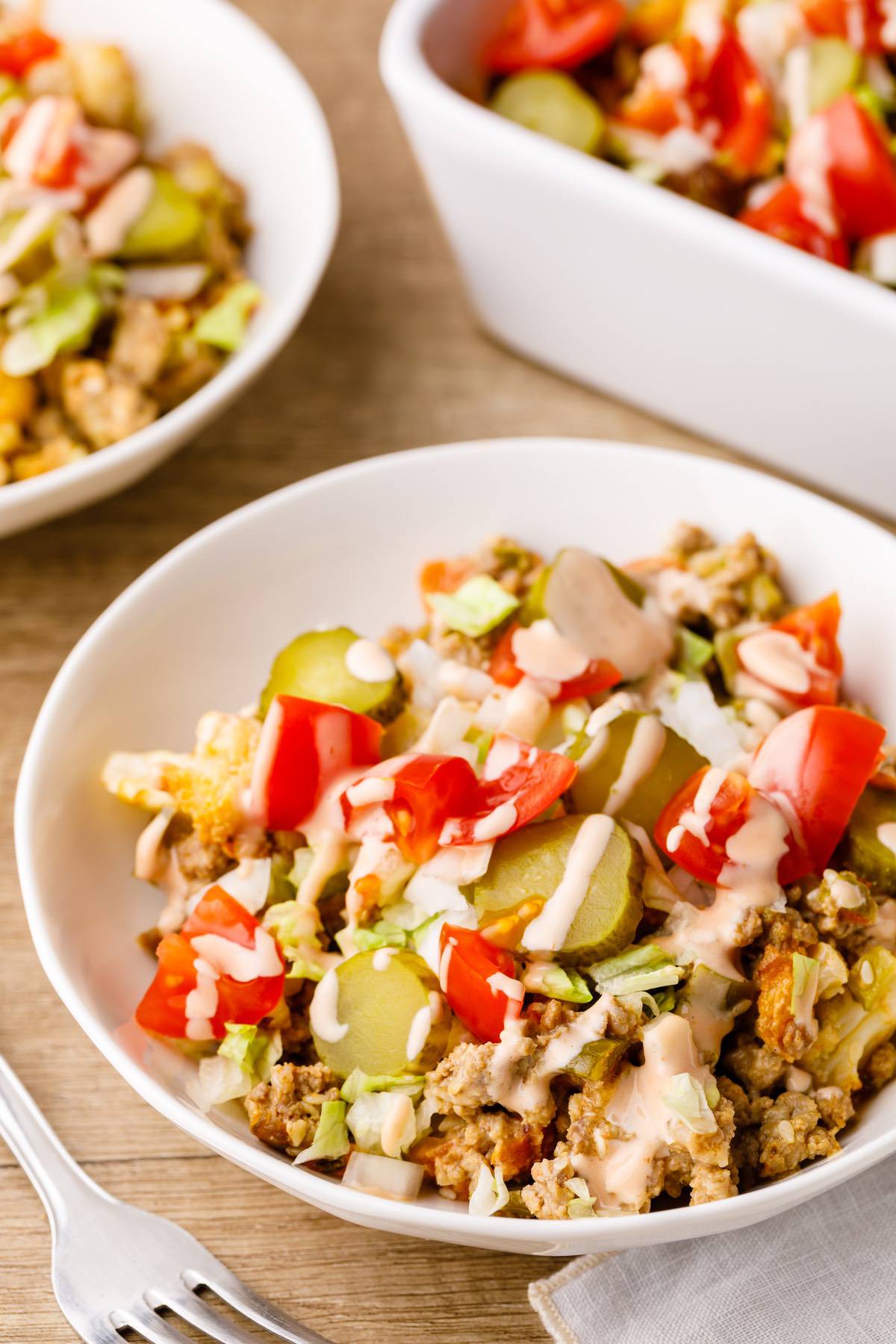 (You may also like: 61 Healthy Paleo Casserole Recipes for an Easy Meal)
---
1 tbsp olive oil
1 pound lean ground beef
1 large onion, diced
4 cups cauliflower florets
1 large tomato, chopped
1 green pepper, seeds and chopped
½ cup chopped dill pickles
1 tbsp white sesame seeds

For the sauce:

1/3 cup paleo mayonnaise
2 tbsp finely chopped dill pickles
2 tbsp ketchup
2 tsp finely chopped onion
1 ½ tsp coconut aminos
½ tsp garlic powder
½ tsp paprika
salt and black pepper

For the topping:

shredded romaine lettuce
diced white onion
diced dill pickles
sesame seeds
diced tomatoes
To make the sauce, in a bowl combine all the ingredients. Set aside.
Preheat oven to 350ºF.
Heat the olive oil in a large skillet over medium heat.
Add the onion and cook for 3-5 minutes.
Add the beef and cook until browned.
Remove from the heat.
Add ½ of sauce, chopped pickles and sesame seeds and mix to combine.
In a large baking dish mix the beef, cauliflower, pepper and tomato.
Season to taste with salt and black pepper.
Bake in preheated oven for 40-50 minutes.
Remove from the oven and allow to cool slightly.
Top with shredded lettuce, onion, pickles, sesame seeds and diced tomato.
Drizzle with remaining sauce and serve.