---
Is there anything boys like more than barbecue? I think that one of my boyfriend's life goals might just be to eat barbecue in every state. He seems to eat a lot of barbecue on road trips. We could be driving to the beach, where there's that one place by the gas station after such-and-such turn off the highway. We stop there every time. Or we could be driving in the middle of nowhere in Montana, and the first little town we drive through in an hour happens to have a little barbecue stand. Definitely stop there. Or my favorite scenario is the one where we just had lunch but drive past a place claiming to have the "best barbecue in the county!" or something like that. And though we wouldn't have the time to do a county-wide comparison or anything, we assume it's true. Stop there.
This recipe is not looking to claim any kind of grand title, but it sure tastes good on some chicken wings, and isn't loaded with sugar. Honey acts as the natural sweetener, but please taste the sauce as you cook and adjust the seasonings depending on your preferences. Barbecue is, after all, a very personal recipe.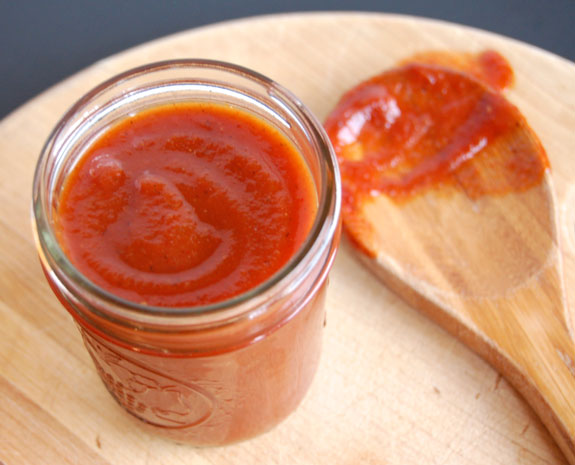 ---
Ingredients

15 oz. organic tomato sauce
1 cup water
1/2 cup apple cider vinegar
1/3 cup honey
1 tbsp lemon juice
2 tsp onion powder
1 1/2 tsp ground black pepper
1 1/2 tsp ground mustard
1 tsp paprika
Combine all of the ingredients in a medium saucepan over medium-high heat. Stir to combine. Bring to a boil, and then reduce to simmer for 1 hour. Taste and adjust seasonings as desired. Serve with meat or store in an airtight container in the refrigerator.