Dessert
40 Paleo Ways to Enjoy Bananas
Bananas, I think, is my favorite. They're lovely and sweet with a creamy flavor that works well with other fruits, and when you freeze them you open yourself up to a whole new world of banana enjoyment. Smoothies, ice creams, and other desserts become easy to make and enjoy paleo-style, and they often don't even need additional sweetening because bananas are so sweet naturally!
---
1. Double Chocolate Paleo Banana Bread
Banana bread is good, but chocolate banana bread is better. And this banana bread might even be best, with its rich and fudgy bar-like texture, almond four, coconut flour, chopped chocolate chunks, and nothing but straight up banana as the sweetener.
---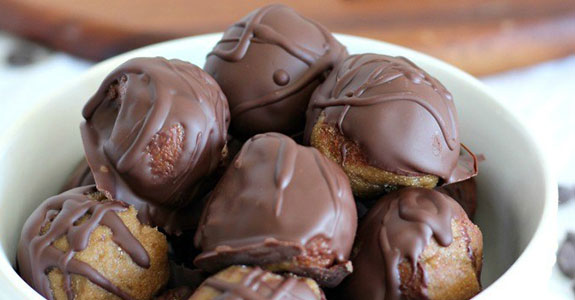 Photo: Paleo Running Momma
2. Chocolate Banana Sunbutter Truffles
These truffles are soft and melt-in-your-mouth delicious with just a few ingredients. You'll need over-ripe bananas (they're sweet and soft without any sliminess), sunflower seed butter, coconut flour, chocolate chips, coconut oil, and if you'd like to sweeten them just a bit more? Add some maple syrup.
---
3. Low Sugar Paleo Brownies
Not yet convinced about the power of bananas alone as a sweetener? Try these low-sugar brownies, which don't even need over-ripe bananas, just green-tipped ones. Coconut butter makes these brownies super rich and fudgy with plenty of healthy fats.
---
4. Cherry Berry Smoothie Bowl
This smoothie bowl has just about everything good in it, from frozen cherries and cranberries to banana, almonds, dried figs, lucuma powder (or other sweetener), grass-fed gelatin , bee pollen, and more. This is going to be your new favorite energizing breakfast.
---
5. Paleo Banana Upside Down Cake
Though it may not be a very common flavor, bananas are actually really perfect for upside down cake because of their sugar content. Bananas naturally caramelize really well, which makes for the perfect sweet and gooey cake with almond butter, coconut sugar, vanilla extract, cinnamon, and sea salt.
---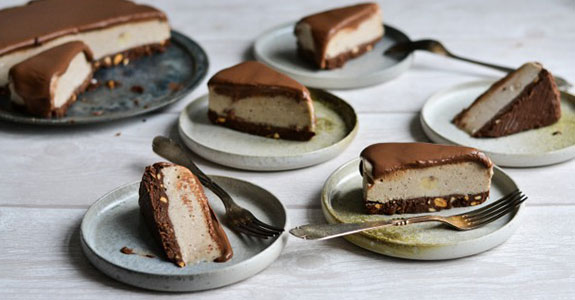 Photo: A Tasty Love Story
6. Chocolate Banana Split Cream Pie
This pie has a cheesecake quality to it, with a rich and creamy banana ice cream make with coconut cream, bananas, and vanilla, and a delicious crust of sweet potatoes, avocado, rum, almonds, and maple syrup. And let's not even get started about that silky chocolate ganache topping poured over the finished product!
---
7. No Bake Banana Bread Protein Bars
Read this recipe carefully for the paleo options, and you'll be rewarded with a soft and chewy, delicious protein bar with bananas, coconut flour, almond butter, cinnamon, and chopped nuts if you like. It tastes just like banana bread, but much healthier!
---
8. Tropical Green Smoothie Recipe
This green smoothie is made with spinach or kale, banana, orange, pineapple, avocado, coconut milk, maple syrup, crushed ice, dried coconut chips, and chia seeds. I recommend leaving out the essential oil—you could also use orange zest to replace it.

---
9. Paleo Banana Bread
This is a paleo banana bread that will fool even the biggest paleo skeptic with its deliciously rich texture, strong banana flavor, melted butter, and seasonings like cinnamon, nutmeg, and ginger. It's sweetened only with bananas, making it a healthy choice, too.
---

Photo: Whitty Paleo
10. Banana Ice Cream and Apple Butter Parfait
This parfait is quick to make and deliciously sweet with frozen banana "ice cream," vanilla extract, almond or coconut milk (coconut for richness, but almond milk for a more neutral flavor), apple butter or apple sauce, and candied pistachios made on the stove with honey or coconut sugar.
---
11. Paleo Banana Bread French Toast
Everyone loves French toast, and this banana bread version is delectable with cinnamon, vanilla, maple syrup, raw cacao powder, coconut and almond milks, and a handful of fresh raspberries with sliced banana. Use this blogger's banana bread recipe for the base.
---
12. 3 Ingredient Banana Pancakes
These banana pancakes are delicious, and they're a great way to get a protein-rich breakfast into the bellies of kids (or adults) who don't like eggs. The banana and cinnamon flavor really shines through, and the pancakes are so simple to make, you could do it on a busy school morning.
---
13. Banana Bread Drop Cookies
These simple cookies taste just like banana bread, but they're much less of a commitment to make, and they don't take quite so long, either. You'll need smashed banana, coconut and almond flours, chocolate chips, coconut oil, eggs, and a few other ingredients.
---

Photo: Wandering Root
14. Pink Himalayan Sea Salt Strawberry Orange Smoothie
This easy smoothie has a really lovely flavor, thanks to the coconut milk, almond butter, and flakes of Himalayan sea salt with strawberries, banana, and orange. With the banana in this smoothie, you don't even need to add anything else to sweeten it. It's naturally good!
---
15. Caramel Nice Cream Sundae
"Nice Cream" is a name sometimes given to "ice cream" made from frozen bananas, which has a creamy texture very similar to ice cream and is naturally sweet without any dairy. This delicious sundae is made with unique ingredients like mesquite powder! You can replace the rolled oats with crushed almonds.
---
16. Paleo Chocolate Chip Banana Bread
Chocolate chips are by far the best add-in to banana bread, if you ask me. They're far superior to walnuts or other nuts that are sometimes through in, and in this particular loaf, bananas and chocolate result in an ooey gooey loaf of amazingly delicious banana bread with almond butter and honey.
---
17. Grain Free Banana Granola
Bananas are great as a granola ingredient because they can replace some of the sweetener in the recipe while also adding a delicious banana flavor. The banana nut effect going on here with cashews, walnuts, various seeds, cinnamon, nutmeg, and vanilla is fabulous.
---

Photo: Hold The Grain
18. Banana Pumpkin Bread
Can't decide between pumpkin bread and banana bread? Why decided?! Just have both in the same loaf! This easy bread is made with almond flour and features both pumpkin puree and mashed banana for a super flavor combination that's sweetened with honey and flavored with vanilla and spices.
---
19. Paleo Graham Crackers With Nutella and Bananas
Homemade graham crackers are actually the bomb (is in 2001 again?), and this recipe with homemade nutella and sliced bananas sort of reminds me, in some weird universe, of a healthy s'more. So give it a try, and you won't be sorry you did.
---
20. Orange Pineapple Banana Smoothie
I think smoothies are probably my favorite way to eat bananas, next to frozen and dipped in chocolate. This easy banana smoothie has just three ingredients: frozen pineapple, banana, and oranges. This smoothie is best if you use the sweetest, most flavorful juicy oranges you can get your hands on.
---
21. Chocolate Banana Pudding
This 3-ingredient chocolate pudding with bananas, vanilla or almond extract (depending on what flavor you're looking for), and unsweetened cocoa powder. You'll need to serve this immediately as it's more of a soft serve ice cream than a pudding, but it's so good!
---

Photo: 24 Carrot Kitchen
22. Banana Bread With Streusel Topping
This banana bread is made doubly good by the addition of a streusel topping just like a good old coffee cake. It's made with plenty of bananas (duh), almond butter, cinnamon, coconut oil, coconut flour, vanilla, and almond flour with chopped pecans to make the topping nice and crumbly.
---
23. Almond Butter and Jelly Smoothie
This smoothie tastes just like your childhood with flavors reminiscent of PB&J. You'll need frozen bananas, frozen strawberries, frozen cherries, almond milk, and almond butter. This is a good smoothie for adding boosters like collagen peptides or bee pollen.
---
24. Paleo Bananas Foster
Bananas Foster is a classic bananas dessert with caramelized bananas and vanilla ice cream. This delicious paleo version uses grass-fed butter, full fat coconut milk, coconut or maple syrup, and a coconut milk ice cream sweetened with maple and flavored with vanilla ice cream.
---
25. Strawberry Marbled Banana Bread
Strawberry banana is one of my favorite flavor combinations using either fruit, and this strawberry banana bread really hits and craving. It's made with almond meal and coconut flour and gently seasoned with cinnamon. Use the ripest bananas you can find—trust me!
---

Photo: Finding The Healthy Road
26. Chunky Monkey Chia Seed Pudding
This chia seed pudding will remind you of the classic ice cream flavor with bananas, chocolate, and nuts. It's made with protein-rich and nutritious chia seeds, cinnamon, Swerve sweetener (or coconut sugar), shredded coconut, and a garnish of cacao nibs or more coconut.
---
27. Banana Split Vegan Smoothie Bowl
This smoothie bowl is a healthier version of dessert with just a handful of ingredients. You'll need frozen bananas, vanilla almond milk, strawberries, chopped dark chocolate, paleo sprinkles (leave them out if you need to), and roasted almonds to replace the peanuts.
---
28. Sun Butter Banana Muffins
These muffins are easy to make ahead for breakfast with bananas, sunflower butter (you could use any nut or seed butter), coconut flour, flaxseed meal "eggs," apple cider vinegar, vanilla, and pure maple syrup. The xanthan gum is optional, but you could also use psyllium seed husk.
---
29. Strawberry Banana Smoothie
Looking for a simple strawberry banana smoothie to satisfy your craving or serve to your kids? This one is a great replacement for those mall food court smoothies made with all sorts of syrups and who knows what. It's made with cinnamon, orange juice, and vanilla.
---

Photo: Wife Mamma Foodie
30. Chocolate Chia Pudding Pops With Bananas
These awesome chocolate pops are made with slices of banana in them for a fun flavor that changes with each bite. You'll need almond or coconut milk, chia seeds, maple syrup, dark cocoa powder, bananas, and if you want, some cacao nibs or mini chocolate chips.
---
31. Paleo Banana Breakfast Bars
These breakfast bars are great when you need a quick breakfast on the go. They're nice and healthy and even have a vegetable! You'll need zucchini, bananas, almond butter, vanilla, cinnamon, almond butter, and shredded coconut along with a few other ingredients.
---
32. Paleo Salted Caramel Frappe
This amazing drink is a far cry from junk-loaded Starbucks, and you can make it with just a handful of ingredients. You'll need frozen bananas, coffee, unsweetened almond milk (any brand or homemade will do), vanilla, and salted caramel—use a paleo-friendly homemade caramel!
---
33. Banana Chai Popsicles
This is a unique combination of banana and aromatic, spicy chai. The best part is that those are the only two ingredients! These popsicles are great for hot summer days when you need a treat you don't have to feel guilty about. I'd even consider it healthy enough for a light breakfast.
---

Photo: Sunny Side Up's
34. Banana Mocha Green Monster Smoothie
This "green" smoothie isn't so green, making it great for those of us who might be new to green smoothies and a little turned off by the color. You can make one for yourself with frozen bananas, protein powder, cocoa powder, instant coffee, milk of choice, and vanilla.
---
35. Sesame, Fig, and Banana Drizzle Squares
These snack squares have an awesome banana flavor with cashews, dried figs, shredded coconut, tahini, ripe bananas, chia seeds, nut milk, vanilla extract, sunflower seeds, sesame seeds, and cacao nibs. Of course, they wouldn't be complete with a dark chocolate drizzle.
---
36. Blackberry Bliss With Cherries on Top
I think this blackberry bliss bowl would really hit the spot right now. It's a blackberry ice cream made with frozen bananas, honey to pour on top (which thickens into a chewy "sauce"), pitted cherries, and dairy free chocolate chunks.
---
37. Lemon Olive Oil Chocolate Banana Bread
This banana bread is probably the chewiest, most moist version you've ever had, with a delicious lemon flavor, olive oil, applesauce, coconut milk, vanilla, chocolate, and a lemony coconut milk glaze to pour over the top… and then lick the leftovers out of the bowl.
---

Photo: Simple As That Blog
38. Healthy Banana Chocolate Pudding
Because bananas have a natural viscosity when pureed, you can make them into a pudding without a lot of work in the thickening department. For this pudding, use ripe bananas, cocoa powder, agave nectar (I'd use maple syrup), cinnamon, vanilla, and toasted hazelnuts.
---
39. Frozen Chocolate Dipped Banana Popsicles
Now this—this recipe is my ultimate favorite way to enjoy bananas. When frozen, they don't go completely solid but have a frozen ice cream texture. These popsicles are made with nut butter, coconut oil, cocoa powder, and shredded coconut to roll them in.
---
40. Banana Coconut Crunch Cereal
Here's a fun breakfast cereal enjoyed by kids alike with a splash of coconut milk and some fresh raspberries. You'll need sunflower seeds, shredded coconut, coconut flour, ripple bananas, honey, coconut oil, vanilla, and cinnamon. I'd store this in the freezer if you don't eat it all at once.