---
To prepare for the recipe, mash two bananas in a small bowl and set aside. You can either blend them with a hand blender or just mash them with a fork, depending on what consistency you would like the pudding to end up as.
The first actual step in the recipe is to whisk together egg yolks, honey, and arrowroot powder. Arrowroot powder is white and powdery and acts in the same way as cornstarch. It helps to thicken the mixture into a pudding-like consistency, along with the egg yolks. (Need ideas for what to do with the leftover egg whites? They are great for Paleo biscuits or Paleo tortillas.)
In a small saucepan, heat the coconut milk. Full-fat coconut milk is best, since it will make the pudding creamier. Warm the coconut milk, and then slowly drizzle it into the egg mixture to temper the eggs. You should be whisking the entire time. Then add everything back into the saucepan. Heat the whole mixture together (over low heat) until it gets thick – you still have to whisk regularly so that the eggs do not scramble.
Once the mixture is nice and quite thick, remove it from the stove. This is the point I kept screwing up; I didn't let the mixture get thick like a pudding and would remove it from the stove too early. So have patience. Then you can stir in the mashed banana and vanilla for flavoring. Taste and adjust the sweetness, and refrigerate for an hour to cool down.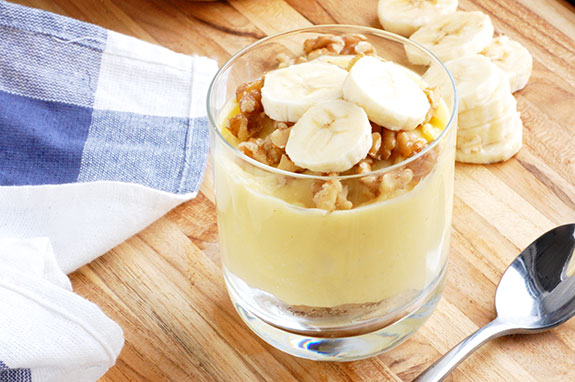 To serve the delicious banana pudding, spoon it into small glasses. I like to top the pudding with walnuts for crunch and extra banana slices. Toasted coconut flakes or shortbread cookies would also taste wonderful. This healthy dessert recipe keeps wonderfully in the refrigerator. You can make it ahead of time and then enjoy it after dinner, or perhaps the next day as an after school snack.
---
4 egg yolks
1/4 cup honey
1/4 cup arrowroot powder
2 ripe bananas, mashed
1/2 tsp salt
2 cups full-fat coconut milk
1 tsp vanilla extract
1 ripe banana, sliced
Walnuts, optional
Whisk together the egg yolks, honey, and arrowroot powder in a medium glass bowl. Set aside.
Heat the coconut milk in a small saucepan over medium heat, stirring occasionally, for 5 minutes. Slowly pour the coconut milk into the egg mix, whisking constantly. Transfer the entire mixture back into the saucepan and cook for another 2-3 minutes. Stir regularly until thickened, making sure it does not boil.
Transfer the mixture into a large bowl and whisk in the vanilla and the mashed bananas. Chill for one hour.
To serve, spoon the pudding into a glass. Top with sliced banana and walnuts if desired. Serve immediately.