---
I actually believe that the muffins turn out better than baking an entire loaf of banana bread. As individual muffins, the dough rose better. These muffins even puffed up, instead of sinking in the middle like some other batches I have tried.
There is a little trick that I incorporated here: preheat the oven to 25 degrees warmer than the recipe calls for, then lower it to the baking temperature when you put the muffins into the oven. For example, for these I actually preheated my oven to 375 degrees, and then lowered it to 350 to bake the muffins. It seems to be very effective in helping muffins or cupcakes get that extra little dome on top. Old farmwives tale or something like that.
The muffins are mostly composed of bananas and eggs but they turned out wonderfully. My boyfriend didn't even know they were Paleo when he tried one – that's always a compliment! I decided to add a sprinkle of chopped walnuts on the top of the muffins because I like the added nutty taste. You could also use pecans or just skip the step.
These muffins have just the right combination of banana and sweetness from the coconut flour, with a little added crunch from the walnuts on top. Add a pat of butter, and you have got one delicious way to wake up in the morning.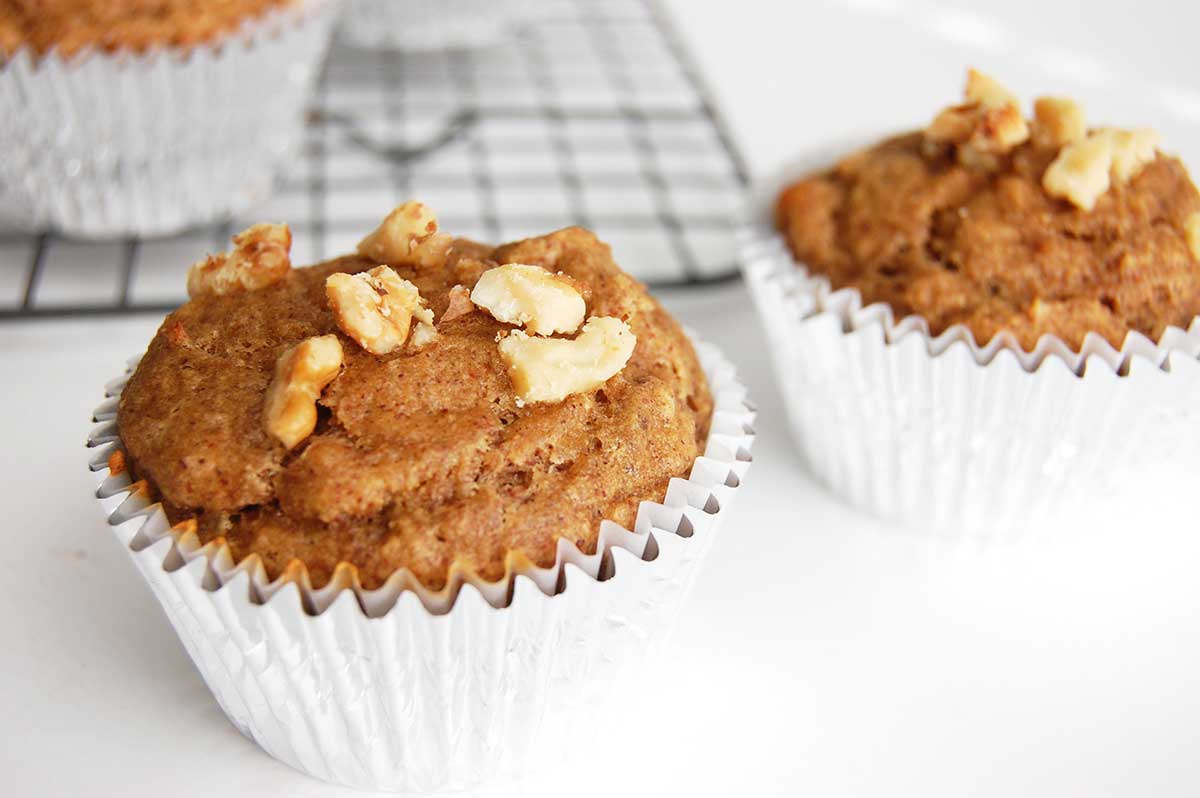 (You may also like: Coconut Flour Chocolate Chip Banana Nut Muffins)
---
Ingredients

4 bananas, mashed with a fork (the more ripe, the better)
4 eggs
1/2 cup almond butter
2 tbsp coconut oil, melted
1 tsp vanilla
1/2 cup coconut flour
2 tsp cinnamon
1/2 tsp nutmeg
1 tsp baking powder
1 tsp baking soda
1/4 tsp salt
Preheat oven to 350 degrees F. Line a muffin tin with cups. In a large bowl, add bananas, eggs, almond butter, coconut oil, and vanilla. Using a hand blender, blend to combine.
Add in the coconut flour, cinnamon, nutmeg, baking powder, baking soda, and salt. Blend into the wet mixture, scraping down the sides with a spatula. Distribute the batter evenly into the lined muffin tins, filling each about two-thirds of the way full.
Bake for 20-25 minutes, until a toothpick comes out clean. Serve warm or store in the refrigerator in a resealable bag.
| | |
| --- | --- |
| Calories | 161 kcal |
| Potassium | 238.5 mg |
| Vitamin A | 24.2 µg |
| Vitamin C | 3.4 mg |
| Folic Acid (B9) | 20.1 µg |
| Sodium | 167.2 mg |