Healthy Paleo-Friendly Breading and Stuffing
To make this chicken cordon bleu, it all starts with cutting the chicken breasts in half and opening them up into a sort of heart shape. The next step is to flatten them out and then season them with salt and pepper before sprinkling them with dried thyme. People who complain about dry chicken breasts usually don't flatten them out before cooking, which can lengthen the cooking time significantly.
Use a Variety of Spices to Add Flavor to Your Dish
I love cooking with dried thyme for many reasons, especially for the slightly minty flavor that it can add to meals. It doesn't only add more taste to recipes though — it's actually quite a nutritional powerhouse in its own right. Thyme is capable of lowering blood pressure and cholesterol levels (1) and because it's so high in vitamin c, it even makes an excellent immune system booster. It's no wonder thyme tea is sometimes used as a home remedy for colds and flu, along with some good old chicken soup.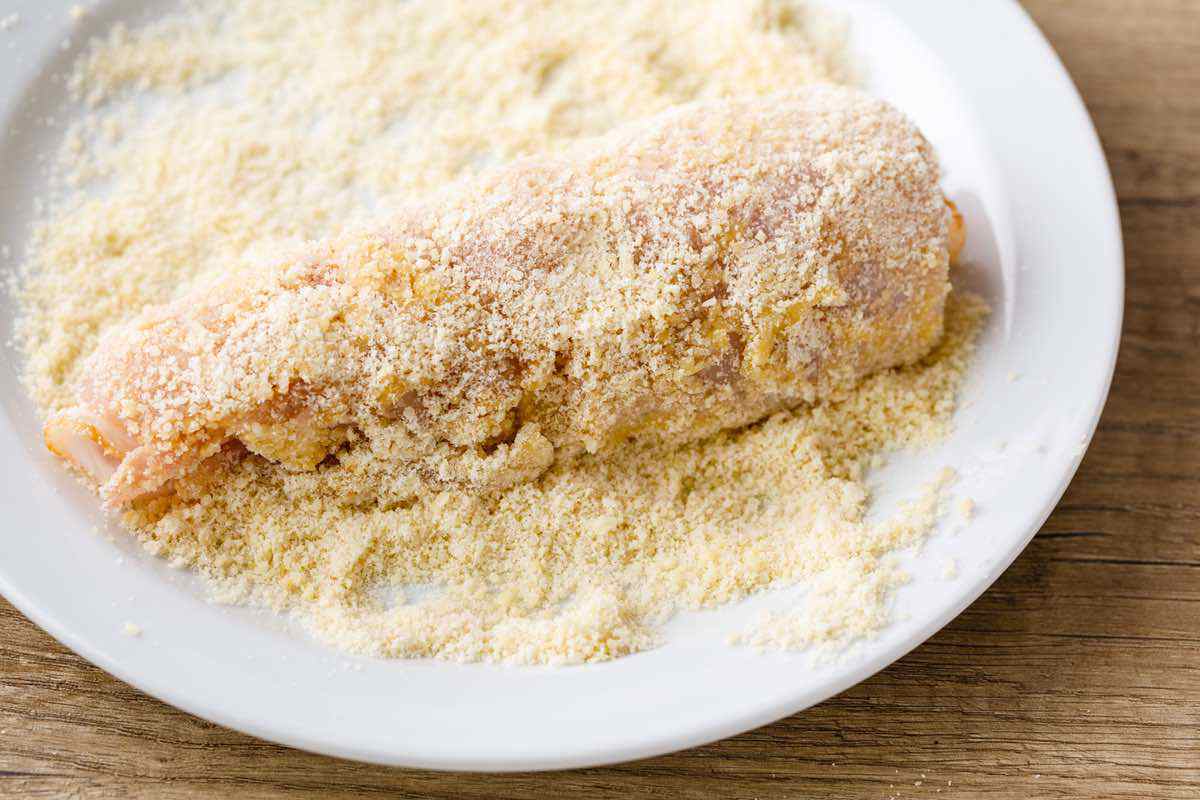 High Protein, Low in Fat
For the actual cordon bleu stuffing, this recipe keeps it incredibly simple. Simply place a couple of slices of ham in each chicken breast and roll them tightly. The combination of chicken breasts and ham really makes this a great meal choice for anyone trying to increase their daily protein intake.
Paleo Batter Ingredients
Once you have your chicken properly rolled and stuffed, it's time to prepare the cordon bleu breading. Just like the stuffing, simplicity is key here. You're just going to be dipping your chicken breasts in a mixture of beaten eggs to make them sticky and then rolling them in almond flour. Yes, that's right — it only takes one simple ingredient to make an incredible paleo-friendly chicken breading that tastes delicious and even manages to up the nutritional content of the whole meal as well.
After baking your cordon bleu for about 20 minutes, all that remains is to then broil them for two or three minutes until they have a nice and crispy golden coloring. Once you take your first bite of this recipe, you'll see for yourself that you don't need to include cheese to make a delicious cordon bleu — the combination of chicken and ham along with the slightly sweet flavor added by the almond flour breading easily stands on its own without the need for cheese.
P.S. – I mentioned above how much I love using thyme in my paleo recipes and I wasn't kidding. This healthy herb can be used to great effect in a couple of awesome paleo-friendly recipes that I want to share:
#1 – Baked Eggplant Fries with Rosemary and Thyme
---
2 skinless boneless chicken breast halves (8 oz each)
¼ tsp dried thyme
4 slices ham
2 eggs
2/3 cup almond flour
1 tbsp olive oil
salt, black pepper
Preheat oven to 400ºF.
Cut the chicken breasts in half horizontally nearly all the way through, then open each one out into a heart shape.
Between sheets of plastic wrap or waxed paper, flatten each chicken breast to 1/4-inch thickness.
Season with salt and black pepper.
Sprinkle with dried thyme.
Place 2 rolled slices of ham at the edge of each breast and roll each breast tightly.
Beat the eggs in a shallow bowl and season with salt.
Place the almond flour in a shallow plate.
Dip each chicken roll in the eggs then coat in almond flour.
Place on a lightly grease baking tin. Brush the rolls with olive oil.
Bake in preheated oven for 20 minutes then broil for 2-3 minutes or until golden.