I love making fun snacks for get-togethers. Sure, there's always your standard veggies and hummus – that's easy-peasey. But I love having an assortment of finger foods that my friends will think are super yummy and even my non-Paleo friends will happily gobble up.
I remember the first time I saw a blooming onion as a kid. It was on TV – an ad for a popular restaurant chain – and I was blown away. (I was an easily impressed child, I guess.) They made an onion look so yummy and BIG. So years later, getting to make a Paleo version of this is tons of fun.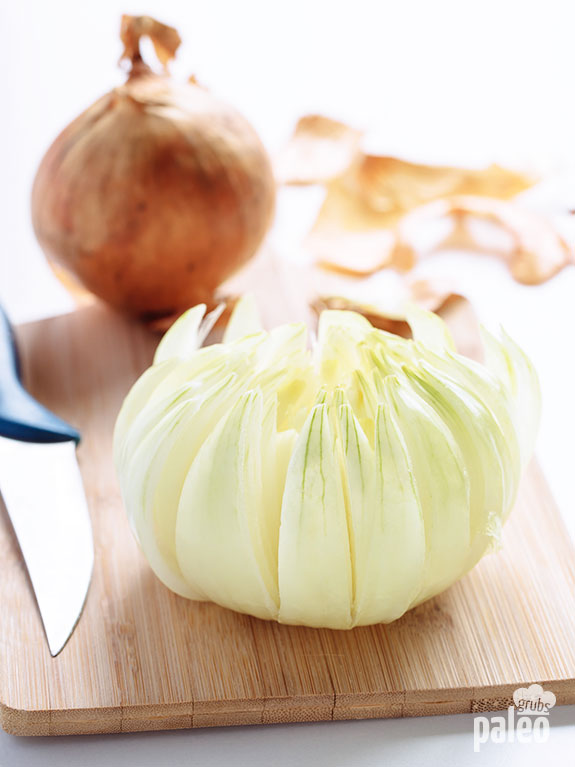 A blooming onion is all about the flavor. I recommend a yellow onion because it has a nice mellow, slightly sweet taste when it is baked. And get a big one! Go big or go home! Same goes for the flavor: it's big flavor time! Spice it up with paprika, cayenne, and garlic, and then add some savory spices too and you've got a flavor bomb (in a good way!) on your hands.
If you like things really spicy, you can always add more cayenne or paprika to the mix, but don't go overboard, especially if you're serving this to guests. A little can go a long way. And if you're wondering why we use both paprika and cayenne (they look the same…), let me explain…while they are both powders of red peppers, they are usually made from different types of red peppers and have slightly different flavors.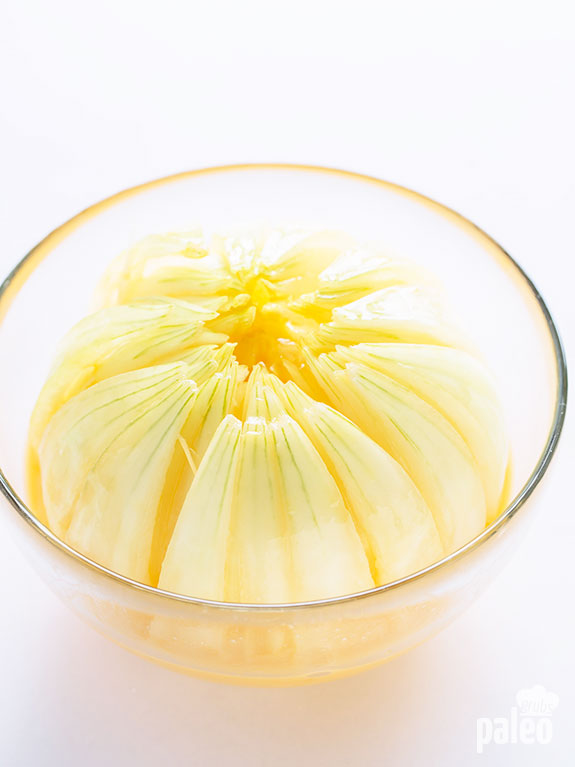 Paprika can be a little sweet and has varying degrees of spiciness. So before you decide to add more of these spicy spices, give them a little taste test first.
There are two major differences in this recipe, compared to a traditional blooming onion recipe, and these differences are what make it a specifically Paleo recipe. The first is that a traditional blooming onion recipe will call for wheat flour, which is not a Paleo-friendly food. We find that almond flour works just as well, so that's our first difference from a traditional recipe.
Secondly, blooming onions are often deep fried and we all know what that means: tons of fat! To cut way down on the fat content, instead of deep-frying, we bake our blooming onion. The result is the same: a soft, savory onion, covered in a crispy, flavorful, coating – but our version is close to nil on the fat counter. Yay!
No blooming onion would be complete without a cool, creamy dip on the side. Not to fear! At the bottom of this recipe we've included a link to our Paleo ranch dressing recipe. It's a must-have with your blooming onion.
Like I said, I love sharing my baked blooming onion with friends. Everyone loves foods to dip at gatherings and parties and this is just about the ultimate dippable food. So the next time you're having friends over – movie night, anyone? – bake up one of these beautiful blooming onions and share the love!
( Make this next: Oven-Baked BBQ Ribs )
---
1 large yellow onion
½ cup almond flour
2 tsp paprika
½ tsp cayenne pepper
¼ tsp black pepper
1 tsp garlic powder
½ tsp dried oregano
½ tsp dried thyme
¼ tsp salt
2 eggs, lightly beaten
1 tbsp olive oil
Preheat oven to 350 F. Line a baking sheet with parchment paper and set aside.
Cut off the top about 1/2 inch of the onion and peel. Place the onion cut-side down on a cutting board. Starting 1/8 inch from the root, cut the onion into 12-16 vertical wedges. Turn the onion over and use your fingers to gently separate the onion petals.
In a small bowl combine the almond flour, paprika, cayenne pepper, garlic powder, oregano, thyme, black pepper and salt.
Dip the onion in beaten eggs and turn it over to make sure every part of the onion is covered.
Take it out, and coat with almond mixture. Make sure all the layers are covered.
Place the onion on prepared baking sheet, brush with olive oil and cover with aluminum foil.
Bake for 30 minutes, then remove the foil and bake for 5-10 minutes more or until the onion is tender and the edges are browned.
Serve with homemade paleo ranch dressing