---
Beets may turn your hands bright pink, but they are loaded with health benefits. I couldn't believe how many nutrients are packed into the little vegetables. Beets help to flush out toxins from your body. They are also high in fiber, potassium, iron, and vitamins A, B, and C. They help to improve blood flow, thereby lowering blood pressure. And best of all, they now come in the easily snackable form of a chip.
To form the chips, thinly slice the beets with a mandolin or a knife. I used a mandolin to get a consistent slice on the beets, because they bake more evenly when the chips are the same thickness. It also makes the prep more efficient. After slicing, toss the beet slices with just a little bit of olive oil. Lay the beets out in a single layer on two rimmed baking sheets. First sprinkle the beets with salt and pepper, followed by the chopped rosemary and thyme.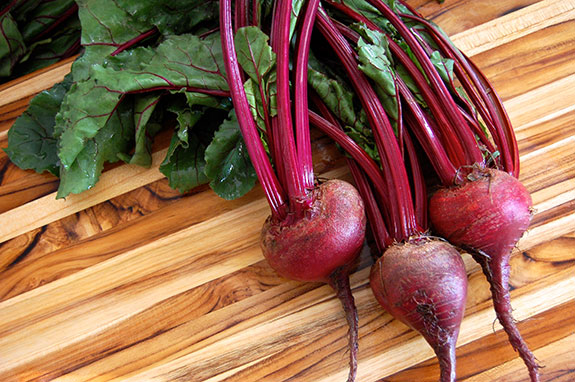 The beets bake in the oven for anywhere between twelve and twenty minutes. I recommend checking the pans at around 12 minutes and watching closely to make sure the beet chips do not burn. They can get a little browned around the edges. And don't worry about how crispy they are in the oven, because they will crisp up as they cool. Then they are ready to enjoy.
Healthy snacking is always a good idea. I didn't know if I would like beet chips, since I've just recently starting eating beets at all. But I ate half the batch. So I have to implore you to try these even if you aren't a huge fan of beets. Maybe you'll like them so much that you eat the whole batch.
---
4 medium beets, rinsed and scrubbed
2 tsp extra virgin olive oil
Salt and freshly ground pepper
4 sprigs fresh rosemary
4 sprigs fresh thyme
Preheat the oven to 350 degrees F. Peel the beets and thinly slice. Place into a large bowl and toss with the olive oil. Transfer to two rimmed baking sheets in a single layer. Sprinkle with salt and pepper. Chop up the rosemary and thyme and sprinkle over the beets. Bake for 14-18 minutes, until slightly browned. Remove from the oven and let cool. Chips will become crispier as they cool.