Homemade Baked Cinnamon Apple Chips
Honeycrisp. When I see the first sign announcing the arrival of honeycrisp apples at the farmers market, I tend to become giddy. I try to hide my excitement as I buy way more than I need. Honeycrisp is my favorite apple, and usually around for only a short time during fall. Just the word reminds me of autumn hikes with my family and leaves turning every color.
Actually, when I travel back home to Wisconsin to visit my parents, we still make the apple orchard one of our stops. In the usual small-town style, of course we know the family that runs the orchard, and usually split a huge caramel apple while sampling the cider.
Apples picked from the tree always taste better to me. Baked apple chips are a great idea for that bushel of apples you bring home from the orchard. I have seen these popping up around the web so I wanted to try a sugar-free version, which makes it a great snack for kids too.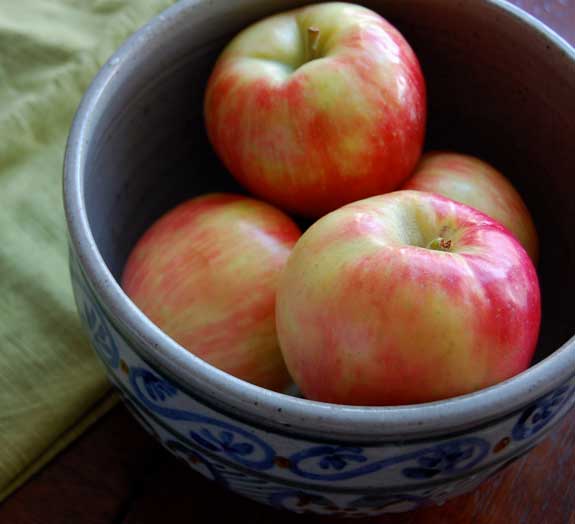 Two ingredients- so very simple! For the recipe, make sure to use apples that have a great flavor to begin with, that you would enjoy eating raw. Otherwise the chips might turn out bitter and you'll be wondering why.
It can become an addictive snack, though if you're short on time you might want to do something like these kale chips instead. Since you are basically dehydrating the apples ion low heat in the oven, it can take up to 3 hours. I like to make the apple chips on a weekend morning so that they are ready for a late afternoon snack. They take very little prep work, only about 5 to 10 minutes, and then you can throw them in the oven and forget about them for awhile.
The baking time varies, depending on your oven and how thick the apple slices were cut. You want to cut them as thinly as possible. Usually, mandolins work better for this sort of work, but I have found that the whole apple can be too wide for a mandolin. I use a sharp knife – which is why the thickness varies a teeny bit.
I usually eat these as soon as they are out of the oven. You want them to be crisp when you take them out. It is a great way to get a serving of fruit in your day- eating chips! As a bonus, apples are included on Paleo Grub's list of the 20 Healthiest Paleo Approved Foods. They are a good source of fiber, and there's a saying you may have heard about apples and keeping the doctor away, because they are so good for you. Next time I make these (almost guaranteed again next weekend) I might also drizzle them with some maple syrup, which would really complete their fall-perfection.
Baked Cinnamon Apple Chips
2013-10-07 18:44:11
Ingredients
1-2 apples (I used Honeycrisp)
1 tsp cinnamon
Instructions
Preheat oven to 200 degrees.
Using a sharp knife or mandolin, slice apples thinly. Discard seeds. Prepare a baking sheet with parchment paper and arrange apple slices on it without overlapping. Sprinkle cinnamon over apples.
Bake for approximately 1 hour, then flip. Continue baking for 1-2 hours, flipping occasionally, until the apple slices are no longer moist. Store in airtight container.
Paleo Grubs https://paleogrubs.com/
P.S. My friends at PaleoHacks are currently giving away free copies of their new mouth-watering Paleo Sweets book.

This is one of my all-time favorite cookbooks because it has healthy, fat-burning versions of the unhealthy "nono" foods like oreos, caramel brownies, key lime pie, s'mores ice cream, pound cake…and a WHOLE lot more you can enjoy to your heart's content 100% guilt free..

Click here to get the free book shipped to your front door (limited quantity)

This is a very high-quality cookbook so I would get your copy now while it's still free…I don't know how much longer they're going to give away physical copies!
You may also like...