Homemade salad dressing always hits different. Salad just tastes SO much better when you make the dressing yourself. Some more of my favorites are this raspberry vinaigrette, this avocado cilantro lime dressing and this avocado ranch dressing (my whole family is absolutely obsessed with it).
---
How to Make Avocado Dressing
Blend it: Add all the ingredients you're using in a blender. Process until smooth and creamy.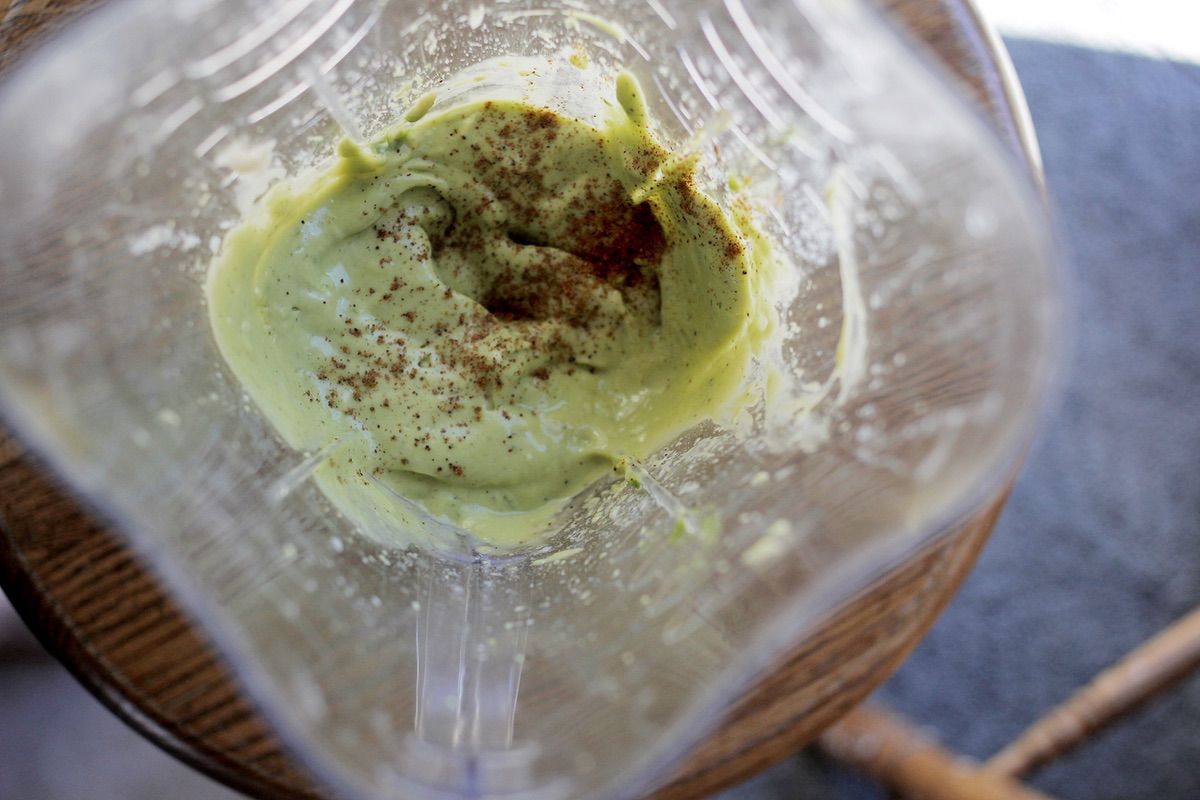 Store: Scoop your avocado dill dressing into a jar or airtight container and refrigerate. This dressing will last about a week before you need to throw it out.
You may also like: Homemade Thousand Island Dressing
Make-Ahead and Freezing Instructions:
To Make-Ahead: You can keep your avocados for longer by turning them into an avocado dill dressing. This dressing will last about a week in the refrigerator, but make sure to store it in an airtight container. If you don't have one, cover your dressing with plastic wrap, but make sure it touches the surface of the dressing to remove as much air as possible to keep your avocado dill dressing fresh for longer.
To Freeze: Avocado dill dressing doesn't freeze well. I would recommend making it fresh and keeping it in the refrigerator for later.
Related: Apple Cider Vinegar Dressing
Recipe Variations:
Greek Yogurt: To make your dressing extra creamy and a bit more tangy, add a tablespoon of Greek yogurt. You can also double the amount of almond milk used for a slightly nutty flavor and a more liquid consistency. As another alternative, try adding a tablespoon of mayonnaise instead.
Herbs: Herbs make everything better. Add a teaspoon of fresh basil or parsley (you can also add both) for a fresh, herbal twist. Another herb you can try is cilantro for a slightly citrusy flavor.
Citrus: If you're a citrus fan, go ahead and add a tablespoon of your favorite citrus juice. You can also replace the lemon juice already included in the recipe with orange if you're not a fan of lemon, but keep in mind that the lemon will help to keep the avocado fresh for longer.
P.S. If you're looking for a dressing that is incredible with pasta and other italian meals, also try this caesar salad dressing recipe: https://paleogrubs.com/caesar-dressing
---
---
Ingredients

1 very ripe avocado
2 tablespoons olive oil
3 sprigs fresh dill
1 tbsp chili powder (more or less to taste)
1 tbsp lime juice
1 tbsp honey
2 tbsp apple cider vinegar
2 cloves garlic
¼ cup almond milk
¼ cup water
Combine all ingredients in a blender, process until creamy.
Store in an airtight jar or container in refrigerator, will last approximately 1 week.
Tone down the spiciness: If you accidentally went overboard on the spice, don't worry. Just add a tablespoon or two of sour cream to mellow it down. Just keep in mind that the sour cream is quite tangy. You can also go for plain heavy cream if the tanginess is too much for you.
Refrigeration Tip: Store in an airtight container in the refrigerator to maintain freshness and extend the dressing's shelf life for up to one week.