If you're looking for a healthy mayo that uses fresh avocado instead of avocado oil, try this easy avocado mayo recipe.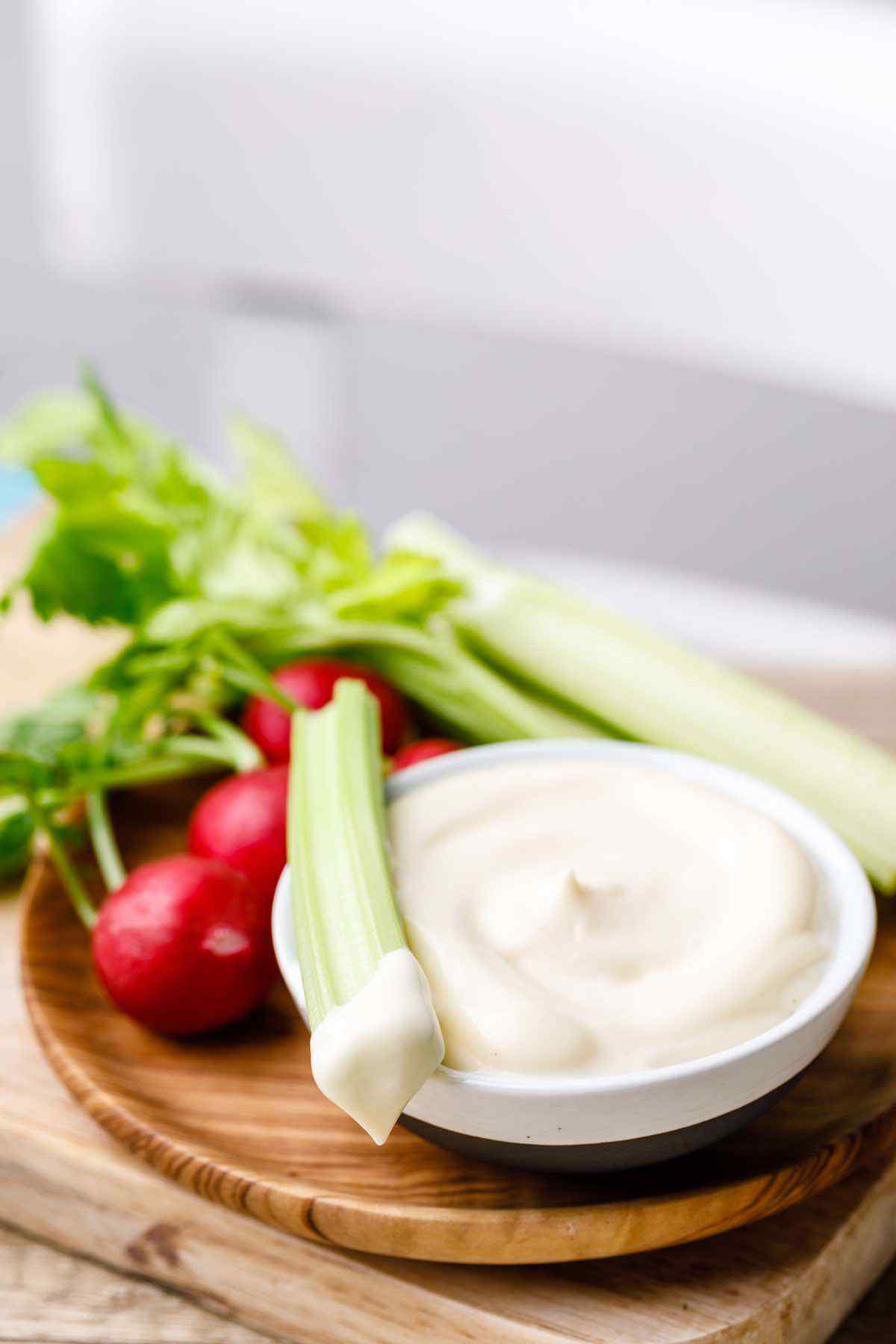 What We Love About Avocado Oil Mayo
It comes together in minutes: This homemade mayo is super easy to make and takes only minutes. Make sure you follow the steps exactly for the best results.
The texture is divine: You'll end up with mouthwatering, super creamy, and delicious homemade mayo. Just spread it on your sandwich or add a blob on your plate for dipping. You'll never want store-bought mayo again.
It's healthy: Most mayos are made with unhealthy oils. Avocado mayo, on the other hand, contains healthy fats that can support heart health. This means you can enjoy your homemade avocado mayo all you like.
How to Make Avocado Oil Mayo
Add the ingredients: Add the egg, mustard, apple cider vinegar, and avocado oil in a jar that fits your immersion blender's head. Allow the mixture to settle for 15 seconds.
Blend it: Place the head of the immersion blender at the bottom of the cup and turn it on high. Keep it there until a white, creamy, thick mayo forms. Slowly tilt and lift the immersion blender to mix the oil on top. Keep blending until all the oil is emulsified.
Store: Season the mayo with salt to taste and scoop into an airtight container. You can store your mayo in the refrigerator for up to 10 days.
Freezing and Storing Instructions:
To Freeze: Frozen avocado oil mayo is not a common practice. I don't recommend it since it's usually clumpy when thawed, but if you decide to do it, you can keep it frozen for up to three months. Make sure to portion it out in small amounts so you only thaw what you need.
To Store: Make sure to refrigerate your avocado oil mayo as soon as it's ready. Keep it in an airtight container and store the jar upside down to create a vacuum seal that will keep it fresh for longer. Use clean utensils every time you scoop mayo out of the jar to avoid contamination and minimize air exposure by making sure the lid is screwed on tightly after you're done.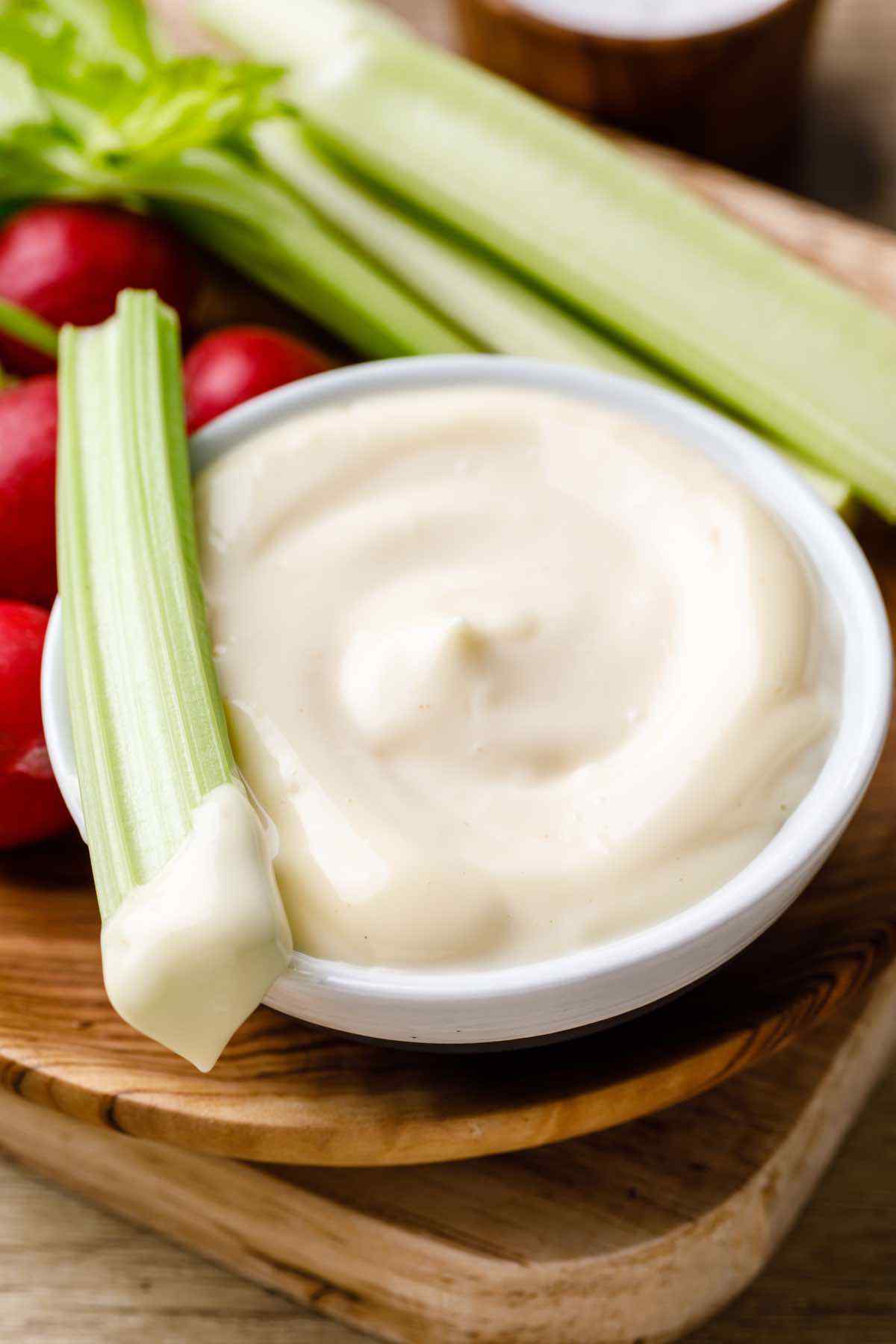 ---
1 large egg, at room temperature
1 tsp Dijon mustard
2 tsp apple cider vinegar
1 cup avocado oil
salt to taste
Place the egg, mustard and apple cider vinegar in the blender cup or jar that just fits the head of your immersion blender.
Add the avocado oil and allow to settle for 15 seconds.
Place head of immersion blender at the bottom of cup and turn it on high speed.
Do not move the head for 30 seconds or until a white, creamy, thick mayo forms at the bottom by the head.
As mayonnaise forms, slowly tilt and lift the head of the immersion blender until all oil is emulsified.
Season to taste with salt.
Store in an airtight container in the refrigerator for up to 10 days.
Add the egg first: For the best result, add all your ingredients except the oil, start the blending, and then slowly drizzle in the oil until it's wholly emulsified. The longer and slower you blend, the creamier your mayo will be.
Use a room-temperature egg: Very cold eggs can cause problems with thickening. It's best to have all your ingredients at the same temperature for the best results.
Use a refined oil: Extra virgin and unrefined oil will not thicken and emulsify. Make sure you use the correct oil, or you'll end up with mayo soup instead.
Slowly add the oil: If you're struggling to get your mayo to thicken, try adding the oil very slowly instead of before you start blending. Adding the oil slowly will help with the emulsifying process. Oil doesn't like to mix with just about anything, so start with a few drops and add more as your mayo comes together.
Add a tablespoon of water: Water added along with the egg and vinegar will help emulsify the oil to perfection.