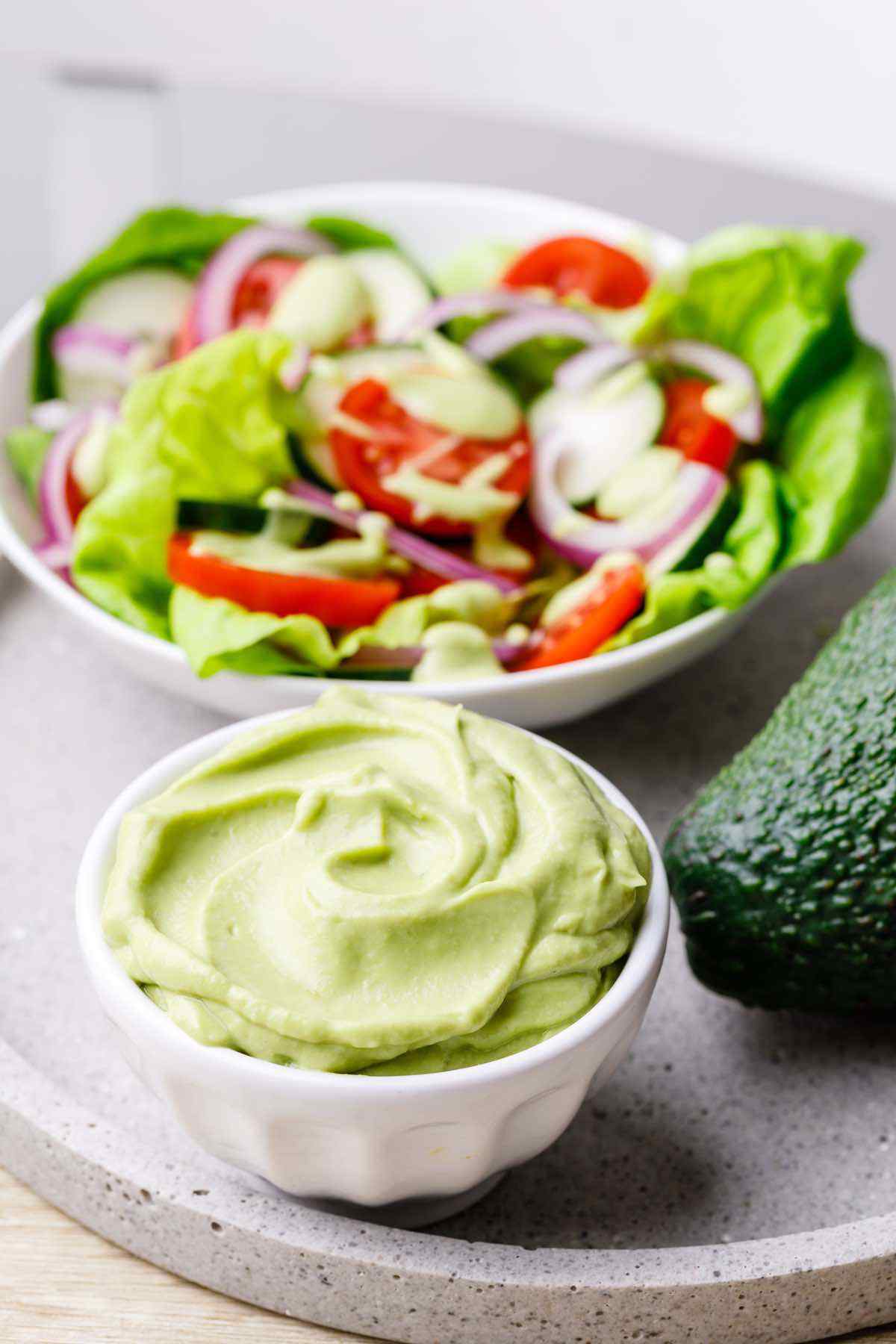 What We Love About Avocado Mayo
It saves time: Whip up this avocado mayo in just three minutes. It's a quick, healthy alternative to store-bought mayo without the fuss.
It's packed with nutrients: This avocado mayo is jam-packed with healthy fats and vitamins. It's never been easier to give your meal a healthy boost in flavor with homemade avocado mayo.
It's a versatile flavor booster: With its super creamy texture and excellent flavor, this avocado mayo goes well with everything from sandwiches to salads. The best part is that you can easily modify the flavor by adding a bit of garlic, cilantro, or lime to match any dish you like.
How to Make 3-Minute Avocado Mayo
Blend the ingredients: Put the avocado, apple cider vinegar, oil, water, and spices together in a blender and blend on high until smooth.
Season: Add salt to taste.
Store: Store in the refrigerator for up to two days.
Make-Ahead and Freezing Instructions:
To Make-Ahead: Avocado mayo is best made fresh. You can, however, make a big batch ahead of time and keep it in the refrigerator for up to two days as long as it's stored in an airtight container.
To Freeze: Avocado mayo doesn't freeze well and usually turns chunky when defrosted. I would not recommend freezing it and instead just make it fresh.
---
If you're looking for more healthy avocado substitutes that taste just as good as the real, also give our Avocado Vinaigrette, Avocado Brownies, Avocado Ranch Salad Dressing and Avocado Chicken Salad a try.
More Homemade Mayo Recipes:
Garlic Mayo
Homemade Herbed Paleo Mayonnaise
11 Homemade Mayos with Healthy Oil and No Added Chemicals
---
1 large avocado, peeled and pitted
1 tbsp apple cider vinegar
1 tsp onion powder
¼ tsp garlic powder
2 tbsp avocado or olive oil
¼ cup water
salt to taste
Place all the ingredients in a high speed blender and blend until smooth.
Season to taste with salt.
Store in an airtight container in the refrigerator for up to 2 days.
Try different vinegars: This recipe calls for apple cider vinegar since it's the most flavorful and healthy. However, you can also experiment with white vinegar, balsamic vinegar, and any other vinegar of choice.
Hand-pick your avocados: Avocados are best when dark green or slightly purple. They should be soft to the touch but not mushy. Keep in mind that there are various avocado types, so choose the one you like best. The avocado with slightly dimpled skin is usually the most creamy.
Prevent browning: Cut the avocado just before you make your mayo. When avocado is exposed to air, it will brown very quickly. You can prevent browning by adding lemon juice or covering the avocado in plastic wrap. Ensure there's no airspace between the plastic wrap and the avocado mixture.
Serving suggestions: Avocado mayo is excellent as a dipping sauce for carrots, celery, and cucumber sticks, makes excellent sandwiches, is perfect for devilled eggs, can be used in salads as a dressing, and so much more. If it goes with avocado, it goes with avocado mayo.