What We Love About Flourless Avocado Brownies
They're surprisingly yummy: The avocado preserves the moisture content and adds healthy fats to the brownies. This makes them incredibly fudgy, moist, and rich with a texture that's hard to resist.
They're sneakily nutritious: Avocados are known as a superfood due to their healthy fats and other valuable nutrients. This makes these brownies not only irresistibly yummy but also great for satisfying your sweet tooth in a healthy way.
They're chocolatey heaven: These avocado brownies are a heavenly, fudgy indulgence overflowing with chocolatey goodness. The best part is the avocado doesn't compromise the taste and adds a whole host of health benefits.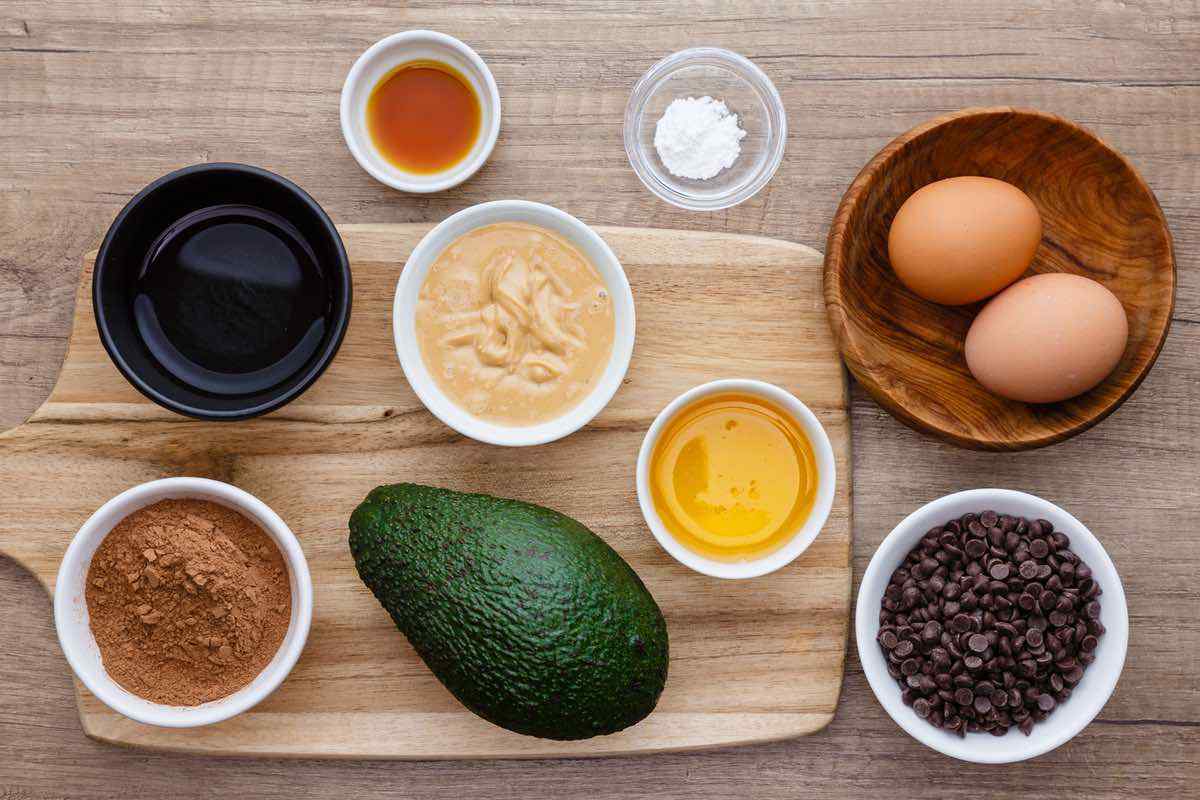 How to Make Avocado Brownies
Blend it: Dump all your ingredients (except the chocolate chips) in a food processor. Blend together until a smooth batter forms. Fold the dark chocolate drops into the batter.
Bake: Fold the dark chocolate drops into the batter and transfer to the prepared pan. Bake for 20-25 minutes or until the top is set.
Freezing and Reheating Instructions:
To Freeze: Freezing uneaten avocado brownies is best when they're still fresh (but make sure they cool completely). Put them in an air-tight freezer-safe container and dump them in the freeze. Easy peasy. Spoiler: You can eat them frozen, and oh, it's so good on a summer's day.
To Reheat: To reheat frozen brownies, let them thaw in the refrigerator overnight or place them on the counter for four to six hours to speed up the process. You can also microwave them in 15-second intervals until defrosted. To reheat them, place them in a preheated oven for 5 minutes or until warmed through.
---
2 large eggs
¾ cup mashed avocado
¼ cup melted coconut oil
¼ cup natural, creamy almond butter
1/3 cup honey
1 tsp baking powder
1/3 cup cacao powder
1 tsp vanilla extract
½ cup paleo friendly dark chocolate chips
Preheat oven to 350°F.
Line an 8×4 inch loaf pan with parchment paper. Set aside.
Place all the ingredients except chocolate chips in a food processor.
Process on medium power until just combined.
Fold in the chocolate chips.
Transfer the batter to the prepared pan and smooth with spatula.
Bake for 20-25 minutes or until the top is set.
Allow to cool completely before serving
Test your brownies: You can test if your brownies are done by sticking a sosatie stick into the middle of the now-baked batter. If it comes out clean, your brownies are done.
Substitute: If you don't have dark chocolate chips, use cocoa or cacao powder to get that delicious chocolate flavor.
Store: You can keep your brownies in an air-tight container in the refrigerator for up to 5 days.
Tone down on the mixing: If you mix your brownie batter too much, it will come out cakey instead of fudgy.