Featured
39 Autoimmune Recipes You Need to Try
The Autoimmune Protocol is a modified version of the Paleo diet that promotes the body's healing from autoimmune diseases and attempts to reduce autoimmune reactions. Seeds, nuts, non-nutritive sweeteners (like stevia), and nightshades (like tomatoes and peppers) are not allowed. But instead of focusing on what you can't have, think about what you can! And what you can have is these forty recipes featuring various vegetables, maple syrup, sweet fruits, lovely drinks, and tasty salads and stews that are healthy for your body and promote healing. Just keep in mind that treats, like on a typical Paleo diet, should be eaten only occasionally. They're treats for a reason!
Also, if you are looking for a great resource for autoimmune recipes, make sure to check out the Paleo Grubs Book! It includes 155+ mouthwatering, out of this world autoimmune meals, snacks and desserts.
---
No joke—I'm enjoying one of these babies as I'm writing this. This latte is made with coconut milk, coconut oil, and (optional) collagen, which are all fantastic for your body in these amounts. The green tea is a source of antioxidants, and mild enough that it doesn't need sweetening. Perfect coffee replacement!
---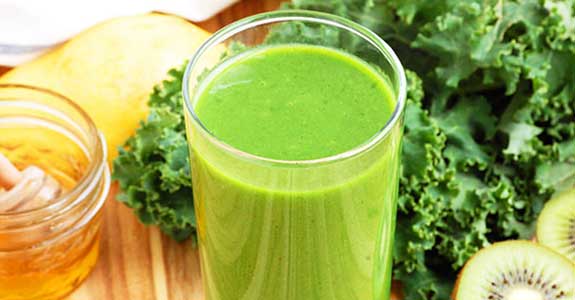 2. Kale and Kiwi Superpowered Green Smoothie
Here's a can't-miss smoothie that's perfect when you're looking for an AIP pick-me-up that will leave you feeling great. There's plenty of sweetness thanks to the kiwi, and plenty of nutrition thanks to the kale.
---
This delicious bread is free of nuts, seeds, grains, and other ingredients that aren't AIP- and Paleo-friendly. Want to know the secret? It's plantains! Unripe plantains make the base of this bread, which gives it the perfect starch content while being easy on your body. Have it with a soup, stew, or your favorite Paleo, AIP-friendly spread.
---
Chai is a delicious and wonderful drink either hot or iced, but it typically contains spices derived from foods that aren't AIP-friendly. This version, instead, uses vanilla, cinnamon, ginger root, orange zest, cloves, and bay leaf to make a version of chai that's just as tasty, but AIP-friendly.
---
This salmon salad is made with asparagus stalks, seasonal greens, fresh blueberries and raspberries, balsamic vinegar, lemon juice, and fresh thyme (this blogger notes that you'll leave out the walnuts if you're doing AIP). Both fresh and refreshing, this is a salad you can really get behind.
---

Photo: Meatified
6. Ginger Garlic Parsnip Noodles
These veggie noodles are made with a spiralizer and seasoned with olive oil, coconut aminos, fish sauce, lime juice, garlic powder, ground ginger, and green onions. The parsnips have a lovely earthy flavor that goes perfectly with these seasonings!
---
Orange chicken is one of my very favorite Asian-inspired dishes. This version is bursting with flavor from the coconut aminos, raw honey, garlic, and orange juice. The chicken has a crunchy coating of cassava flour, arrowroot, and gelatin for a healthy gut.
---
What kid doesn't love a good slushy? Actually, what adult doesn't love a good slushy? This one is irresistible, as it's made with frozen watermelon, coconut water (super hydrating), mint leaves, and frozen strawberries. No sweetener needed, as the fruit is perfectly sweet.
---
You probably have heard by now how good fermented foods are for your body, and your digestion in particular. But you might not realize how easy it is to make foods like sauerkraut in your home. This two-ingredient kraut is easy, tasty, and good for you. If you've never made fermented vegetables before, it's a great gateway into how simple it is to make your own creations and enjoy them, too.
---

Photo: Gutsy By Nature
These coconut treats are like a Paleo- and AIP-friendly candy! Made with cocoa butter (chocolate itself isn't allowed, but cocoa butter is!), honey, vanilla, sea salt, coconut butter, and freeze-dried cranberries, it's sweet, tart, and creamy—the perfect candy.
---
11. Carob Bread With Date Caramel Spread
This "chocolatey" bread is made with carob, cinnamon, coconut oil, maple syrup, cassava flour, tapioca flour, and gelatin for the perfect cake-bread texture. The best part? It's covered with a sweet date caramel spread with coconut milk and soft pitted dates. Need an afternoon treat? I've got you covered.
---
This recipe turns a typical pasta topping into a healthy and tasty snack (that's also a treat!). These meatballs have crunchy gelatin and tapioca coating, and they're fried to make a crispy meatball that's similar in texture to popcorn chicken. This is super kid-friendly, too!
---
13. Strawberry Rhubarb Crumbles
These little crumbles are the perfect Paleo and AIP treat using fruit, tigernut flour, and maple syrup/sugar. The filling is sweet-tart from the rhubarb and strawberries, while the crumble is satisfyingly sweet and, well, crumbly! Enjoy them as a special breakfast treat (a birthday, maybe?) or a dessert. I'd top them with coconut milk ice cream!
---

Photo: Pure And Simple Nourishment
Oatmeal? But oats aren't Paleo! No, they're not. But this "oatmeal" is actually made with bananas, coconut butter, coconut milk, gelatin, and finely shredded coconut. Blueberries add the finishing flavor touch and add an additional component to the texture.
---
This soda is made from water kefir or coconut water kefir, so you'll only be able to make it if you've got those going in your kitchen. Which you should, because their probiotic qualities are great for healing your gut. This yummy "soda" uses fizzy kefir, apple juice, strawberries, and honey for a sweet and refreshing treat.
---
This isn't so much a recipe as it is a technique. Bone broth is extremely healing, and you can use it to make a thousand different foods, as it's the perfect cooking liquid and contains loads of gelatin and minerals. This one is made with beef bones, but you can make broth with chicken bones, fish bones, or pork bones.
---
This awesome chicken has a crispy coating of tapioca flour and garlic powder, and is served with green beans and a heavenly lemon cream sauce. The cream sauce is really my favorite part here, because it incorporates lemon juice and ghee with bone broth and coconut milk.
---

Photo: Empowered Sustenance
Um, yum? These things are amazing, and they're made only with AIP-approved ingredients like carob, maple butter, coconut butter, vanilla, tigernut flour, and gelatin. The gelatin stands in for eggs here, which is a brilliantly nourishing way to replace them.
---
This yummy salad is made with avocados, lettuce, spinach, spring onion, and bacon. You'll want to leave off the optional eggs for AIP, and use the herb variation of the vinaigrette instead of the mustard and Tabasco (details in the recipe).
---
This unusual recipe doesn't involve eggs at all. And it doesn't really involve rolls, either. What it does include, though, is ripe bananas or plantains, water, coconut wrappers, and coconut oil for frying. That's it! This is a delicious and sweet treat you can enjoy any time.
---
21. Easy Roasted Brussels Sprouts With Bacon
I love this recipe because it's so simple and so flavorful. You'll roast up your Brussels sprouts with sliced/chopped bacon, and the bacon fat seeps its amazing flavors into your Brussels sprouts with just about no effort from you. Leave out the pepper as instructed.
---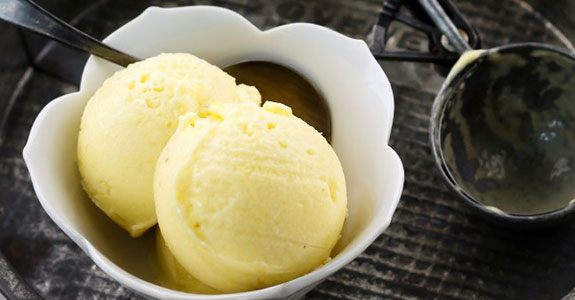 Photo: Eat Healthy Eat Happy
Would you believe me if I said you're just an hour or so away from homemade, dairy-free pineapple ice cream? Well, you are! This one is made with frozen pineapple (frozen only for an hour or two so it isn't rock hard) and maple syrup with a dash of salt.
---
For this soup, you'll need to leave out the pepper to keep it AIP-friendly. The other ingredients are delicious and easy on your digestion, particularly if you choose to use homemade bone broth as your stock. You could also try adding other herbs for different flavors!
---
24. 3 Ingredient Matcha Ice Cream
This easy AIP-friendly and Paleo ice cream is made with just bananas, coconut cream, and matcha powder. It's naturally sweet so needs no additional sweetening, and it has a lovely green color and earthy flavor from the matcha, which is full of antioxidants.
---
25. Balsamic Blueberry Gelatin Gummy Snacks
These super-fun snacks are chewy, bouncy, and everything else you'd want in a gummy snack. With pureed blueberries and balsamic vinegar, they also have a more sophisticated flavor than the gummies of your childhood, and they aren't sickly-sweet.
---

Photo: Healthful Pursuit
26. Strawberry Basil Italian Lemonade
For this recipe, you'll need to leave out the stevia (it's optional anyway, but if you feel like it needs a bit of honey, add a tablespoon or so to the strawberry mash). The basil gives this drink a lovely garden feel with the elegant mineral water bubbles.
---
This green smoothie/juice (it's thinner than a smoothie but made in a blender) is a fantastic addition to your diet, particularly if you're detoxing from heavy metals. Even if you're not, you can enjoy the nutritional benefits of the greens and other ingredients without a juicer!
---
This is a super-easy homemade sausage you can enjoy for breakfast, because as well as protein-rich chicken or turkey, it has good-for-you butternut squash, apples, tasty bacon, and flavors of onion, garlic, and thyme. So simple and so delicious.
---
29. Jam-Filled Thumbprint Cookies
These beautiful little cookie jewels are made from coconut butter, shredded coconut, maple syrup, orange, and vanilla. They have a lovely, lightly sweet flavor and tasty jam inside. Just make sure your jam is AIP-friendly (homemade is your best bet).
---

Photo: Beyond The Bite
30. Summer Strawberry Mocktail
This drink is perfect for summertime, and it's Paleo- and AIP-friendly. Made with strawberries, orange juice, fresh mint leaves, lime, honey, and sparkling water, it has a beautiful sunset effect that will make you forget all about what's missing from it. It's super hydrating, too!
---
These tuna chips make the perfect easy lunch with just a can of tuna, dried dill, sea salt, chopped celery, and a batch of delicious homemade sweet potato chips. You'll get a protein, a healthy carbohydrate, and a tasty lunch.
---
32. Roasted Summer Squash Rounds
These easy roasted summer squash rounds are seasoned with sea salt and cooked in a fat of your choice (choose something that's high-heat tolerant like coconut oil, as you'll be roasting at a high temperature). These are tasty and versatile.
---
This is the perfect salad to use up those summer squashes, and it would also work with zucchini. This salad features chicken, bacon, kale, and avocado, for a nutrient-rich meal that's lightly seasoned with olive oil and lemon. Many strict AIP adherents would leave out the black pepper.
---

Photo: The Paleomom
34. Mint-Infused Blackberry Raspberry Lemonade
This amazing lemonade has all the tart-sweetness you want from the summery drink, with the added flavors and nutrients of blackberries and raspberries. It's gently sweetened with honey and infused with fresh mint leaves for a fantastic flavor.
---
35. Creamy Potato and Chicken Soup
This soup, made with white sweet potatoes, parsnips, chicken bone broth, celery, carrots, leek, lemon, onion, and bacon, is absolutely loaded with flavors and nutritious ingredients. For strict AIP, season just with salt and herbs instead of pepper.
---
This sinus-clearing soup features the unique flavor combination of orange, lime, lemongrass, ginger, fish sauce, mushrooms, turmeric, and cilantro for a super-cleansing Thai-inspired dish with a bonus of coconut oil for your healthy fat. Cook it up for an easy lunch or nourishing dinner.
---
These coconut strawberry-apple bars are made in your dehydrator for a chewy and sweet snack bar that doesn't have any of the nasties the store-bought kind can have. Shredded coconut and coconut oil add additional healthy fats and nutrients to a fruit-dense snack.
---

Photo: Colorful Eats
These delicious beef patties are seasoned with fresh rosemary, fresh thyme, fresh sage, sea salt, ground beef, and a cooking fat of your choice (I recommend butter because butter is delicious). Use grass-fed ground beef for the best nutritional benefits.

---
39. Roasted Rainbow Carrots With Orange Glaze
I'm a huge fan of orange in savory dishes, and it goes especially well with these delicious roasted rainbow carrots. Maple syrup, apple cider vinegar, and sea salt add lovely flavors to complement the sweetness of carrots and freshly squeezed orange juice.