Featured
49 Authentic Paleo Asian Recipes
Asian cuisines and Asian-inspired dishes aren't too difficult to adapt to the Paleo diet because they rely more heavily on meats and vegetables than on grains—and where they do need grains, we can easily replace them. Before you head off on this list, you'll probably want to make sure you have a few basic and common ingredients like fresh ginger, garlic, coconut aminos, and sesame oil. You'll need them for many or most of these recipes!
---
1. Tahini-Glazed Chicken Wings
These chicken wings have a lovely umami flavor and a sticky coating with ghee, sea salt, black pepper, tahini, honey, coconut aminos, and ground ginger. The tahini is such a welcome and unique addition to the sticky glaze on these wings, and it adds a slightly nutty flavor. You might see if you can get the kids to enjoy these!
---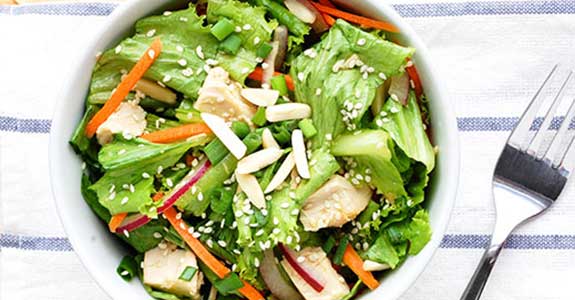 2. Classic Paleo Asian Chicken Salad
Get classic flavors in this healthy version of Asian chicken salad. There's plenty to savor and the best part is that all of the ingredients are geared towards making you feel great with lots of energy and no slow downs.
---
This salad is bursting with flavor and is so simple to make—it's a great fresh side dish. You can replace the sugar with coconut sugar (or leave it out) and use light-tasting olive oil instead of canola oil. The sesame oil, ginger, and garlic really give these noodles a kick!
---
This Chinese-American dish is a hybrid of a pancake and an omelet, but with an Asian flair. You'll need eggs, bean sprouts, celery, Chinese cabbage, cooked chicken that's been chopped up, scallions, coconut oil, and coconut aminos for a super umami flavor.
---
I bet you never thought you could enjoy pad Thai on a Paleo diet! Think again. This one is made with shirataki noodles, almond or cashew butter, sriracha, coconut aminos or fish sauce, bean sprouts, cilantro, eggs, chicken, and other fantastic and tasty ingredients.
---

Photo: Jay's Baking Me Crazy
Orange chicken is definitely one of my favorite Asian-inspired dishes, and it's a great family-friendly dish, too, as it's mildly spiced and has a sweetness to it. This one involves breading the chicken with tapioca starch and making a sauce with tomato paste, ginger, coconut aminos, honey, orange, and seasonings. Kids usually love orange chicken!
---
For this recipe, you'll want to replace the chopped peanuts with chopped almonds or cashews, since peanuts aren't Paleo—also, use coconut sugar as the sugar. This is a hot and spicy salad combined with refreshing cucumber for a unique flavor combination you'll love.
---
This dish is inspired by a favorite Chinese takeout dish, which you actually can make at home, the healthy way! Try it with coconut aminos, arrowroot starch, chicken broth, apple cider vinegar, fish sauce, ground ginger and garlic, celery, red chilies, and other ingredients.
---
This is one of my favorite ways to enjoy green beans. The sweet, sour, and spicy flavors of the sesame, red pepper flakes, coconut aminos, ginger, white wine vinegar, and honey just make the best flavor with the green beans, and they're cooked lightly enough that they still have a bit of a bite.
---

Photo: Amazing Paleo
10. Sweet and Spicy Asian Bison Meatballs
These yummy meatballs are made with ground bison meat, if you can get it (it'll work with ground beef if you like the flavors but can't get bison), almond flour, green onions, roasted red chili paste, chopped ginger, garlic, black pepper, and a delicious maple-sesame sauce with chili flakes.
---
11. Asian Style Turkey and Mushroom Lettuce Wraps
These awesome lettuce wraps are so intensely flavored, you won't even mind that you aren't having them on a deliciously bready wrap. With ingredients like molasses, garlic chili sauce, and balsamic vinegar, you know these are going to be amazing.
---
12. Chili Ginger Glazed Chicken Wings
These wings have a fairly simple list of ingredients, but the flavor is anything but simple. These are truly fantastic with coconut aminos, diced ginger, blood oranges (my favorite oranges!), garlic, chili flakes, and raw honey. You can't go wrong with these babies.
---
13. Thai Cucumber Salad With Cashews
This is a great simple Asian-inspired salad to enjoy with cucumbers, fish sauce, lime zest and juice, fresh chopped herbs, cashews, and Thai chilies. It has a spicy zing to it and the bright, tangy flavors of lime perfectly complement and balance the coolness of cucumbers.
---

Photo: The Right Recipe
14. Crisp Romaine With Avocado-Sesame Vinaigrette
This is a really simple salad recipe with an Asian-inspired dressing made from fresh tarragon, sesame oil, garlic, rice vinegar (or white wine vinegar), and avocado. You can replace the tamari with coconut aminos to get the same flavor without the soy.
---
15. Spiced Yam and Vegetable Stir Fry
This stir fry has tasty yams with onion, ginger, cinnamon, cumin, tomato, colorful bell peppers, garlic, and a sticky-spicy sauce that really complements the flavors and textures of the vegetables. This could be a great way to get kids interested in new flavors!
---
16. Indonesian Grilled Sambal Chicken
I can't get over how amazing this chicken looks. It's grilled and sauced with an amazing spicy sauce—totally homemade! You can replace the brown sugar with coconut sugar and the soy sauce with coconut aminos just as you usually would. Fire up the grill, because this one you're going to want to try!
---
17. Lemongrass Grilled Chicken With Sriracha Mayo
This grilled chicken has a lovely Thai-inspired flavor with fresh lemongrass, ginger, coconut aminos, and garlic. You can use olive oil instead of the grapeseed oil, and make sure you use a Paleo-friendly mayonnaise, or just make your own with coconut, olive, or avocado oil.
---

Photo: Health Starts In The Kitchen
18. Pork, Shrimp, Shiitake, and Napa Cabbage Bowl
I love this bowl because you're nearly eating a salad, but it has the warm and savory quality of a hot meal (since it is one!). You'll make this bowl with ghee, ground pork, mushrooms, onion, garlic, ginger, carrot, coconut aminos, shrimp, Napa cabbage, and Thai sweet chili sauce.
---
This recipe is for a Korean cold noodle soup—Paleo and vegan style! This one uses dried shiitake mushrooms, daikon radish, zucchini (spiralized, as this is how you make the noodles), carrot, rice vinegar, mustard powder, cucumber, garlic, and onion. For the sweetener, choose honey or coconut sugar.
---
20. Baked Salmon With Asian Cilantro Pesto
This recipe has an interesting and probably unexpected ingredient. Can you guess it? It's Blue Diamond Sriracha Almonds! You'll use these seasoned almonds to make the Asian-style pesto with lime zest, garlic, ginger, coconut aminos, bok choy, and cilantro.
---
21. Slow Cooker Sweet Chicken and Peppers
While only loosely Asian-inspired, this dish will remind you of your favorite takeout stir fry, but without the rice, soy, and other non-Paleo ingredients. This one is easy to make in your slow cooker, too, with coconut milk, chicken, ginger, mini sweet peppers, and more.
---

Photo: Oh The Things we'll Make
I bet dim sum is another one of those things you assumed you'd never have again once you went Paleo for good. Actually, you can have your dim sum! This version is made with tapioca and almond flours, eggs, salt, ground pork, garlic, and ginger root.
---
23. Grilled Asian Orange Chicken
This chicken has the awesome flavors of orange chicken, but with the added awesomeness of being cooked on the grill. You'll need coconut aminos, honey, orange juice and zest, garlic, crushed red pepper, and the secret savory spice: curry!
---
24. Taiwanese Meat Sauce With Crispy Shallots
This meat sauce is made with a fragrant, seasoned oil; ground chicken, veal, or pork; coconut aminos (in place of the tamari); sesame oil; and Chinese five spice powder. Sauce it up with chicken stock (bonus points for homemade) and crispy shallots.
---
25. Pineapple Sweet and Sour Chicken
I really love pineapple with chicken because of the bright, sweet, tangy flavor it adds to meat dishes. This sweet and sour chicken has pineapple, zucchini, baby carrots, green beans, and broccoli with a gingery pineapple sauce. Serve over cauliflower rice or on its own.
---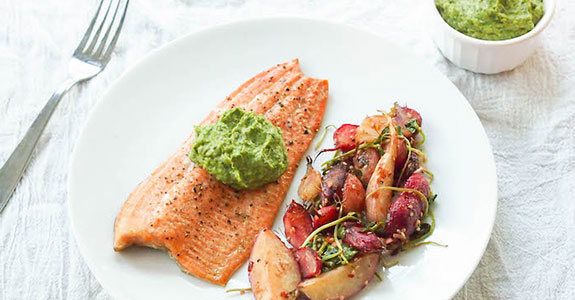 Photo: Avocado A Day Nutrition
26. Cedar Plank Trout With Asian Guacamole
Here's another fusion dish that uses Asian flavors to spice up something typically not so Asian! This trout is cooked on a cedar plank with sesame oil and cracked black pepper, and topped with a guacamole made with fresh ginger, scallions, mint, cilantro, and lime.
---
27. Sticky Cantonese Pulled Pork Stir Fry
This stir fry has a delicious sticky sauce made from stock, ginger, garlic, coconut aminos, orange, and dried chili flakes. With other vegetables like red bell pepper, carrot, and onion, this pulled pork dish can make a complete and nutritious meal.
---
28. Spaghetti Squash Garlic Noodles
I'm going to tuck this recipe in the back of my mind for the next time I've got a nice spaghetti squash bopping around my kitchen. It's delicious with browned butter, garlic, coconut aminos, porcini mushroom powder, and green onions. The perfect side dish or light lunch!
---
This tangy salad has an amazing sauce with coconut aminos (replacing the tamari), garlic, ginger, mustard powder, tomato paste, paprika, and sesame oil. Between the sauce and the amazing toppings (leave out the edamame or replace with more carrots), you're going to love this salad.
---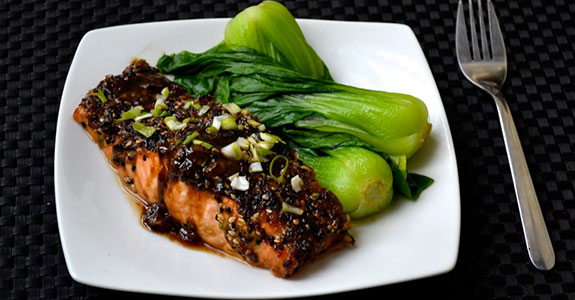 Photo: Every Last Bite
This pretty salmon dish has a lovely sticky sauce made from garlic, coconut aminos (to replace the tamari), grated ginger, honey, lime juice, sesame oil, olive oil, and chopped green onions. The combination of black and white sesame seeds offers a gorgeous presentation.
---
With an amazing tenderness that melts in your mouth, and the fantastically saucy flavors of garlic, fresh ginger, Chinese five spice powder, cinnamon, dry white wine, tomato paste, and molasses, this is sure to be your new favorite pulled pork recipe.
---
32. Spicy Cashew Chicken Stir Fry
This stir fry is cooked in coconut oil with chicken, cauliflower, carrots, zucchini, snap peas, and toasted cashews with an arrowroot-thickened sauce of coconut aminos, tomato paste, raw honey, garlic, ginger, red pepper flakes, and other ingredients.
---
This Thai beef salad has a unique combination of flavors with garlic, fish sauce, seedless grapes, red onion, and chili pepper. You can replace the vegetable oil with the cooking fat or oil of your choice, and the sugar with honey or coconut sugar.
---

Photo: Laura's Wild Kitchen
These meatballs are made with ground venison, chicharrones, egg, garlic, freshly grated ginger, Korean chili paste (for a kick!), sliced green onions, and an awesome sauce with honey, rice vinegar (or white wine vinegar), more chili paste, and coconut aminos (in place of soy sauce).
---
35. Paleo Pad Thai With Sweet Potato Noodles
Here's another take on pad Thai, and this one uses sweet potatoes for the noodles! The sauce is delicious with coconut aminos, sunflower butter, coconut milk, rice vinegar, raw honey, and add-ins like carrots, diced red onion, red bell pepper, cabbage, and sunflower seeds.
---
Instead of sweating your lack of rice paper wrappers (didn't we all love those crispy, fried little beauties?), try this egg roll in a bowl with all the right flavors and textures, but no wrapper. You'll use cabbage, carrot, sweet onion, mushrooms, coconut aminos, ginger, and other ingredients.
---
37. Slow Cooker Asian Glazed Pulled Pork
This pulled pork is flavored with coconut aminos, rice vinegar, honey, and red pepper flakes. That's it! Even with such simple ingredients, you still end up with an absolutely heavenly sticky glaze on your pulled pork, making it the perfect base for so many recipes.
---

Photo: A Whole New Twist
This pork shoulder recipe is made in your slow cooker, which is my favorite kitchen appliance (well, not YOUR slow cooker, I mean MINE). It has an Asian flavor with coconut aminos, orange zest, grated ginger, and Chinese five spice blend. Use it in your favorite wraps or salad!
---
39. Cashew Chicken Cabbage Cups
These cabbage cups are full of flavor and healthy vegetables with chicken, ginger, snow peas, bamboo shoots, bell pepper, carrots, red chili flakes, and fish sauce. Served up in cabbage cups, they have a crunch to them and an amazing Hoisin sauce.
---
40. Hot and Sour Shredded Napa Cabbage Salad
This salad has only a handful of ingredients and is easy to make, but will remind you of the flavors of your favorite hot and sour soup. It's made with Napa cabbage, carrots, onion, cilantro, and chopped almonds with an easy hot sauce and vinegar dressing.
---
Surely, in your quest for Paleo snacks, you've given things like kale chips and beet chips a try. But have you ever tried roasted nori? It's crunchy, salty, and so good for you. You can make this one with olive oil instead of canola oil to keep the chips Paleo.
---

Photo: Eat Spin-run-repeat
42. Zucchini Noodle Shrimp Pho
Here's a Paleo version of the famous soup: pho! It's easy to make and flavored with kaffir lime leaves, fish sauce, coconut aminos (to replace the tamari), garlic, green onions, and ginger, and has crunchy bean sprouts, delicious sliced mushrooms, and spicy jalapeno.
---
43. Warmed Asian Broccoli Bowls
I'm all about this recipe, because broccoli is my very favorite vegetable. These bowls also have sugar snap peas, shallots, zucchini, red cabbage, ginger garlic paste, coconut aminos (in place of the Bragg's), Dijon mustard, horseradish, and bright red pepper flakes.
---
44. Honey Sesame Ginger Glazed Salmon
This awesome glazed salmon is cooked with white wine, coconut aminos (use instead of soy sauce or tamari), honey, toasted sesame oil, grated ginger, and scallions. The toasted sesame oil really adds the perfect Asian flavor to this salmon dish. Serve it with cauliflower rice stir fry or your favorite Asian-flavored vegetables.
---
45. Golden Beet Ramen With Braised Pork Belly and Fried Garlic Chips
Are you missing good ramen? Not the packaged stuff, but really good restaurant ramen? You're in luck. This one is made with golden beets, marinated pork belly, and a broth with carrots, onions, mushrooms, coconut aminos, fried garlic, and tons of other great flavors.
---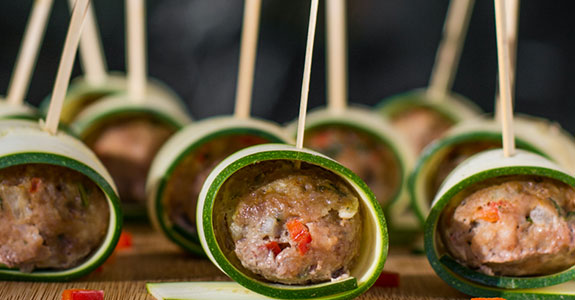 Photo: The Feisty Kitchen
These meatballs have a slightly sweet and spicy flavor from ginger and fresh grated lemongrass with red bell pepper, yellow onion, and garlic. I love the idea of wrapping them up in shaved zucchini ribbons for a fun and easy, impressive appetizer or party dish.
---
I love this popcorn chicken! To make it Paleo, use coconut aminos instead of soy sauce and make sure you fry it in a Paleo-friendly cooking fat or oil (don't use peanut). The sweet potato starch coating makes the chicken crispy and crunchy—so perfect.
---
This Thai coconut chicken soup is hot and spicy, while also nourishing and filling, Made with coconut milk, fresh lime juice, fish sauce, red chilies, lemongrass, and ginger, you can tell by the ingredients it's going to be a deliciously flavorful soup. This would be a great soup to enjoy when you're recovering from an illness and need a little boost.
---
49. Bento Lunch With Asian Style Dressing
Intrigued by the bento box craze? You should be! This Japanese style of making lunches seems to make everything look better—which somehow makes your lunch taste better, too. Try this one with a delicious Asian-style dressing with tahini paste, coconut aminos, and maple syrup.
---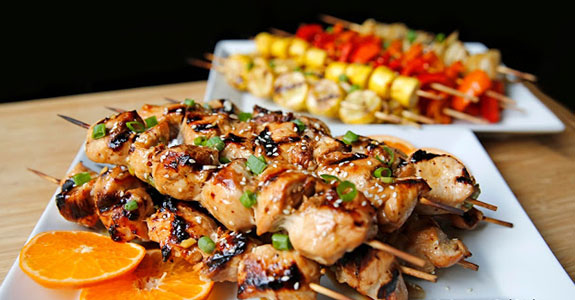 Photo: Gourmet Girl Cooks
49. Grilled Asian Style Chicken Kebabs
These kebabs are full of fantastic flavor from orange juice, coconut aminos (to replace the tamari), scallions, garlic, sesame seeds, sea salt, and optional sriracha. If you choose to add the sriracha, be careful not to add too much. A little goes a long way!