Featured
36 Tasty Arugula Salads and Arugula Recipes
Arugula is a strongly-flavored green that's rich in nutrients, and enjoyable in salads, soups, and other dishes. Try a few of these paleo arugula dishes and see if you don't become a fast fan!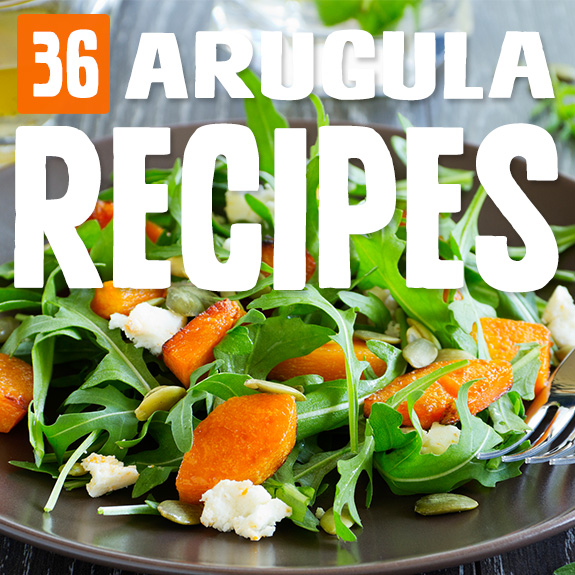 ---
1. Heirloom Tomato, Beet, and Barrata Salad With Basil Oil
This elegant salad looks like it's something you'd be served in a fancy (and expensive) restaurant, but it's not! You can make this yourself at home, including the elegant basil oil. I love the two-toned beets in this recipe and the basil ribbons. So pretty!
---
2. Fresh and Easy Arugula Pesto
Here's a tasty way to change up the usual pesto. Adding in fresh arugula gives pesto a new flavor profile and also enhances it with all of the nutrients in arugula. Easy to make, this recipe uses walnuts instead of pine nuts for even more to discover.
---
3. Rustic Tomato Galette With Arugual Basil Pesto
This fun tomato tart is made with beautiful heirloom tomatoes, almond flour, tapioca flour, coconut starch, and butter. You'll fill it with a delicious homemade arugula basil pesto that's more than a little flavorful, and totally dairy free.
---
4. Caprese on a Bed of Arugula
This caprese salad is completely paleo, and even has a dairy-free cream cheese topping made from cashews, lemon juice, nutritional yeast, and other flavorful ingredients. For the salad itself, you'll use plenty of arugula and basil with balsamic vinegar.
---
5. Ham, Cranberry, and Sweet Mustard Mini Wafflewiches
Would you believe me if I said these little waffle sandwiches with ham, cranberry jam, arugula, and mustard are completely paleo? Well, they are! You'll start with homemade grain free toasted waffles and add stevia-sweetened cranberry jam and other toppings.
---

Photo: Heartbeet Kitchen
6. Stacked Beet Salad With Crispy Shallots
This little mini salad is colorful and tasty with golden and red beets, bright green arugula, crispy and flavorful shallots, and a lovely herb-infused oil that you'll want to use on everything when you realize how easy it is to make, and how tasty it is on any dish!
---
7. Cauliflower Chicken Chowder
This chowder is amazingly creamy without any dairy! It's heart with chicken, red-skinned potatoes (or sweet potatoes, if you don't like to use white potatoes), bacon, and arugula and gets its silky-smooth and thick texture from pureed cauliflower.
---
8. Green Egg and Tomato Scramble
Then ten minute breakfast is so easy to make and so delicious. You'll need a few eggs, coconut oil, tomato, chopped fresh cilantro (or basil if you're not a cilantro fan), mashed avocado, fresh arugula, and salt. It's flavorful and filling, and it's your new favorite breakfast.
---
9. Spring Greens With Balsamic Soaked Raisins and Pine Nuts
This salad really couldn't be any easier. With just raisins, balsamic vinegar, mixed spring greens (such as arugula), extra virgin olive oil, toasted pine nuts, and a flaky sea salt, this is going to be your new favorite salad for guests or just an easy lunch on your own.
---

Photo: Downshiftology
10. Eggplant Salad With Heirloom Tomatoes and Arugula
There's something about arugula that goes so well with heirloom tomatoes. Perhaps its their irregular shapes with a rustic feel. This salad is a colorful way to enjoy both at once, and is served with balsamic vinegar. Consider the crumbled feta totally optional.
---
11. Grilled Watermelon Salad
Here's a fun grilled watermelon and shrimp salad on a bed of arugula. Have you ever grilled watermelon? You have to try it The shrimp, Dijon, and balsamic vinegar are the perfect flavor combinations with sweet and caramelized grilled watermelon hunks.
---
12. Grilled Chicken Arugula Salad
This salad is the perfect packable lunch for owkr, or even for kids' school lunches if they'll eat salads. Sliced grilled chicken breasts combine with chopped walnuts and a honey-basil vinaigrette for a simple salad that's both filling and light.
---
13. Sweet Potato, Sesame, and Arugula Salad
This colorful salad is hearty with roasted sweet potatoes, red onion, chili powder, cayenne pepper, radishes, sesame seeds, and a delicious honey balsamic dressing using Dijon mustard. You can use olive oil as the vegetable oil in this recipe, and adjust the cayenne as necessary.
---

Photo: Whitney Bond
14. Sweet Potato Skins With Sage Pesto and Bacon
These yummy sweet potato skins are stuffed with bacon and homemade sage pesto with walnuts. Top them with fresh arugula leaves and enjoy as an appetizer, party dish, or even a main entrée! I imagine if you brought these to a potluck, they wouldn't last more than 10 minutes.
---
15. Shrimp Skewers With Arugula Pesto Aioli
These shrimp skewers are a fun dish for a backyard dinner on a warm night. Yummy! The shrimp is tossed with olive oil and lemon juice with kosher salt and freshly ground black pepper, and dipped in a homemade arugula pesto aioli. Make sure to use paleo oils in your mayonnaise.
---
16. Tomato Onion Soup With Baby Arugula, Eggs, and Horseradish Dressing
This simple and tasty soup is made with tomato puree, yellow onions, garlic, fresh thyme and basil, and sea salt with a delicious horseradish dressing (use olive oil instead of grapeseed, if you wish). Top with fresh arugula and hardboiled eggs for a complete lunch.
---
17. Grilled Shrimp, Citrus, and Fennel Salad
This citrus salad sits on a bed of arugula and is made with clementines, jumbo shrimp, almonds and fennel bulb. Drizzle it with a homemade citrus fennel dressing using orange and lime, shallots, cayenne pepper, and freshly ground black pepper with sea salt.
---

Photo: Cook Eat Paleo
18. Shrimp and Arugula Salad
This easy arugula salad uses large cooked shrimp to add a savory and meaty bite to an otherwise light salad—add the avocado for some healthy fat and a fun flavor twist that's creamy and refreshing. Dress with olive oil, lemon juice, and some coarse sea salt with black pepper.
---
19. Carrot Noodle Salad With Arugula Pesto
This fun salad is made with spiralized carrots (rainbow carrots are beautiful this way if you have them), garlic, lemon, jalapeno, parlsey, roasted almonds, and a few other ingredient that whip up into an amazing and flavorful pesto unlike any you've have before.
---
20. Heirloom Tomato Salad With Grapefruit, Arugula, and Balsmic Drizzle
Here's another salad using heirloom tomatoes, and this one has tart and sweet grapefruit and—my favorite part—a drizzle of reduced balsamic vinegar. This recipe calls for feta cheese, but feel free to leave it out if you wish. You won't miss it one little bit!
---
21. Sweet and Nutty Cashew Arugula Butter
This super easy cashew spread is made from soaked cashews, lemon juice, arugula, olive oil, apple cider vinegar, and a dash of salt. It's Whole30 approved and is perfect to dip with raw veggies or spread on paleo breads and crackers. I bet it'd even be great over grilled salmon!
---
22. Bacon, Avocado, and Arugula Flatbread
This flatbread is almost like a BLT except instead of the lettuce there's arugula and there's also some avocado. But maybe if they called it a BAAT it wouldn't have the same ring to it, so let's just go with Bacon, Avocado, and Arugula Flatbread.
---
23. Avocado, Wild Rocket, and Cashew Pesto
I'm a huge fan of this pesto. It uses arugula, cashews, avocadoes, lemon, avocado oil, Tabasco sauce, and freshly ground black pepper for a pesto that's so flavorful you'll want to put it on everything, and it's made from arugula, so you're know its super rich in nutrients.
---
24. Arugula Salad With lemon Balsamic Dressing
If you haven't always been the biggest arugula fan, you have to try it with this dressing. Arugula isn't awesome with just any dressing because it has such a unique and strong flavor, so try it with this lemon balsamic and grape or cherry tomatoes for an easy and delicious salad.
---
25. Basil and Arugula Pesto
Want to make arugula pesto but can't part with your beloved basil flavors? I'm the same way. But we can have the best of both worlds if we make this amazing basil and arugula pesto with pine nuts, pressed garlic, sea salt, and black pepper. So good!
---

Photo: Gourmande In The Kitchen
26. Carpaccio of Watermelon Radishes With Arugula and Citrus Avocado Dressing
This is a really beautiful salad that use paper-thin shaved watermelon radishes as the base, and tops them with arugula and thinly sliced avocado, and a dressing with orange juice and avocado oil. If you're so inclined, top with goat cheese—otherwise leave it off.
---
27. Grilled Octopus Salad
Now, this salad might not be for everyone. But for those who are octopus fans, give it a try. You'll need cleaned octopus, white wine, drained capers, whole peppercorns, lemons, garlic, thyme, olive oil, roasted red peppers, and baby arugula leaves for this interesting and unique dish.
---
28. Mushroom Arugula Tostada With Avocado Cream
I love this recipe. From the awesome plantain tostada base to the easy avocado cream, it's a fast favorite for lunches in my house. You can add any other toppings you like, but be sure to pile on a hearty handful of baby arugula leaves and get your dose of green.
---
29. Avocado, Artichoke, Arugula, and Spinach Salad
This easy salad uses fresh and crunchy cucumbers, spicy red onion, peppery arugula, creamy and refreshing avocado, and savory artichoke hearts to make a quick and easy lunch that'll fill you up without weighing you down. Try it with the Zesty Lemon Shallot Dressing!
---

Photo: The Living Kitchen
30. Goji Berry Blueberry Rainbow Salad
Rainbow salad is right! This one's totally kid friendly with kale, romaine, arugula, red and yellow peppers, cucumber, sweet potato, blueberries, goji berries, and a lemon maple dressing with olive oil and sea salt. I'd love to pack this salad and take it to work with me.
---
31. Cashew-Coconut-Cauliflower Rice and Rocket Leaves
This easy and flavorful cauliflower rice dish is made with arugula leaves, coconut oil, red onion, coconut milk, raw cashews, ground cumin, paprika, chili powder, and turmeric. I would serve this as a side with grilled chicken and maybe some chili-seasoned pineapple. Yummy.
---
32. Chorizo and Sweet Potato Salad
This awesome and filling salad uses arugula, sweet potatoes, and thinly-sliced grass-fed chorizo. Red onion and salt Marcona almonds give this salad extra flavor and texture. Consider the manchego cheese optional—if you don't eat dairy, just skip it.
---
33. Summertime Arugula, Fennel, and Citrus Salad
This salad use spiralized fennel bulbs with slivered almonds, oranges, arugula, salt, and pepper. Drizzle it with a honey orange vinaigrette dressing. I recommend making some extra dressing for this recipe, because it's so tasty you'll want to have it around for another day or so.
---

Photo: Domesticate Me
34. Roasted Potato Salad With Pancetta, Sundried Tomatoes, and Arugula
I'm a huge fan of roasting vegetables or tubers, expecially potatoes, with flavorful meats like pancetta (or bacon). The fats from the pancetta give these potatoes a heavenly flavor, which is balanced in both taste and color with the lovely and spicy arugula leaves throughout.
---
35. Grilled Pork Chops and Peaches
This easy 30-minute meal of avocado slices, perfectly grilled pork chops, and juicy grilled peaches is served on a bed of arugula leaves for a dinner that's both salad and entrée rolled into one.
---
36. Arugula, Apple, and Bacon Salad With Cranberry Vinaigrette
This is an easy salad with arugula leaves, finely sliced apple, pomegranate arils or dried cranberries, and sliced bacon. My favorite part, though, is the easy cranberry vinaigrette with cranberries, olive oil, freshly squeezed lemon juice, thyme leaves, garlic powder, and sea salt.