Featured
23 Artichoke Recipes You Need to Make
Artichokes are one of my favorite foods. They have plenty of umami flavor and a fun texture, and they're incredible versatile. They're also naturally paleo! So give some of these artichoke recipes a try.
---
1. Antipasto Stuffed Raw Peppers
This easy recipe can be made with or without the provolone cheese. If you're dairy free, just leave it off and enjoy these little pepper bites stuffed with hard salami, thin=sliced ham, capricola ham, red onion, and artichokes. Make sure your lunchmeat it paleo-friendly.
---
2. Eggs Benedict on Artichoke Hearts
Fancy up breakfast with this Paleo style Eggs Benedict. It's everything there is to love about Eggs Benedict, including the Hollandaise sauce, but instead of an English muffin it's all resting on artichoke hearts for better health and more flavor.
---
3. Spinach Artichoke Bowl With marinated Mushrooms
This fun and delicious artichoke bowl uses balsamic vinegar, coconut aminos (in place of the tamari), garlic, and herbs to flavor sliced Portobello mushrooms. Serve with a spinach artichoke mix and cauliflower rice—if you don't eat goat cheese, leave it out of the cauliflower rice.
---
4. Crispy Artichoke Hearts With Horseradish Aioli
These crispy artichoke hearts would make an awesome appetizer or party food—but only for those who are on time to the party! Seriously, these babies will be gone in seconds. They're spicy with better, tangy with lemon juice, and awesome with horseradish aioli—use paleo mayonnaise or make your own.
---
5. Olive, Artichoke, and Spinach Dip
This dip is a healthy and delicious way to enjoy raw veggies, paleo crackers, or other tasties while getting your artichoke fix. With raw almonds, fresh spinach, a few different olives, garlic, red pepper flakes, and a batch of homemade paleo mayo, where can you go wrong?
---

Photo: Foraged Dish
6. Sun Dried Tomato and Sausage Zasta
This zucchini noodle based dish has sausage, garlic, sun dried tomatoes, artichoke hearts, red pepper flakes, and fresh basil. It makes a perfectly filling dinner or lunch that's still light enough not to weigh you down. And you can have it on the table in half an hour! Win.
---
7. Baked Chicken With Spinach and Artichokes
This baked chicken dish is an amazing one-pot meal that I'm adding to my must-make list right now. You'll need butter, olive oil, chicken pieces, artichokes, spinach, and a few other veggies to make this one happen. The flavor is incredible and the clean-up is simple.
---
8. Creamy Avocado, Artichoke, and Kale Dip
Here's another dip using artichokes, and this one's mayo-free. This is my personal favorite artichoke dip with avocados, kale, fresh lemon juice, hemp seeds, garlic, sea salt, black pepper, and dippers of your choice. My suggestion? Could up some paleo plantain chips for this dip!
---
9. Marinated Artichoke Cauliflower Couscous
This grain-free "couscous" is made from cauliflower with artichokes hearts, parsley, basil, fresh cracked pepper, and optional feta cheese (you can totally leave it out if you're cheese-free). I've love to serve this up alongside some perfectly grilled chicken, or even just roasted veggies.
---

Photo: Kalyn's Kitchen
10. Artichoke Antipasto Salad With Basil Vinaigrette
This salad is made with artichoke hearts, roasted red peppers, black olives, and red onion. Because many of these ingredients can be bought healthfully-preserved in glass jars, this is a great recipe to keep on hand for those days when you need to throw together a quick lunch for company, or a potluck dish.
---
11. Antipasto Salad
This version of antipasto salad takes just a few minutes to make and is a perfectly easy weeknight meal that will please everyone at the table. It's super easy, with just romaine lettuce, prosciutto, salami or pepperoni (use a paleo-friendly version), artichoke hearts, olive, and hot or sweet peppers.
---
12. Chicken With Parsnip Puree
This chicken dish is served with artichokes and places over a bed of silky-smooth parsnip puree. It's a lovely combination of flavors and textures that will please even the pickiest of eaters—the flavors, while fantastic, are subtle and accented with Italian seasoning and garlic.
---
13. Avocado, Artichoke, Arugula, and Spinach Salad
I'd love to have this salad for a light and easy lunch. All you need is spinach, arugula, cucumber, roasted artichoke hearts, avocado, red onion, shelled hemp seeds, and fresh black pepper. Enjoy this fresh and green salad any day of the week.
---

Photo: A Calculated Whisk
14. Pan-Seared Salmon With Capers and Baby Artichokes
This is a great 20 minute meal using artichokes, salmon, and capers. It's an elegant dinner you could feel great about serving to guests, or just to your own family! The salmon is an excellent source of protein, while artichokes are a fun vegetable rich in umami flavors.
---
15. Chicken Saltimbocca With Steamed Broccoli
This easy weeknight meal is so simple, you'll feel like you're cheating somehow! You'll just need chicken thighs, sliced prosciutto, sage leaves, avocado oil, chicken broth (homemade if you have it), artichoke hearts, capers, broccoli, and grass-fed butter!
---
16. Lemon Rosemary Grilled Artichokes
Got some whole artichokes you're not sure what to do with? Don't be intimidated! Make these grilled artichokes with lemon, rosemary, olive oil, salt, and pepper. Enjoy them as an appetizer or fun side dish with an elegant feel.
---
17. Balsamic Grilled Chicken With Mediterranean Salsa
This delicious chicken dish is flavored with balsamic vinegar, garlic powder, and sea salt and is served with a yummy Mediterranean salsa made from sun dried tomatoes, artichoke hearts, kalamata olives, green olives, peppers, and fresh herbs. Use olive oil instead of grapeseed, if you wish.
---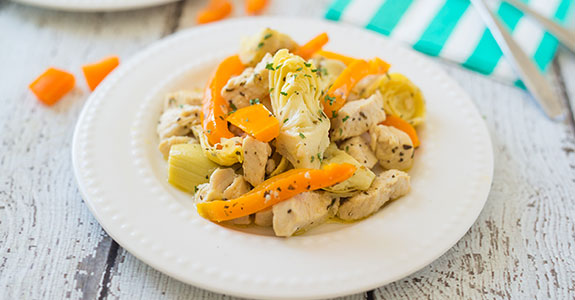 Photo: Paleo On A Budget
18. Chicken, Peppers, and Artichokes
I love this recipe as a packable lunch that can be enjoy hot or cold, and is filling but not too heavy. You'll just need artichoke hearts, diced chicken, bell peppers, lemon juice, your favorite dried herbs, and a cooking fat of choice. You could really change the flavor of this depending on the fat you choose.
---
19. Artichoke Heart and Caper Chicken Salad Radicchio Cups
These delightful little salad cups are crunchy, colorful, and delicious. It's a perfectly packable meal that even kids will love! You'll need chicken, red onion, carrot, artichoke hearts, capers, radicchio leaves, sea salt, and pepper. If you use the optional mayo, make sure it's paleo.
---
20. Grilled Artichokes With Lemon Vinaigrette
These grilled artichokes are served up with a tasty and elegant homemade lemon champagne vinaigrette dressing. Go ahead and get yourself some champagne vinegar, good quality olive oil, lemon, kosher salt, and whole artichokes.
---
21. Artichokes With Sundried Tomato Dip
These artichokes are steamed instead of grilled, which is an easy way to make them and takes about half an hour. Serve them with this homemade sundried tomato dip using sundried tomatoes, garlic, olive oil, and fresh herbs.
---

Photo: Blue Galley
22. Mediterranean Mahi Mahi With Artichokes, Olives, and Pine Nuts
This meal is impressive to guests and not difficult to make—don't be intimidated by the long ingredient list! Most of the ingredients go into the "sauce." You can replace the sugar in this recipe with coconut sugar, and increase the red pepper flakes if you want to.
---
23. Avocado Artichoke Salmon
This healthy salmon dinner or lunch is baked until tender and spread with an avocado and artichoke topping seasoned with garlic, white wine, lemon juice, salt, and pepper. It's a well-balanced meal that's huge on flavor and easy to make.