I want candy. Or maybe a donut. I want something sweet and gooey. I'm tired and I don't want to fix anything. I just want to grab it and pop it in my mouth.
No matter how long I've been eating Paleo, thoughts like the above still happen. The temptation to give in and just grab…whatever.
While these kinds of moments threatened to derail me when I first started Paleo, I'm now prepared to meet them head on. I always keep some kind of snack in the fridge ready to head off the cravings at a moment's notice.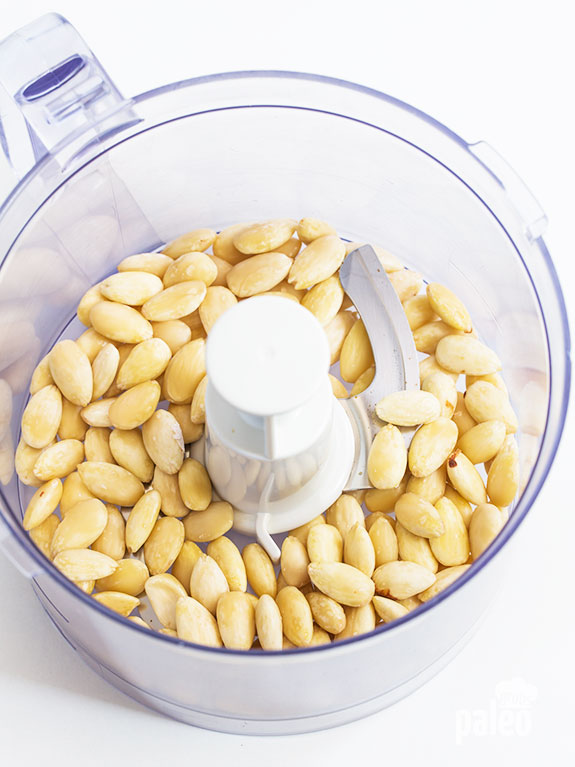 And if you're wondering what could possibly substitute for candy or a donut that's still Paleo, I've got the snack for you: Apricot Energy Balls.
They're the perfect snack – a little sweet, a little crunchy, a little chewy. Kids tend to love these, maybe because they look like little donuts. And, the kids can help make these. After you have all the ingredients mixed together, get all little hands on deck to help you roll the dough into balls and you'll be done in no time!
Aside from being super tasty and easy and fun to make, these apricot balls have loads of health benefits. The fruit and almonds give you tons of fiber and the almonds are packed with the all-important protein you need to stay satisfied.
But I have to be honest… my favorite ingredient in this recipe is goji berries.
The little red-orange goji berries, also called "wolfberries," are fascinating little things. They've been used in China for centuries to treat everything from high blood pressure to diabetes to even fevers. Although the jury is still out, some modern studies have shown they improve sports performance, can help you lose weight, may make you sleep better…and a host of other benefits. At the very least, they have many of the same health benefits of other berries: vitamin C and antioxidants! And, they're really yummy.
But back to me and my cravings…
My favorite time to eat them is after a hard workout, when I usually crave sugar. Instead of soda or a candy bar, I pop one of these babies. The natural sugars of the fruit get my blood sugar back up again. And protein is great after a workout because your body needs protein to repair the muscles you've just given a beating to.
Since these will keep in the fridge for up to a week, that's where I keep them so I can grab and go whenever I need to. They're ok out of the fridge for an hour or two (they get a little softer, so keep them in a baggie or something) so I like to toss a few in my bag when I know I'm going to be out and about for a few hours and will likely need a snack.
So remember: preparing ahead of time is the best way to keep on top of your cravings and what a better way to do it with these uber-healthy and super yummy balls of protein love!
---
1 cup almonds
¾ cup dried apricots
¼ cup goji berries
7 Medjool dates, pitted
1 ½ tsp lemon zest
3-4 tbsp unsweetened desiccated coconut, for rolling (optional)
Place the almonds in a food processor and pulse until they are finely chopped.
Add the apricot, dates, goji berries and lemon zest and pulse until a dough consistency is achieved. Roll one heaping teaspoon of dough into little ball then roll the ball through coconut flakes. Set aside. Repeat until all the dough is used up.
The energy balls will keep stored in an airtight container in the fridge for up to 1 week.