Pork
13 Andouille Sausage Recipes to Try
Andouille sausage is a flavorful staple on Creole and Cajun dishes, and you can do much more with it than make a jambalaya—of course, there are some jambalaya recipes on this list, because it's too good to leave out. But there are also burgers, and collard greens, and dirty rice, and vegetable sausage soups. You really can't go wrong with a good Andouille.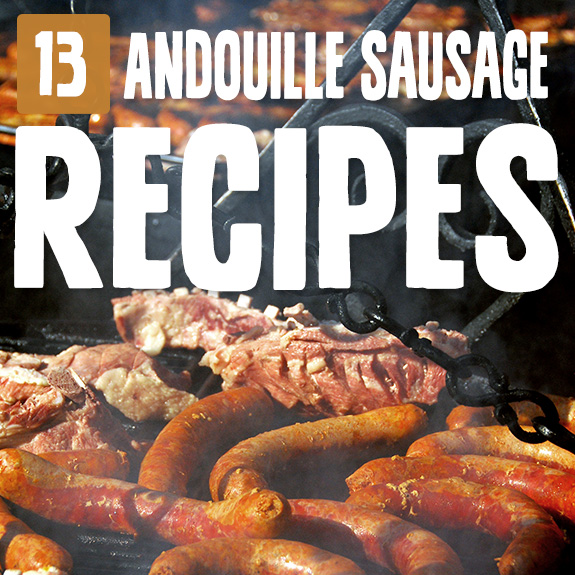 ---
1. Andouille Marinara Over Zucchini Noodles
This delicious marinara sauce is packed with Andouille sausage, onions, garlic, and fire roasted tomatoes for an incredible flavor. Pile it over zucchini noodles cooked with olive oil and you'll be on your way to a healthy and easy dinner—especially if you make the sauce in advance!
---

Photo: The Nilsen Pantry
This spicy and savory soup is a crazy-good combination of flavors, with Andouille sausage, red curry paste, chicken stock (bonus points for homemade bone broth), red bell pepper, garlic, lemongrass, lime juice, basil, coconut milk, ginger, and more. It's hot and spicy, and would make a wonderful sick day soup.
---
3. Jambalaya With Cauliflower Rice
This amazing paleo-friendly jambalaya is packed with diced peppers, sweet onion, celery, Creole seasoning, garlic, fresh thyme, cauliflower rice, tomatoes, chicken, Andouille sausage. Bonus points if you use homemade bone broth as the chicken stock in this recipe. What more could you ask for in this stew?
---
This delicious fash is perfect for breakfast, lunch, or dinner and is filled with chopped cauliflower, Andouille sausage, Creole seasoning, onion, peppers, and ghee or coconut oil. Eggs add extra flavor and protein to this meal that couldn't be more flavorful!
---
5. Chicken Andouille Potato Bake
This one-pan dinner consists of chicken legs and Andouille sausage seasoned with oregano, rosemary, paprika, thyme, and lemon and cooked with baby red potatoes. If you avoid white-fleshed potatoes completely, sweet potatoes would also be lovely in this dish. And you can't argue with a good one-dish dinner.
---

Photo: One Lovely Life
If you're looking for a nice and easy soup for dinner, make up a big batch of this and take the leftovers in to work or school. You can use any type of sausage for this, Andouille recommended. Add zucchini, carrots, celery, onion, tomatoes, bell peppers, kale, and more!
---
7. Sweet Potato and Leek Hash With Andouille Sausage
This super easy hash is made with sweet potatoes, keels, garlic, Cajun seasoning, Andouille sausage, and eggs. You can you a cooking fat or oil of your choice to replace the grapeseed oil if you wish. Personally, I'd go with either ghee or bacon fat—the flavor would be incredible! Not that this dish needs any help in the flavor department.
---
8. Sausage and Rice Stuffed Pork Tenderloin
Well, of course it isn't really rice. It's cauliflower rice! This seasoned mixture of cauliflower, Andouille sausage, smoked paprika, tomato paste, bell pepper, garlic, onion, and butter is absolutely heavenly stuffed inside a perfectly cooked pork tenderloin. This is one for the books, folks.
---
9. Spicy Chipotle Chili With Andouille Sausage
This spicy chili is filled with Andouille sausage, butternut squash, red onion, garlic, chili powder, cumin, chicken broth, diced tomatoes, adobo sauce, and savory chicken broth. Top it off with some diced avocado for a filling and nourishing dinner that'll be perfect lunchtime leftovers.
---

Photo: With Salt And Wit
10. Chipotle Chicken and Andouille Sausage Sliders
These burgers are made with ground chicken, Cajun Andouille sausage, and seasonings like paprika, oregano, and cumin. Serve them on cauliflower buns with arugula and a homemade chipotle aioli! Use coconut yogurt in the aioli and leave off the cheese if you need to.
---
11. Cauliflower Dirty Rice With Andouille Sausage
This paleofied traditional Creole dish is made with cauliflower rice, Spanish oion, garlic, celery, cloves, bell pepper, Andouille sausage, cayenne, smoked sweet paprika, thyme, oregano, parsley, and more. It works as a side dish, but feel free to serve it up as your main course of the meal!
---
12. Southern Collard Greens and Andouille Sausage
This side dish is super flavorful and extra amazing withnitrate-free bacon, collard greens, onion, crushed red pepper, chicken stock, apple cider vinegar, hot sauce, and Andouille sausage. The flavors of the meats really shine, while the hot sauce and red pepper add quite the kick! This one would impress your southern grandma.
---
13. Creole Chicken With Coconut Cauliflower Rice
This Creole chicken is a saucy, flavorful conconction of chicken thighs, Andouille sausage, crushed tomatoes, garlic, saffron, oregano, anchovies, and more. Serve it hot and spicy over delicious coconut cauliflower rice with raisins, ghee, cinnamon, and jalapeno peppers.