---
Almond milk, which is lactose-free, has become widely popular and easy to find in many grocery stores. But that version also usually comes with added sugar, preservatives, stabilizers, and other non-natural ingredients. Creating almond milk should only require two things, almonds and water. That is all that is needed for this recipe, besides any optional sweeteners that you might want to add. At home you have complete control over what is going into your milk and the level of sweetness.
You can play around with adding sweeteners into the milk, such as vanilla, cinnamon, honey, or maple syrup. For this batch I made a pure version of almond milk, since I plan to use it mainly in baking. But after the almonds are strained from the pulp, feel free to add your favorite ingredients to taste.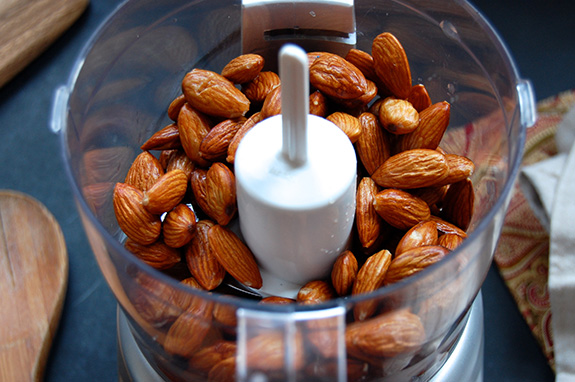 The process for making the milk starts with soaking the raw almonds. The longer that the almonds are left to soak, the creamier the milk will be. Homemade almond milk keeps in the refrigerator for 2-3 days. Therefore, although it is tempting to make large batches at one time, I recommend only making what you can use in 2-3 days.
The almond pulp that is left over in the strainer can also be put to good use. It can be added to cookies, muffins, or smoothies as it is. Or you can spread it out on a baking sheet and bake on low heat until it dries, around 2-3 hours. The dry almond meal that comes out of the oven can be stored in the freezer for several months, though mine never lasts that long because I am always baking.
The mellow creaminess of homemade almond milk is hard to beat. Try it for yourself and find out the delicious difference.
---
1 cup raw almonds
2 cups water, plus more for soaking
Place the almonds in a bowl and cover with about an inch of water. Soak uncovered overnight or up to 2 days.
Drain the almonds and rinse well. Place the almonds in a blender and add 2 cups of water. Blend for 2 minutes until completely smooth. Pour the mixture through a cheesecloth or fine mesh strainer into a bowl. Press out any remaining drops from the almond meal. Store in the refrigerator in a sealed container for 2-3 days.