Cacao Powder, Fresh Dates, and Blanched Almonds – Oh My!
The bulk of what makes these joy balls so good comes down to three perfect ingredients: cacao powder, fresh pitted dates, and blanched almonds. They combine to provide the perfect blend of sweet and nutty flavors with a delightful chocolate taste as well. By using cacao powder instead of milk chocolate, these joy balls are dairy-free and can be enjoyed by anybody who is lactose intolerant. Cacao powder is also wonderful for your health, as it's loaded with antioxidants and it's a great source of magnesium. (1)
While cacao powder adds a delightfully healthy chocolate flavoring to these joy balls, the fresh dates add even more sweetness to them. Dates are one of the sweetest fruits in existence, and while they contain a high amount of natural sugars, they are also fairly low on the glycemic index and have many potential medicinal uses. (2) They are an ideal snack option for anybody who has concerns about their blood sugar, making these almond joy balls perfect even for individuals with diabetes. The blanched almonds round it all out, along with almond milk, vanilla extract, and shredded coconut. It adds a distinctive nutty flavoring to these energy balls and provides plenty of vitamins and minerals as well. The end result is a healthy dessert option that is dairy-free, gluten-free, and paleo-approved, so everyone in the family can enjoy.
I just love having paleo-approved dessert options that anyone can enjoy regardless of the type of diet they are on or any health restrictions they may have. These almond joy balls fit the bill perfectly thanks to the all natural ingredients. Best of all, these joy balls are super simple to make, requiring no more than 15 minutes of your time, and they stay good in the fridge for up to two weeks as well. They're the perfect grab-and-go healthy snack.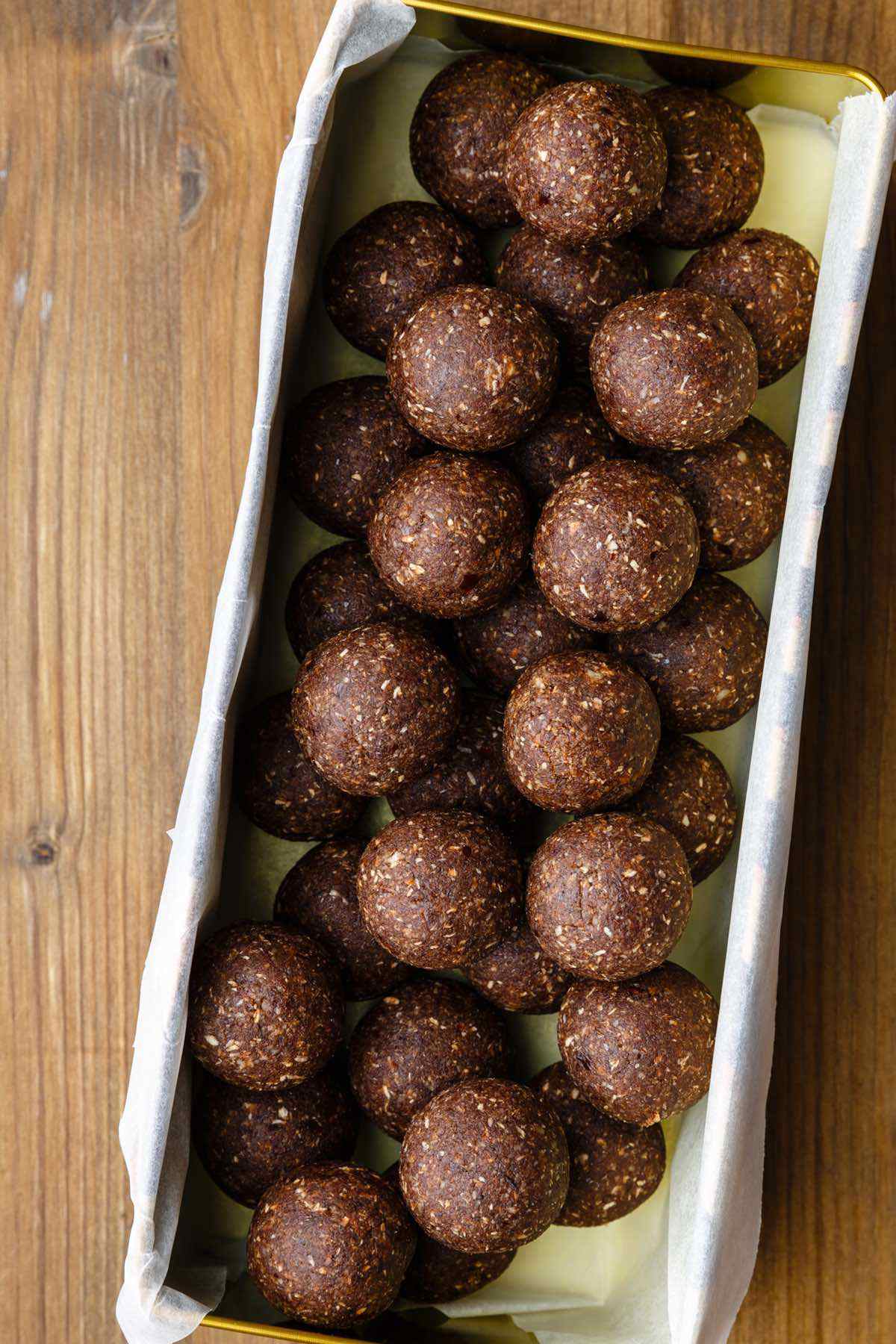 PS. After trying out these joy balls, if you're looking for a few other ways to satisfy your sweet tooth, and especially if you love chocolate (and who doesn't?), then make sure you check out these great recipes:
---
2 cups blanched almonds
1 cup pitted fresh dates
½ cup unsweetened finally shredded coconut
¼ cup cacao powder
1 tsp pure vanilla extract
2 tbsp almond milk
Place all the ingredients in a food processor and pulse until combined.
Taste and add more pitted dates if needed.
Roll the mixture into 1-inch balls.
Store in an airtight container in the refrigerator for up to two weeks.