Easy Paleo "Pasta" with Zucchini Noodles
8
There are actually a lot of options out there for Paleo pasta or spaghetti, more than you might think at first. Spaghetti squash and zucchini seem to be the most popular choices when it comes to making noodles, and I can definitely understand why. They both are easily adaptable and taste great with a lot of different ingredients. One of the easiest preparations is this raw Paleo "pasta" made with zucchini noodles.
This can be a completely raw dish. No cooking is required. Or, if you want, you can roast the tomatoes to add a depth of flavor. That would be the most complicated step of this ridiculously easy dish. You can also heat the zucchini on the stove for 3-5 minutes if you would like the dish to be warm. I sautéed my zucchini on the stove after I tossed it with some pesto. The pesto you can make yourself by blending together some basil, garlic, olive oil, and pine nuts. Or you can also buy it pre-made – just make sure that it doesn't contain Parmesan.
How does a zucchini become noodles, you might ask. You simply use a julienne peeler to strip the zucchini squash down to the seeds, breaking apart any pieces that stick together. I don't know if making a vegetable into noodles tricks your mind somehow, but I wolfed down two medium zucchini this way. This is not something I normally do. But once the zucchini noodles were mixed with a little pesto and tossed with roasted tomatoes, there was no stopping me. I am lucky I got some photos taken before I tried it, because it was gone in no time. It is definitely going on my list of regulars, as a quick and delicious weeknight dinner.
I can't emphasize the words quick or easy enough. I am still go over the steps in my head, wondering if I am forgetting something, because I am in disbelief that it was that simple. Peel a zucchini. Toss with pesto and tomatoes. Eat. That's what, 5 minutes? For a meal? I am seriously considering adding a new category to the difficulty rating system for my recipes, to 'stunningly simple.'
These zucchini noodles are a great substitute for pasta. The zucchini paired together with the pesto makes a delicious flavor combination, and the tomatoes add a pop of brightness to the dish.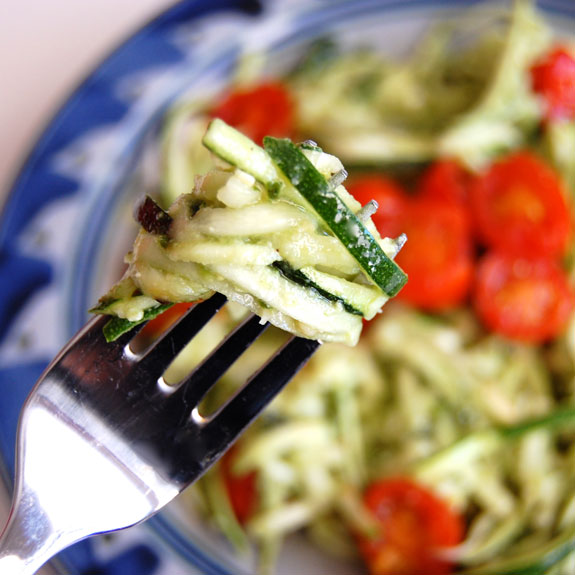 Zucchini Pasta
2013-12-02 12:02:20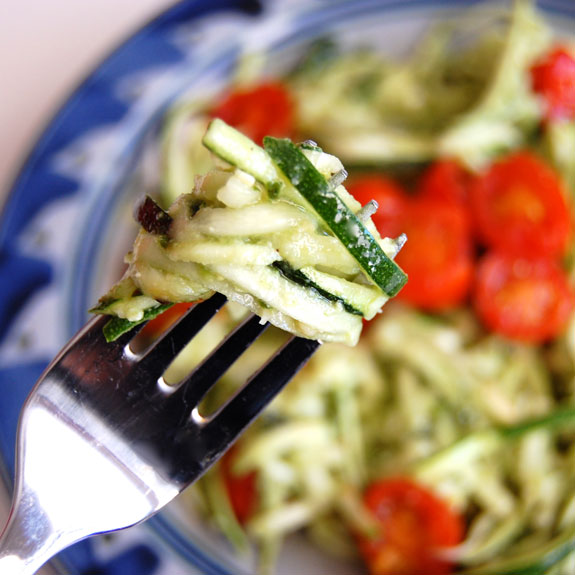 Ingredients
4 medium zucchini
1 pint cherry tomatoes
3 tbsp pesto
Salt and freshly ground black pepper, to taste
Extra virgin olive oil (optional)
Pine nuts, for topping (optional)
Directions
Use a julienne peeler to slice the zucchini into noodles, stopping when you reach the seeds. Set aside.
If roasting tomatoes, place onto a rimmed baking sheet and drizzle with olive oil. Sprinkle with salt and pepper and bake at 400 degrees F for 15-20 minutes.
Combine the zucchini noodles and pesto, tossing until well coated. Top with tomatoes and pine nuts to serve.
If cooking zucchini noodles, simply add to a skillet and sauté over medium heat for 4-5 minutes.
Notes
Servings: 2
Difficulty: Easy
Paleo Grubs http://paleogrubs.com/
Want more Paleo recipes? Take a look at the Paleo Grubs Book. With 470+ easy-to-prepare Paleo recipes in 17 comprehensive categories it is the only Paleo book you will ever need.
+ Make sure to sign up for our free newsletter to get our latest healthy recipes delivered weekly (it's free).